In Practice
Getting Ready for Vaccine Mandates in the Workplace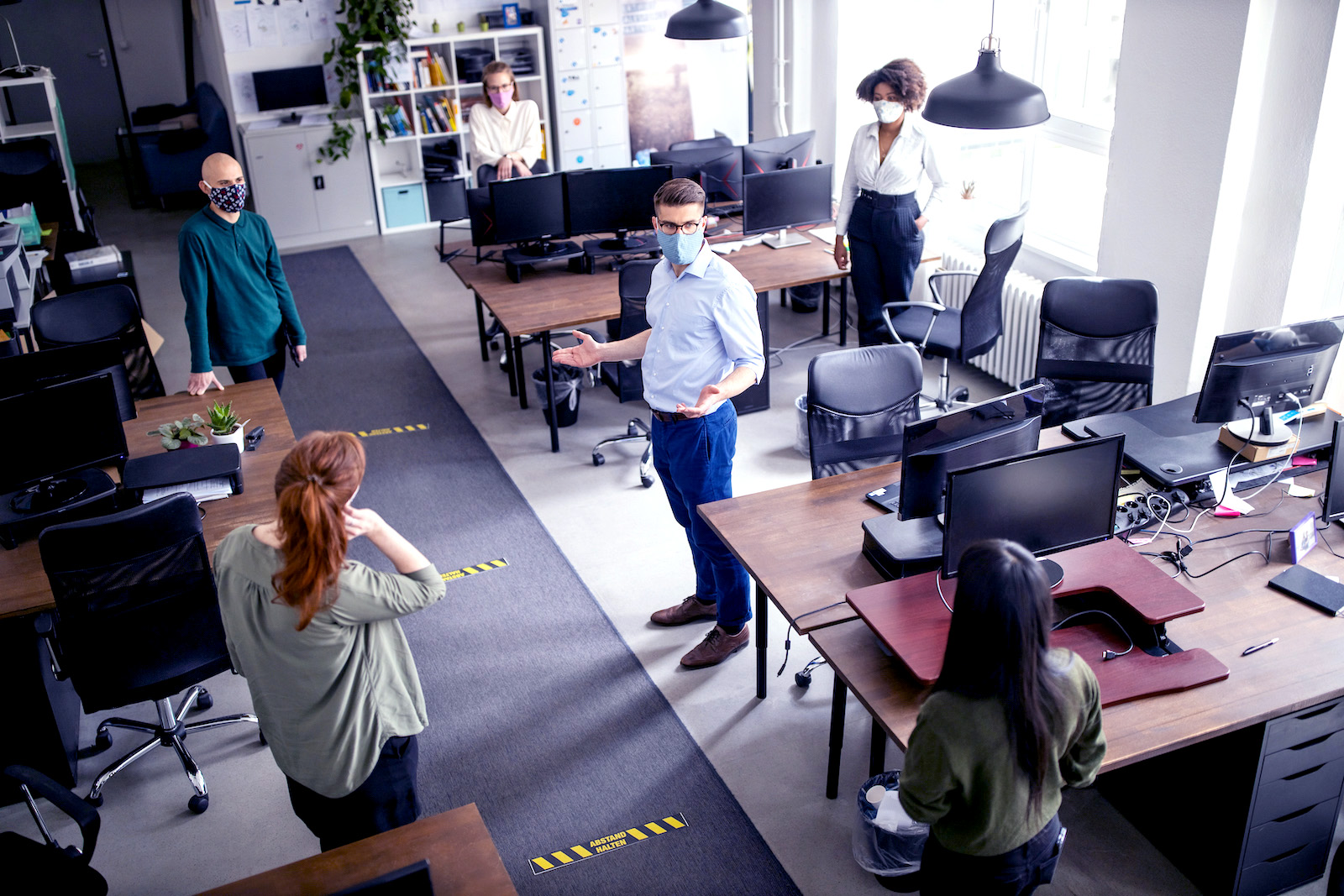 Companies across the United States are waiting for the details of President Joe Biden's mandate that will require all employers with 100 or more employees to either ensure that their workforce is fully vaccinated or require unvaccinated employees to produce a negative SARS-CoV-2 diagnostic test once a week.
The "Emergency Temporary Standard (ETS) Update" was due to be issued "within a few weeks" by the U.S. Department of Labor Occupational Safety and Health Administration (OSHA).
But OHSA has been inundated by questions from business groups such as the U.S. Chamber of Commerce about coverage, implementation, enforcement and other aspects of the new rules. 
A Lot of Unanswered Questions
Their lists of questions illustrate the complicated nature of this endeavor, as companies are left wondering whether they will need to include part-time employees, how they will be expected to ensure that employees are vaccinated, whether unvaccinated employees who are working remotely will require weekly testing, and what type of diagnostic test for the unvaccinated will be accepted, among many other open questions.
OSHA also needs to ensure that the new regulations will pass legal muster. Numerous state attorneys general indicated that they will raise legal challenges, and some state legislatures have already challenged the move. 
About half of the U.S. states have their own OSHA-approved workplace safety agencies, which are required to be at least as effective as OSHA in protecting workers and in preventing work-related injuries, illnesses and deaths. However, these states may have stronger legal cases for challenging the ETS than states that are directly within OSHA's jurisdiction.
Many companies have already announced vaccine mandates for some or all of their workers, including Delta and United Airlines, McDonald's, Tyson Foods, MGM Resorts International, and The Walt Disney Company. There is a diversity of policy approaches these companies are taking, with some, such as Amtrak, Goldman Sachs, MGM and Walgreens, offering the option of regular testing in place of vaccination of certain employees, whereas others do not offer this option.
When it comes to planning out and executing a strategy, different scenarios call for different responses.
What Are the Best Testing Options for Companies?
Companies that are planning to offer the testing option to employees should start exploring the available diagnostic testing options and assessing their potential risk to create and execute a testing strategy.
Picking the right policy can be tricky, as there are multiple drivers that impact the decision on what type of diagnostic test to use and the frequency at which it is used. A good way to approach the issue is to assess the potential risk to the workplace. Factors to consider include:
Company size

Location

Infection and vaccination levels at that location 

Density of the workforce, such that a spacious office suite will be less risky than a crowded manufacturing facility 
Predictions of how many employees will not be getting vaccinated along with how many of these employees will be present at each worksite each day should also be made, along with other relevant considerations. This means that beyond the government mandate of weekly testing, some companies with low vaccination levels and high workforce density may want to choose daily testing in some cases to ensure workforce safety and business continuation.
"Catching cases early is key, before they've had a chance to spread. It's important to understand what a diagnostic test does and does not tell you," advises Dr. Jesse Abate, researcher at the French National Institute for Development.
Off-Site or On-Site?
How a company should carry out the necessary diagnostic testing breaks down into two pathways: investing in a workplace testing strategy or sending employees to other places to get tested. What are the pros and cons of each of these options?
Off-site diagnostic testing offers the benefit of not having to invest in a service, the equipment or any training needed to carry out diagnostic testing. However, having an employee tested weekly at a local pharmacy carries other financial burdens, such as commute time as well as reduced productivity and employee morale.
In addition, with the uptick in screening brought on by the mandate, we face the probability that wait times for results will be slowed, causing an increase in time away from the workplace for employees who are experiencing flu symptoms or are concerned that they may have been exposed to COVID-19.
Whereas on-site testing does require an investment in diagnostic testing kits and services, companies can potentially save on travel and lost work time expenses. Beyond this cost analysis, workplace testing also provides employers with both oversight and consistency in testing methods and results. Proximity to diagnostic testing locations may also be a factor for companies that have employees at more remote worksites. 
Pool Testing Is Another Option
When considering all these factors, on-site diagnostic test kits — especially for larger organizations and companies of medium or high risk — will be the most convenient route.
For on-site testing, although there are several different types of SARS-CoV-2 diagnostic tests, the two that have become prevalent are antigen testing, the most cost-effective option, which requires a nasal or throat swab, and RT-PCR testing, the most accurate option, requiring either a swab or a saliva sample. 
As emphasized in PreScouter's Intelligence Brief titled Preventing Workplace Closures: How To Implement a Simple COVID-19 Workplace Testing Strategy Today, PreScouter recommends the use of saliva-based diagnostic testing because saliva sampling is non-invasive, can be self-administered and provides a high level of sensitivity, effectively detecting orders of magnitude better than rapid antigen diagnostic testing options. 
Employers have another option in pool testing, as well. This is a strategy where many employees supply saliva samples, and at the lab, the samples are pooled together, reducing testing costs. 
A negative result means everyone is negative, while a positive result leads to retesting of the samples. This option for diagnostic testing is especially attractive for preventative testing or when overall case positivity is low, minimizing the risk of having to retest pooled samples.
Assessing the Risk in the Workplace
When it comes to planning out and executing a strategy, different scenarios call for different responses. Each company's strategy should be tailored to their specific circumstances, using the risk assessment to guide decisions on which employees should be tested and what type of diagnostic testing to use.
For example, for a small company with 100-200 employees, an 80%-90% vaccination rate, and large office spaces, air filtration units, and the option to space out employees, the risk would be considered low. In this case, even though it is a less sensitive test, rapid antigen testing may be the answer. 
For medium-sized companies (250-5,000 employees) with a high workforce density and <80% vaccination rate, the risk increases, making pooled RT-PCR testing a viable solution.  
Larger companies of more than 5,000 employees have the highest risk due to the number of people to be concerned about. A large, high-density facility may call for a combination approach of RT-PCR and antigen testing, to help mitigate costs, while in other situations with less density, it may be more appropriate to use RT-PCR testing alone.