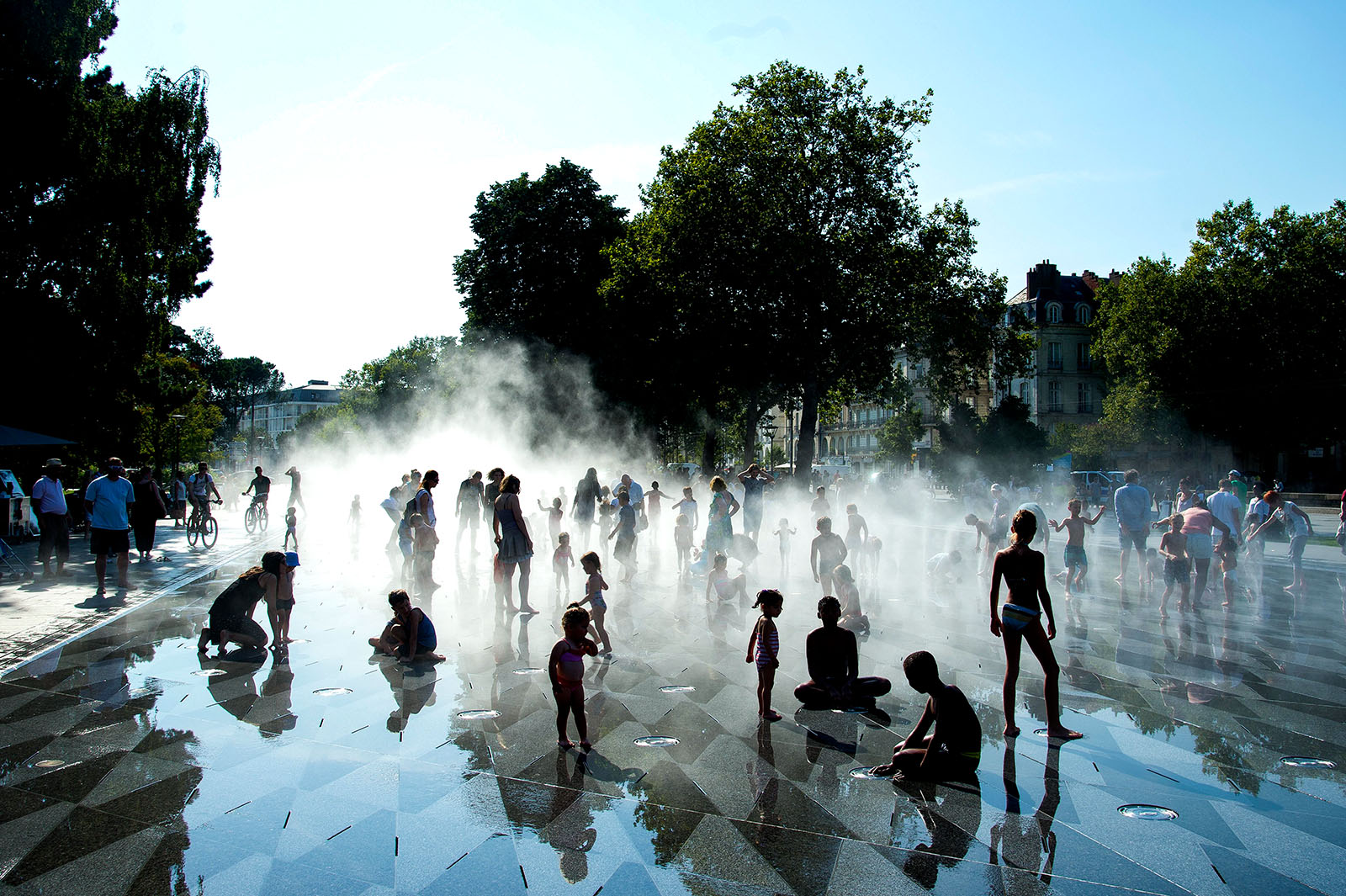 July 2019 was the hottest month on record for the planet, surpassing June 2019, which had previously been declared the hottest month in 139 years. At one point during a mid-July heatwave this year, 128 million people were under excessive heat warnings in the U.S. 
Climate change isn't the only cause of these higher temperatures and more extreme heat waves; urban development has a role, too, and leading real estate developers and policymakers are taking action. 
Scorched: Extreme Heat and Real Estate, a new report by the Urban Land Institute, explores the likely impacts extreme heat could have on the real estate and land-use sectors and the potential of "heat-resilient" solutions.  
"With heat-related deaths at 20 times more than hurricanes, with rising energy costs and grid instability, and with fewer water resources nationally, it's time for the design and development marketplace to prioritize heat mitigation and adaptation" said Janice Barnes, managing partner of Climate Adaption Partners and a ULI member contributor to the Scorched report. "This requires developers to ask more of their design firms and cities to ask more of their developers. We simply cannot mechanically air condition our way out of this problem. We need a whole-systems approach for meaningful impact."
Cities Are at High Risk from Extreme Heat
Heat-absorbing urban surfaces and building materials, lack of cool green space, waste heat from multiple sources (such as cars) and heat-trapping air pollution all contribute to making cities hotter than their more rural surrounding environments.
This phenomenon, known as the urban heat island (UHI) effect, makes cities on average 5 degrees – 10 degrees Fahrenheit (and sometimes up to 22 degrees Fahrenheit) hotter than their surroundings.
The Impacts of Extreme Heat Are Substantial
Research links extreme heat to as much as a potential 4% decrease in U.S. GDP for median-sized cities through reduced growth rates, lost productivity and increased expenses. Extreme heat also significantly impacts transportation by damaging roadways, delaying trains, and grounding airplanes.
For buildings, high temperatures can delay construction and increase cooling load by 13%. Moreover, extreme heat worsens wildfires, drought and air pollution and decreases electrical grid stability, contributing to blackouts. 
Heat also presents tremendous public health risk, especially for low-income and elderly communities; more than 65,000 people in the U.S. visit emergency rooms each summer for acute heat illness. Historically redlined locations (those subject to discriminatory mortgage lending rate policies) are often today's hottest neighborhoods because they lack green space and civic amenities that serve as cool places of respite.
However, "heat-related hospitalizations are absolutely preventable" emphasized Kizzy Charles-Guzman, deputy director of the NYC Mayor's Office of Resiliency in a comment to ULI. Cool design strategies combined with public health and emergency responses can significantly offset heat-related mortalities. 
Heat kills more [Americans] every year than every other natural disaster combined.
Mitigation Strategies Reduce Urban Heat
The most effective solutions depend on local climate, but many building- and neighborhood-scale strategies are available. No matter the local climate, shade (from vegetation or built structures in drought-prone environments) and the preservation of open space provide welcome relief for pedestrians, reduced heat absorption and decreased building cooling costs. 
Other building strategies include window glazing; light- or vegetation-covered rooftops; energy-efficient appliances, equipment, and lights to limit waste heat; and operational changes such as relaxing dress codes, adjusting thermostats, or even shifting work schedules. If all commercial buildings in the U.S. switched from dark heat-absorbing roofs to light-colored roofs, for example, we would save about $1 billion.
Extreme Heat Impacts Tenant and Consumer Preferences
Buildings and neighborhoods designed to maintain comfortable temperatures are preferable in areas regularly experiencing extreme heat. For example, air conditioning demand has become a factor in Seattle's competitive rental market. Before the 2010s, 6% of Seattle rentals had central AC; now, more than 25% of rentals in Seattle have AC due to rising temperatures, record apartment construction and demand. 
"Heat, especially during the hot and humid months, is top of mind," said Bryan Moll, executive vice president of development for JBG Smith, and leader of a cool pavement pilot test on the planned location for Amazon's HQ2.
Local Governments Are Enacting Heat-Related Policies
"Heat kills more [Americans] every year than every other natural disaster combined," Kevin Bush, chief resilience officer in D.C., told ULI.  
Previously, city policies largely related to social services and emergency preparedness; today, they are beginning to address land use and building issues. For example, in May 2019, Miami Beach enacted an ordinance establishing review criteria to reduce the temperature-raising impacts of development and waiving some application fees for developments that contribute to heat mitigation. 
Los Angeles and Phoenix are among the cities that have recently updated existing requirements for cool roofs and shade cover. Other cities are also experimenting with technologies to reduce heat, such as cool street surfacing.
Heat-Resilient Development for a Warmer Future
Heat-resilient projects can reinforce a developer's high-quality reputation and contribute to the bottom line. They can be important refuges during extreme-heat events, leading to enhanced asset value, increased sales, higher rent premiums and lower vacancy rates. 
In addition, operating costs would decline due to less frequent replacement of heat-damaged materials, lower utility costs and a higher chance of sustained operations during extreme heat events and associated power outages.  
The built environment greatly influences people's experience as they visit, work, play and live — especially in urban areas. With thoughtful design and consideration of temperature-related risks, real estate and land use practitioners can mitigate the effects of extreme heat on people and infrastructure, realize the business benefits of early resilience leadership and contribute to the long-term success and livability of communities.