Society
Fixing Private Health Care in India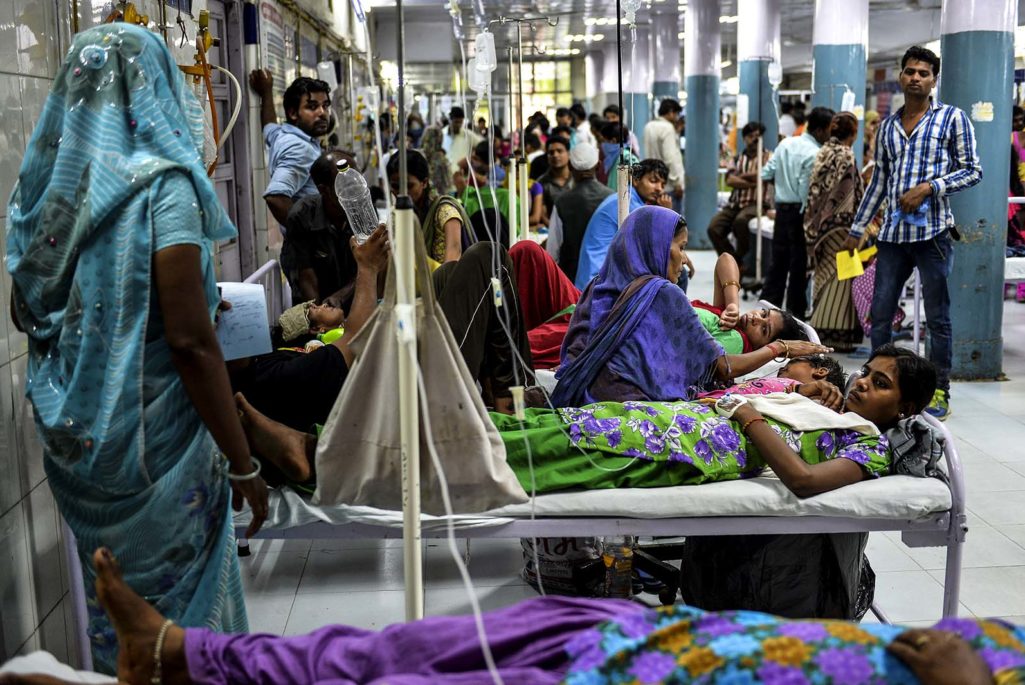 Concerned with the high costs of health care and medical treatments in India, the government has been proactive in imposing a wide variety of price controls on medical treatments, equipment and drugs. Such a strategy is fraught with risk and is likely to fail in its primary objective of improving the state of health care in India.
Improving price controls is a knee-jerk reaction that often comes with many side effects, including its negative effect on investment in this capital-intensive and research-and-development-intensive sector—and subsequently on the supply of medical devices and instruments. The long-term solution to the problem lies in improving the access and quality of public hospitals—something that has not received sufficient attention from successive governments in New Delhi, if public spending on health care is any indicator.
Too Much Control
In February this year, India's National Pharmaceutical Pricing Authority capped the price of coronary stents at 90 percent below their then-prevailing prices. A government notification in June declared that 15 widely used medical and surgical devices—including balloon catheters, heart valves, disposable syringes, oxygen masks, urinary bags, and intraocular lenses—would be categorized as "drugs" under India's Drugs and Cosmetic Act 1940. This was a first step toward price controls. Shortly after, a price cap on orthopedic implants was implemented in August to check over-charging and unethical profiteering by private hospitals.
Private hospitals were found to be overcharging (up to 500 percent of the actual cost) for life-saving medical and surgical devices. That hikes the overall cost of health care services and makes it unaffordable for many in a country where out of pocket medical expenses are as high as 70 percent of the total (showing a low penetration of health insurance), and the quality of health care services offered by the overburdened government hospitals is not up to the mark. It is therefore understandable that the government wants to control the prices, given the popular demand for such services.
However, that doesn't necessarily mean it's a good move. Imposing price caps may choke the supply of life-saving medical devices or formulations and discourage their production locally. Subjecting 74 notified bulk drugs to price control via the Drug Price Control Order 1995 led many pharmaceutical companies to gradually stop their production, which had a cascading effect on the supply of formulations made from price-capped bulk drugs. It's no secret that India is now heavily dependent on the import of bulk drugs and active pharmaceutical ingredients from China.
The long-term solution to unethical practices by private hospitals is to improve government-run hospitals.
Supporters of the move say that price controls will prune down health care costs and encourage indigenous manufacturing. However, opponents argue that the price cap is nothing but a localization attempt as domestically produced devices are likely to be cheaper. The price cap will act as a non-tariff barrier to foreign suppliers, who raise doubt over its World Trade Organization compatibility, even though the move is nondiscriminatory.
WTO compatible or not, following the imposition of price caps, private hospitals and distributors of these devices will bargain hard with foreign suppliers for discounts by using the price cap (and India's large and growing market size) as an excuse. That in turn will erode the margins of foreign suppliers.
Genesis of the Problem
India's health care services sector is an under-supplied industry. Private health care providers account for over two-thirds of all patient needs as the overcrowded, understaffed and underfunded government-run hospitals are always short of beds, doctors, devices or essential medicines, as is evident from a recent tragic incident.
For instance, one of the top government hospitals in the country's capital, where 133,000 cancer patients are seeking treatment, has only 36 beds for radiotherapy. It's the appalling state of government hospitals in the country that forces even the poor to go to private hospitals.
There is no serious competition to private health care providers from the government-run hospitals. Besides, the market for health care services is characterized by imperfect competition where the seller knows more than the buyer who can't shop around and bargain for the best deals, especially during medical emergencies. That puts the patients (poor or rich) at the mercy of private hospitals, which don't mind taking them for a ride—especially when enforcing consumer rights in the country is a long-drawn process.
This encourages rampant unethical business practices by unscrupulous hospitals. Such practices are quite common even in developed countries. However, the extent of medical malpractice and price rigging is unreasonably high in India's poorly regulated health care sector dominated by private players. Thus, some form of government intervention is no doubt needed. However, imposing price controls is too simplistic a solution and unlikely to work.
The Way Forward
The major reasons for overcharging or any unethical profiteering by private health care providers are a lack of serious competition, especially from government hospitals, and information asymmetry, where the seller knows more than the buyer. In fact, imposing price controls may bring many unintended consequences, such as reduced investment and eventually the shortage of life-saving medical devices.
Roughly 60 percent of medical and surgical devices used in India are imported. Unlike medicines, India's under-developed indigenous medical device industry can't really supply the country's ever-growing requirements. Thus, the patients would ultimately suffer. Moreover, imposing price caps on medical devices will induce the private hospitals to raise charges of procedures, doctor fees, and hospital bed rentals (to compensate for lower margins on devices) unless price caps are imposed on every medical item.
Therefore, the long-term and non-market-distorting solution to overcharging or any other unethical business practices by private hospitals is to seriously improve facilities in government-run hospitals to provide a real alternative for the patients. That would require an increase in public spending on health care, which is abysmally low.
The Indian government spends a meager 1.4 percent of its GDP on health care, as compared to 3 percent in China or 4.3 percent in Brazil. India, too, needs to increase spending to at least this level. That would also require cutting red tape, reining in corruption and fixing accountability in government hospitals and in the agencies and departments controlling them.
The government should also instruct all health care providers—private and public—to display all charges and fees for all kinds of treatment, including the prices for medical devices and instruments on their websites, so that the buyers of health care services can easily compare and decide where to go and which facilities to use. This will reduce information asymmetry and improve transparency—a key requirement for any market to function smoothly.
Although overcharging and profiteering by private health care providers is a serious issue, imposing price controls is bad medicine that will have many side effects, including reduced investment and the shortage of life-saving medical and surgical devices—consequences the country can ill afford.
This piece is based on a different version that has appeared in the Nikkei Asian Review.