Geopolitics
As Tensions Rise Between India and the US, Are We Reaching a Point of No Return?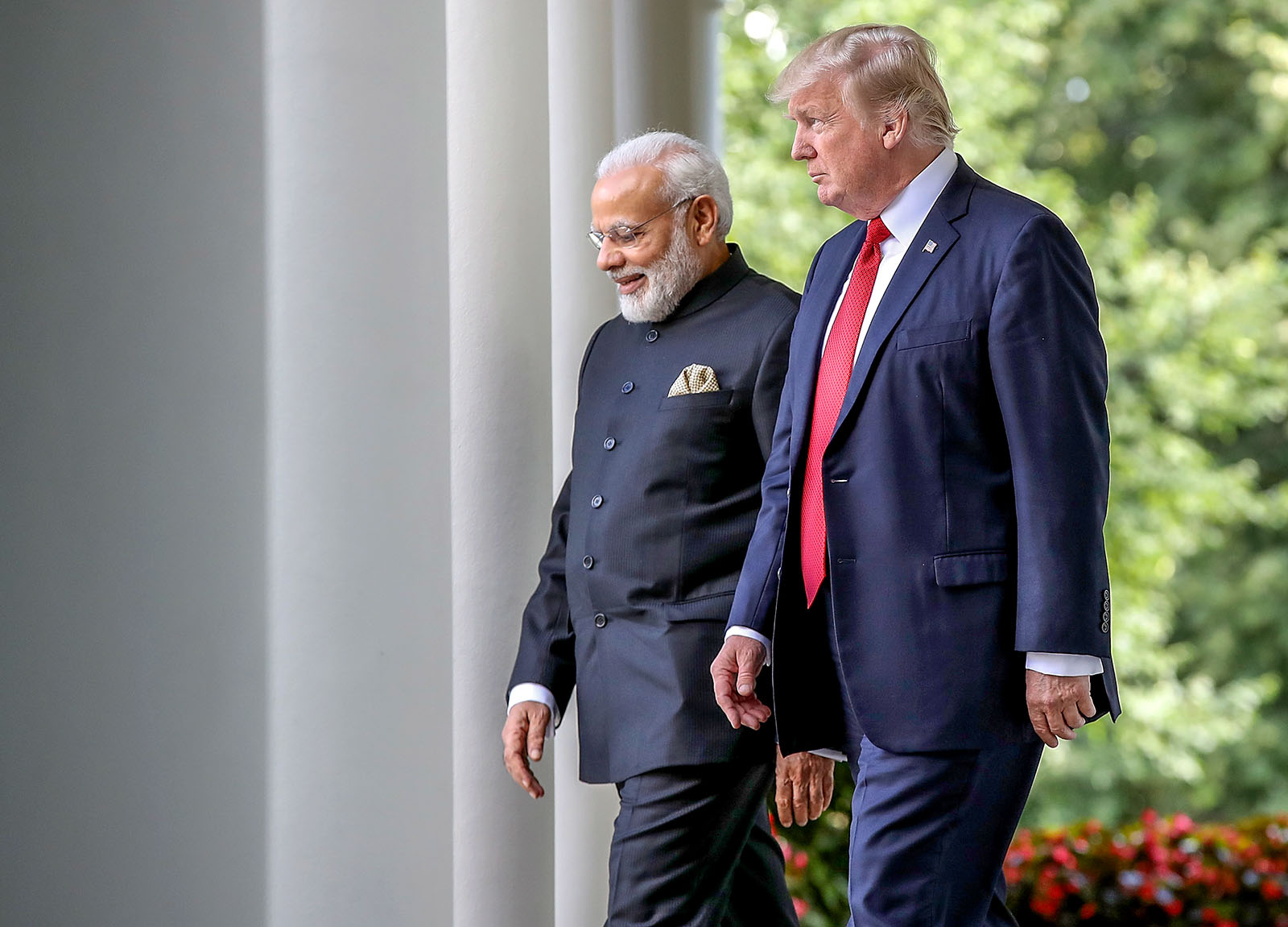 After several postponements, India finally imposed its own retaliatory tariffs against 28 U.S. products after failing to get exemption from U.S. duty hikes on steel and aluminium. India's retaliatory tariffs came a few days after the U.S. removed the country from its Generalized System of Preferences (GSP) beneficiary list, which gives certain countries' products duty-free access to U.S. markets. This exclusion was followed by a threat from Washington to cap H-1B visas issued to Indians at 10% to 15% of the total annual quota. As of now, there is no country-specific quota, and 70% of 85,000 such visas go to Indians.
GSP exports account for $6.35 billion, or 12.3% of India's total exports to the U.S., and the withdrawal of the preferential benefit will bring covered Indian merchandise into direct competition with China. The export of steel and aluminium is subject to increased U.S. import duties. And the threat of a cap on work permits will create complications for India's IT exports to the U.S. — which are already troubled by backlash in the U.S. against immigration and technological disruptions.
Given this backdrop, New Delhi's retaliatory trade action may appear a bit unexpected — but it's not difficult to understand. The U.S. administration says that New Delhi is one of its strategic partners, but has made it difficult for India to have an independent approach on energy import, defense cooperation and foreign and trade policy. 
Major Issues
Some of the U.S. administration's demands have complicated India's pursuit of its long-term strategic interests. The U.S. has been pressuring India to not buy arms from Russia or oil from Iran and to drop the idea of joining any trade pact with China as a key member, such as the 16-member Regional Comprehensive Economic Partnership, which accounts for 25% of global GDP, 30% of world trade and 26% of foreign investment flows. Additionally, U.S. negotiators doesn't want India to do business with Chinese telecom companies — Huawei in particular — even though excluding the most price-competitive suppliers of 5G gears doesn't serve the long-term interest of India's digital economy.
The differences between the U.S. and India are increasing with no clear resolution in sight. For example, India is rigid about controlling cross-border data flows despite strong opposition from American tech companies, and Washington has expressed displeasure over India's refusal to relax its import ban on American dairy products. The two countries differ on import duties, regulation of e-commerce, investment protection, data and cybersecurity, protection of intellectual property, and price control on medical devices such as coronary stents and knee implants. 
Differences between India and the U.S. could be sorted out. But any resolution would require a flexible approach from New Delhi — and, crucially, Washington.
An Adversarial Stance
At the recently held Shanghai Cooperation Organization Summit in Bishkek, the Indian Prime Minister lashed out at unilateralism and trade protectionism, and proclaimed the need for "a rule-based, transparent, anti-discriminatory, open and all inclusive WTO-centered multilateral trading system." That could be read as a criticism of the U.S. administration's flouting of global trade rules.
New Delhi's more critical public stance vis-a-vis the U.S. — just before the G-20 summit, where Prime Minister Narendra Modi met with President Donald Trump — signals how India will behave when resolving future trade rows with the U.S., and it may also have implications for India's approach on Huawei. India is signaling that it has leverage (such as big defense purchase plans, worth roughly $10 billion) at a time when the U.S. is demanding that it not purchase the S-400 missile defense system from Russia. Moreover, New Delhi knows that Washington needs its help to counter Chinese influence in Asia. This leaves India with leeway to make its own decisions on major contentious issues: In fact, it has already devised a payment mechanism for the S-400 system through Russian bank, VTB.
Reaching a Resolution
There's still hope that a future agreement can be reached with adequate political will. 
India has already halved import duties on Harley-Davidson bikes and has expressed a willingness to reduce duties on high-value electronics and replace price caps on medical devices by trade margin caps. New Delhi has also hinted that it could buy specific defense equipment from the U.S., such as armed sea Guardians, Romeo helicopters and a surface-to-air missile system for the protection of the national capital region. There's also room for India to show more flexibility on the data regulations that currently irritate large U.S. tech firms (and also stand to hurt India's IT sector by raising infrastructure costs). And India's IPR regime — though not perfect — is fully compliant with WTO's agreement on Trade-Related Aspects of Intellectual Property Rights. Washington should avoid pushing India too hard on the patenting of incremental changes in existing medicines and data exclusivity.
It would be difficult for New Delhi to abandon Iran and Russia. The former is not only the cheapest supplier of oil, but also a key to India's Central Asia strategy. Russia, on the other hand, is a dependable partner in defense. Moreover, India needs the cooperation of Iran and Russia to push its ambitious logistical project, Chabahar port, and the 7,000 km International North-South Transport Corridor, which aims to connect Iran, Azerbaijan and Russia along the Caspian Sea. Unfortunately, the U.S. administration's recent policy changes could push India toward countries like China and Russia — the exact outcome that the U.S. is hoping to avoid. 
Differences between India and the U.S. could be sorted out. But any resolution would require a flexible approach from New Delhi — and, crucially, Washington.