Geopolitics
What Foreign Investors Need To Know About India's General Election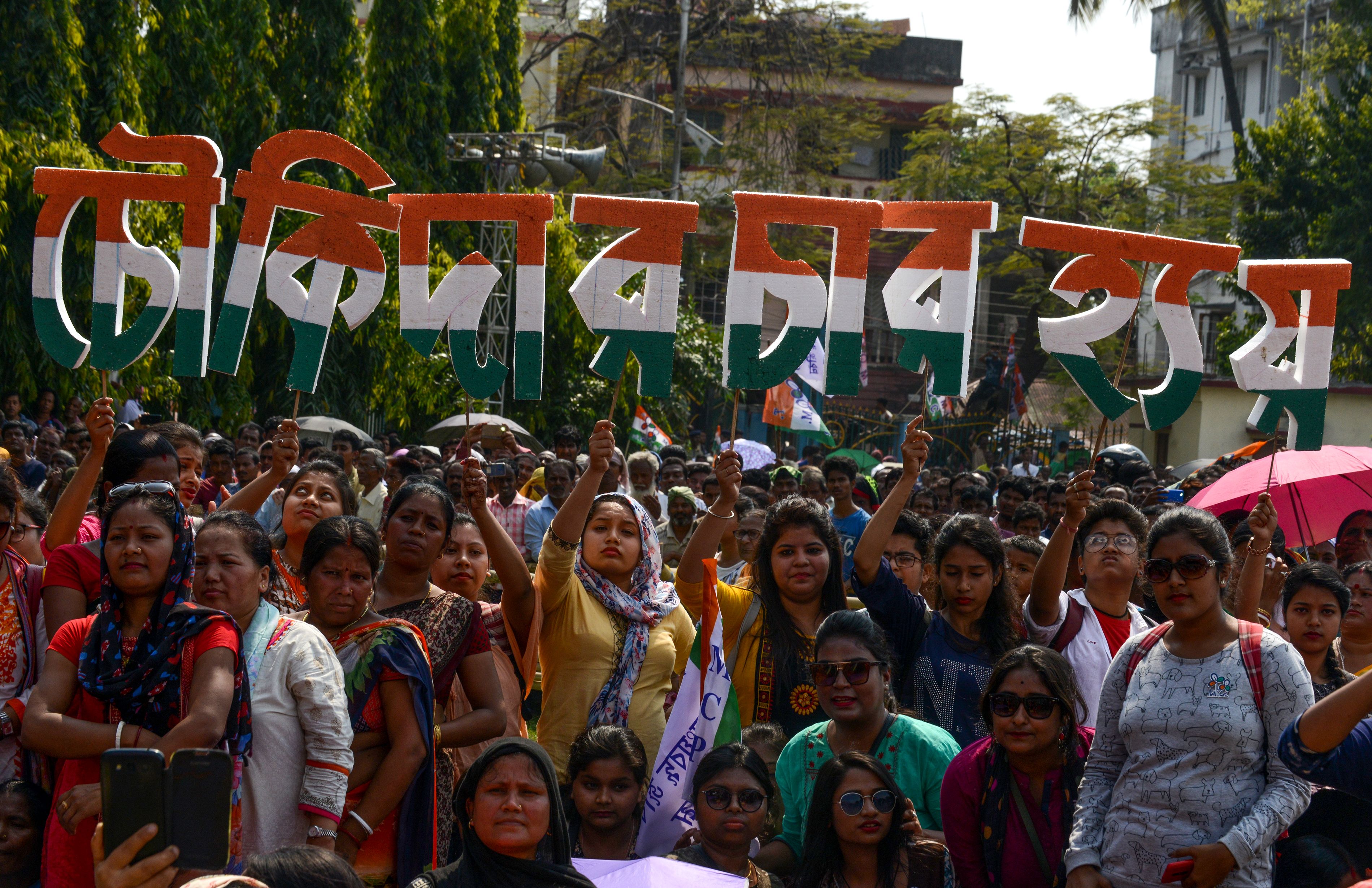 This is the second of two pieces looking at the potential business impact of India's upcoming elections. The first piece can be read here.
India is the world's fastest growing large economy, so not surprisingly, foreign investors and multinationals are closely watching the electoral contest that will decide which party—or coalition of parties—forms the next government in New Delhi.
The Next Government Will Decide the Rules of the Game
Amidst growing demands for economic nationalism and protectionism, the next government will not only decide the extent of foreign participation in the Indian economy, but also the rules of the game. There are increasing allegations of the government favoring domestic businesses over foreign businesses.
India is fiscally constrained; its direct and indirect tax collection is about half the OECD average of GDP (34 percent) for the federal and states combined. The combined fiscal deficit of federal and state governments is about 6-7 percent of GDP—and that doesn't include numerous off-balance sheet liabilities and fiscal engineering that could add another 2-3 percent of GDP to the country's income-expenditure gap.
Competitive Populism
Both the National Democratic Alliance and the United Progressive Alliance are aggressively pursuing competitive populism. This agenda is likely to leave any government seriously short of funds, unless the tax-to-GDP ratio improves substantially. But this won't be possible in the short run, with economic growth moderating because of muted investment in the private sector and sluggish exports.
Therefore, the next government will either be forced to borrow more or squeeze state-owned companies for more dividends, or worse still, cut investment in growth-promoting infrastructure projects. Given the complementarity between investment in government and the private sector, reduced government investment will have a negative impact on private sector investment.
Amidst growing demands for economic nationalism and protectionism, the next Indian government will decide the extent of foreign participation in the Indian economy.
The Dangers of More Government Borrowing
More borrowing by the government to finance populist schemes such as income support will push up interest rates at a time when the country's banking and financial sector continues to bleed from the burden of bad loans and capital crunch.
Higher real interest rates will also discourage private sector companies' capex plans, while increased dividend payments to the government will mean lower surplus for investment by public sector companies. That will push down overall investment in the country, with adverse implications for economic growth.
India Needs More Foreign Capital, Not Less
With domestic savings-to-GDP ratio on a downward path for quite some time, India needs more foreign capital to push up its investment rates to grow faster—not to mention the other benefits of foreign capital inflows, such as technical know-how and best management practices. However, FDI inflows are drying up amidst regulatory uncertainties, tax harassment and a growing inward focus.
To make matters worse, with increasing pressure on tax officials to mop up more revenues, tax harassment of foreign businesses may increase—even though India might desire more foreign investment flows.
India has unilaterally cancelled its bilateral investment treaties to push its "one-sided model investment treaty." This leaves new foreign investments in the country with little protection against unfavorable regulatory actions made possible by speedier international arbitrations. So aggrieved foreign businesses and investors will have to rely on the snail-paced Indian judiciary.
Poor Track Record of Enforcing Contracts
Businesses—domestic or foreign—are also troubled by problems in enforcing the terms of contracts, which is well-reflected by India's poor global ranking on enforcing contracts.
In the World Bank's ease of doing business ranking, India has jumped from 142 in 2014 to 77 in 2018. However, when it comes to contract enforcement, it's been a laggard for a long time with not much improvement. Its ranking has barely shifted from 2014 to 2018:
Enforcing Contracts Ranking for India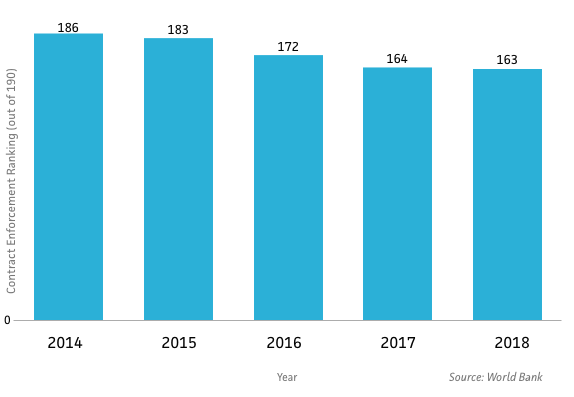 1,445 Days To Enforce a Contract
According to the World Bank, it takes an average of 1,445 days and 31 percent of the claim value to enforce a contract in India. This estimate is based only on data taken from two cities—Delhi and Mumbai. Things could be worse in other parts of the country. Obviously, difficulty in enforcing contracts jacks up the cost of doing business and discourages investment in the country.
Thus, foreign investors—existing and potential—will be watching to see if the new government is more flexible on investment treaties and taking measures to overhaul its defunct contract enforcement regime. Given the growing pressure from Indian businesses to raise import barriers, whether protectionism will grow in India is yet another question in the minds of foreign investors and MNCs.
The World Is Turning Inward
The world is turning inward—global FDI outflows have gone down, and multinational companies, the top source of FDI, are cutting their overseas exposures. Nationalistic governments are wooing them to invest more in their parent countries by offering fiscal sops, such as lower tax rates in the U.S.
So going forward, India will find it harder to have a substantial increase in FDI inflows, despite its high growth and increasing market size, unless it makes it easier for foreign investors to do business in the country. Otherwise, it may have to contend with lower GDP growth.