Environment
How 2020 Shaped the Environmental Agenda — And How BRINK Covered It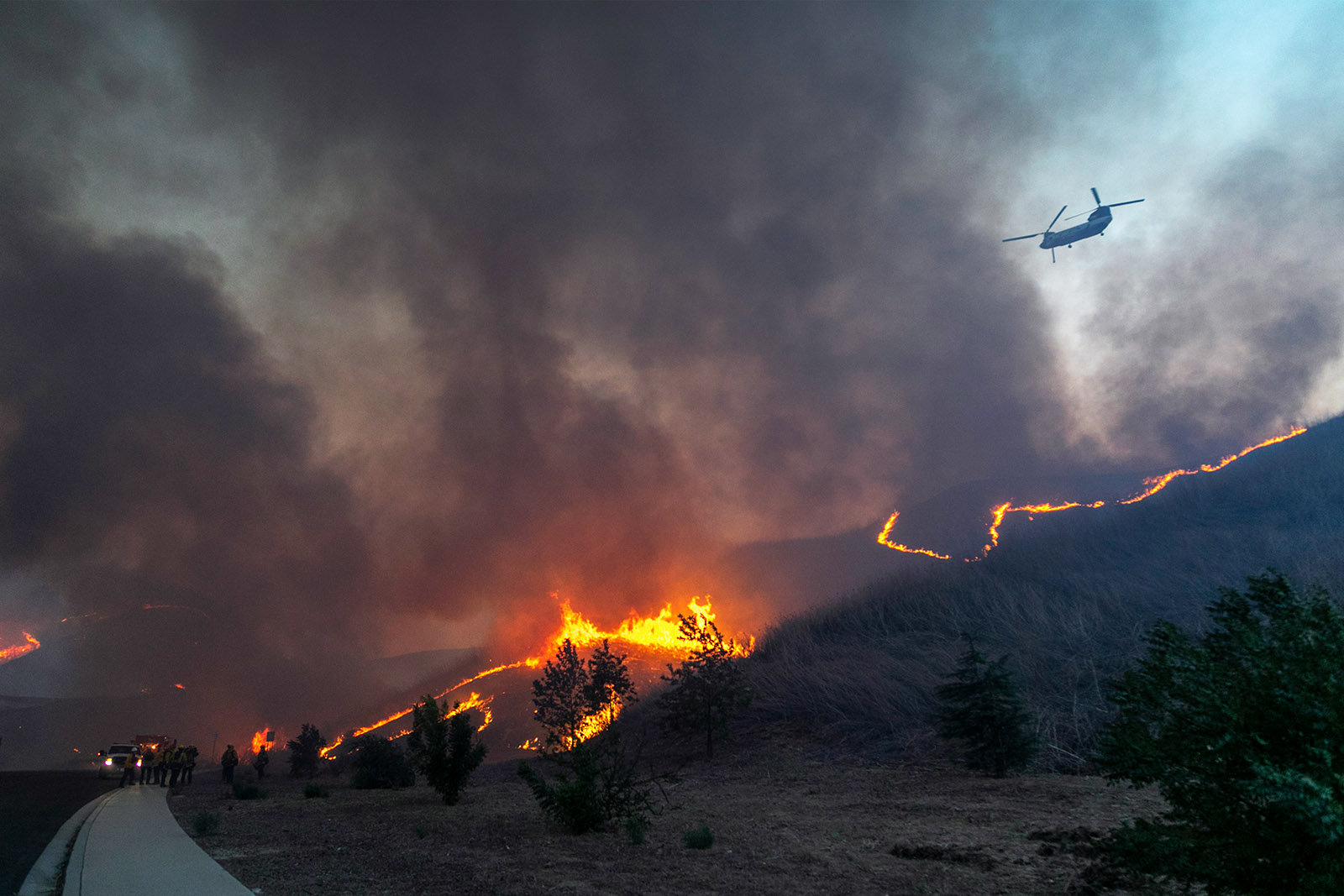 During the course of 2020, we ran 63 pieces on the environment. Climate change and renewable energy were the dominant themes, but we also looked at air pollution, the seabed and the future potential of algae, among others. COVID-19's dominance of the news agenda diverted attention from the environment in 2020, but several contributors argued that the pandemic could also help to galvanize support for global measures to fight climate change.
The Great Energy Transition
Despite the postponement of the COP summit that was meant to take place this year, 2020 may turn out to be the tipping point when alternative energy finally went mainstream. 
Electrification is seen as a critical element in the move away from dependency on oil and gas — so long as the electricity comes from renewables. Jeff Deason of the Lawrence Berkeley National Laboratory said that electric home heating was rapidly gaining ground in the U.S.:
"Electrification is considerably more cost-effective where some gas infrastructure costs can be avoided. This is most typically the case for new buildings. Even where gas distribution infrastructure already exists, avoiding a gas connection at the new building reduces cost." 
Martin Beck of Marsh wrote about the potential for offshore wind power in Asia, and Aneesh Prabhu and Luisina Berberian at S&P Global Ratings discussed the coming boom in offshore wind in the United States. In Israel, the focus is on developing a solar power industry, according to David Faiman, professor emeritus at Ben-Gurion University of the Negev:
"With appropriate storage, approximately 90% of Israel's future electricity needs could be provided by photovoltaic panels, with the remaining 10% being provided by gas backup, mainly for sequences of cloudy days in winter."
Projections suggest that close to 60% of Europe's electricity will come from renewables by the end of the decade: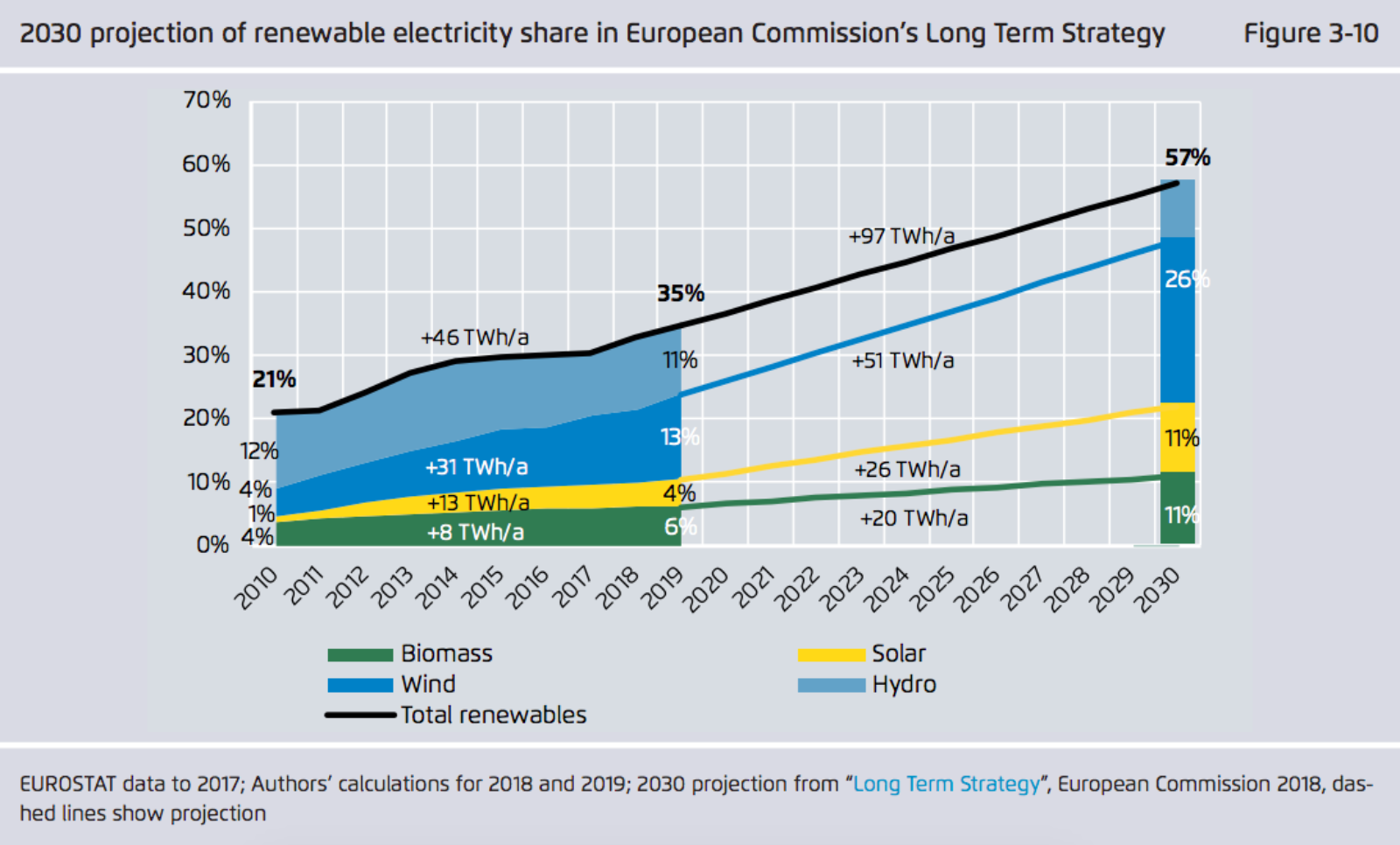 However, another S&P author, Trevor d'Olier-Lees, warned of a possible slowdown in renewable investment during the course of the year:
"Estimates suggest that renewables today enjoy a 22.5% share of the world's energy mix — a dramatic increase from 8.6% at the start of the last decade, with solar taking claim as the dominant technology. Impressive growth has been due to some $2.6 trillion of clean energy investments during the previous decade. But the market seems poised to transition from a sprint to a long-distance event: Indeed, capacity growth in 2018 was flat for the first time since 2001."
COVID-19's Impact on Climate Change
Tim Juliani, the director of corporate climate engagement at the World Wildlife Fund, made an urgent appeal in his piece called "Don't Waste the COVID-19 Moment to Tackle the Climate Crisis." Elizabeth Littlefield, the head of the sustainability practice at Albright Stonebridge Group, said important lessons should be drawn from COVID-19:
"For the first time in generations, we see the very real social and economic disruption wrought by a hard-to-imagine natural event that arrives gradually and sporadically, but quickly morphs into a runaway systemic threat. This time, it is a virus. Next time, it will be temperature rises and extreme weather events."
Rob Bailey, the director of climate resilience at Marsh McLennan Advantage, warned of the need to be ready for possible 'green swan' events that could plunge the world into crisis, such as the Amazon rainforest losing more than 25% of its forest cover:
"Amazon dieback would release billions of metric tons of carbon into the atmosphere, accelerating climate change and taking us toward the point where a disastrous "domino-like cascade" of Earth-system tipping points becomes possible, as ice sheets and permafrost melt and ocean and atmospheric circulation patterns change."
Climate & The State of Financial Markets
In August, we covered the release of a major academic report, which showed that carbon pricing is an effective tool for reducing carbon:
"If countries are keen on a low-carbon development model, the evidence suggests that putting an appropriate price on carbon is a very effective way of achieving it."
In September, we published a three-part series on another landmark report by the bipartisan Commodity Future Trading Commission (CFTC), which laid out the potential impact of climate change on financial markets. Leonardo Martinez-Diaz, the lead author of the report, said that:
"Markets have yet to fully internalize that the impacts of climate change are already happening. They're manifesting in the world of real assets: the destruction of property because of hurricanes and floods, destruction of assets because of wildfires, disruption of economic activity. That's happening all across the U.S. and, indeed, around the world."
Associate Professor Jesse M. Keenan of Tulane School of Architecture warned that a whole new class of residential stranded assets could emerge in the U.S. housing market because of changes to the climate, such as rising sea levels and fires. A graph from NASA provided a vivid illustration of the extent of fire damage in Australia. Each pixel represents one kilometer and contains at least one active fire.
Our top five most popular environment pieces of 2020 reflect the wide range of interests on the part of our readers:
If you would like to read more of our environment articles in 2020 — anything from seawater desalination to climate change security and the risk of methane — you can find them all here.