In Practice
How Behavioral Analytics Can Help Decide When to Go Back to the Office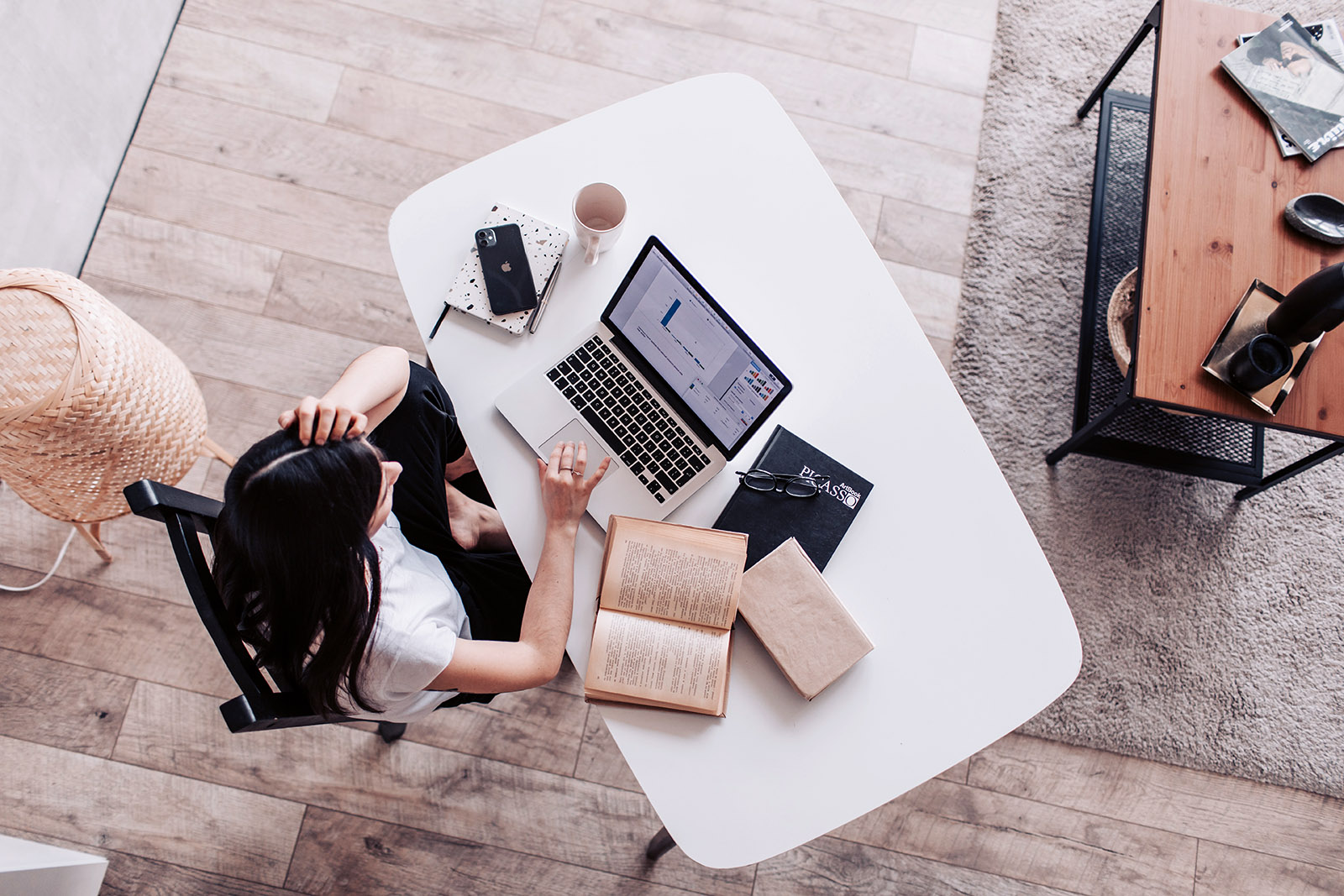 While a "return to normal" remains a distant vision for most companies, many leaders have begun steering select groups of employees back to the office with hybrid approaches, like some employees working from home, while others are in the office. 
Can both in-person and remote work have advantages to a company? The answer is yes, and a well-designed hybrid strategy is the way forward. Managing a hybrid workforce is hard, but companies that adopt a data-driven approach, customized to their unique cultures, will separate themselves from the pack. 
Artificial intelligence and network analysis can help leaders identify the ideal environment for each employee and each team, while also mitigating the communication difficulties of distributed teams. 
How AI Can Determine the Best Work Environment for Each Employee
Paul Graham famously categorized employees into two groups: 'managers' and 'makers'. While managers require constant context switching and more frequent meetings in their schedules, makers (such as programmers) require more head-down work time with little distraction. 
The rise of remote work during the lockdown has added to the complexity. 
Leaders struggling to understand who is doing well at home and who needs the office to thrive can lean on AI to help make these difficult decisions. Employees can be grouped into work styles by analyzing behavioral data about what makes them most effective. 
An effective algorithm combines objective and subjective data: measures of how frequently employees attend meetings and how much time they spend doing heads-down work, with a survey of employee preferences and input from managers. This allows us to go a level deeper than Graham's binary approach. 
For example, employees whom the algorithm identifies as "concentrators", doing predominantly solo work and reporting good remote work conditions are prime candidates to continue working from home, at least part of the time. But that's an easy case. It's the hard decisions where the data-driven approach is critical. 
For example, employees may say they are productive working from home, yet the behavioral data shows they're "collaborators," and can be more effective when communicating seamlessly with their colleagues in the office. In these cases, the best solution is often a hybrid work-from-home, work-from-office schedule.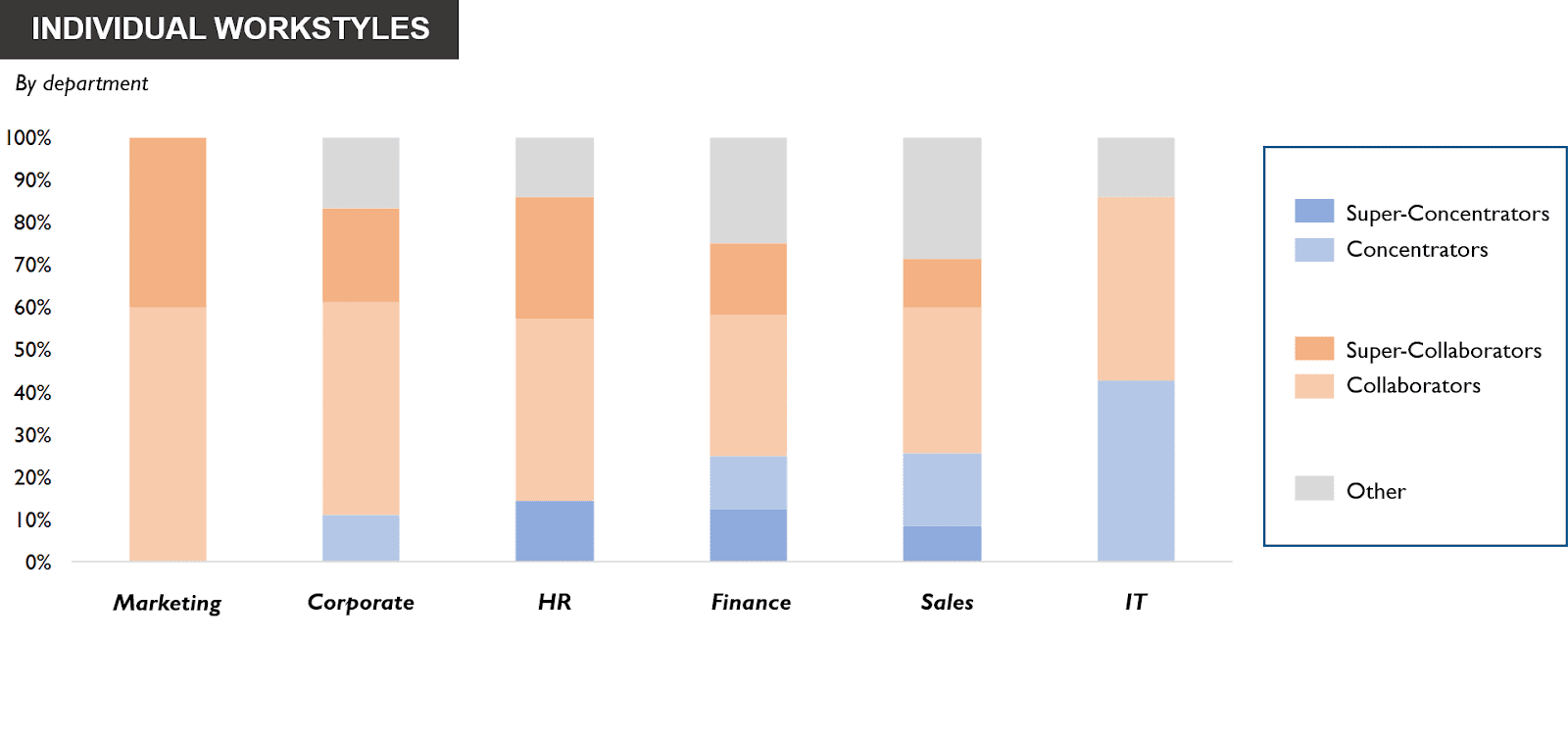 Additionally, one must consider those in hybrid roles among the collaborators. Network analysis identifies such individuals by asking employees to identify the types of information or help they get from key influencers in their network. 
Player Coaches
For example, mid-level managers often act as "player-coaches," requiring both the functional expertise of an individual contributor coupled with traditional management and leadership duties. 
Player-coaches face a more complex burden — and a higher risk of burnout — than employees who occupy only a single role, because their multifaceted work often shifts between collaboration and concentration. Remote work can exacerbate this challenge, as can a haphazard return to the office. This will require careful planning to ensure they receive the appropriate support to avoid burnout.
Incorporating New Hires into this Model
Another common tough question is around new hires, who benefit from face-to-face interaction in the early stages of building their networks. A recent Dojo cohort analysis reported that, on average, new hires' social networks in the organization in 2020 Q3 (during lockdown) were 19% smaller than in 2020 Q1 (before lockdown). 
A recommended course of action is to have new hires meet their peers face-to-face early on, even if they go remote thereafter. By spending their first weeks coming into the office, they can build up that foundation of trust and collegiality that can be so conspicuously missing in our remote-only world. 
AI Can Prevent Silos Emerging Among Remote Teams

Strong teams have naturally responded to the loss of spontaneous coffee chats and informal meetings by increasing the volume of scheduled calls and check-ins. 
But, in recent projects comparing organizations' communication networks before and during the lockdown, we've noticed something unusual. The over-communication happening within teams is not spilling over to collaboration between teams. 
Teams that become so consumed by the processes of remote work risk turning into silos that communicate intensely within their ranks, but are isolated from other parts of the organization. 
Without free-flowing collaboration that crosses departmental lines, organizations tend to lose their competitive edge and develop an 'innovation debt' over time. These organizations also tend to develop a subset of "influencers" to bridge the gaps between silos — a risky proposition that is a recipe for burnout or an over-reliance on individual stars.
Using AI, organizations can identify these silos before they develop.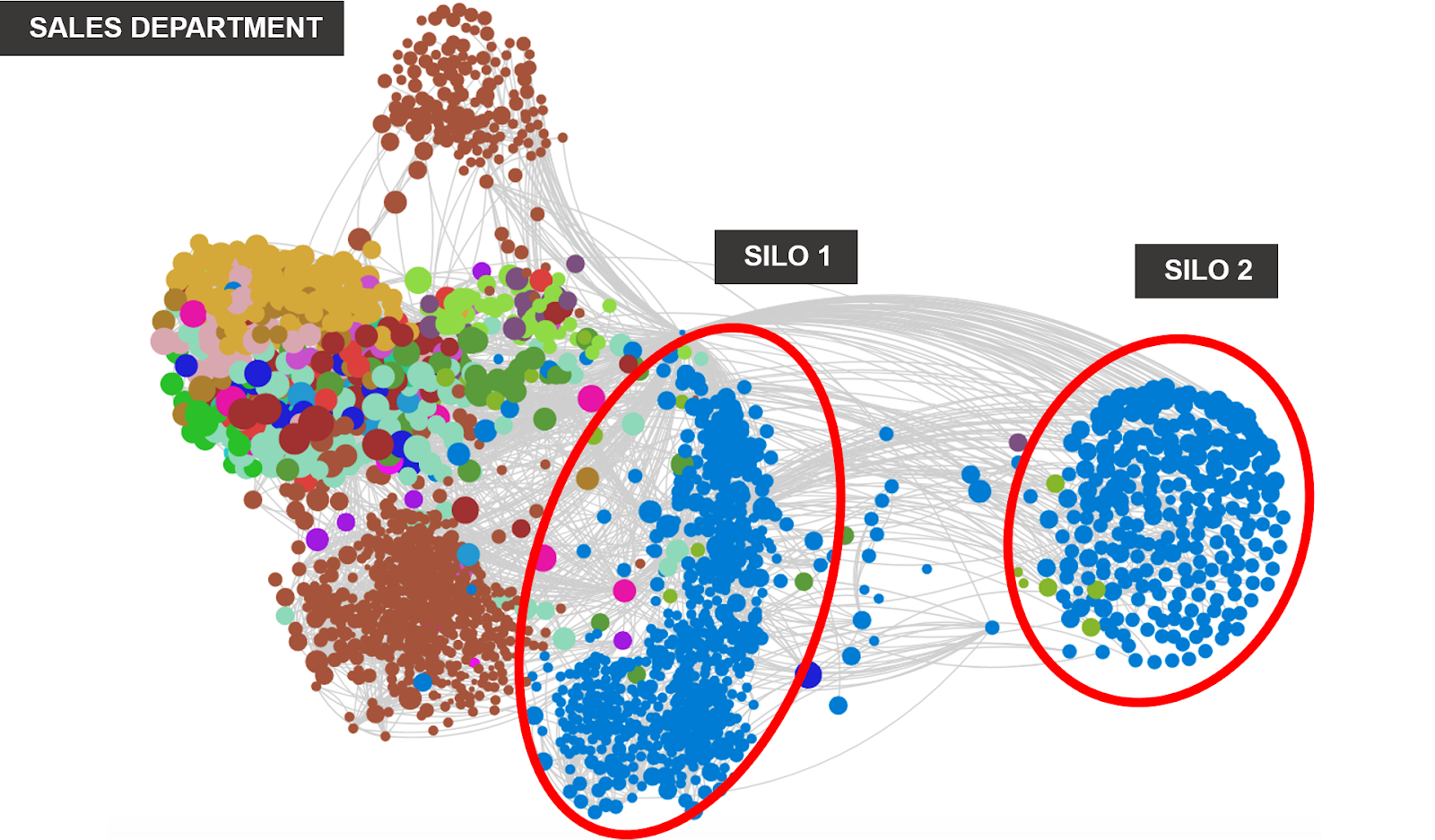 For example, the network map above shows the communication network of a fast-growing tech organization and is based on meta-data from meetings, emails, shared documents and shared code repositories over a 90-day period. 
Although the two blue-colored clusters belong to the same Sales division, by 2020 Q3, they have splintered off into two functional silos, representing the 'deal sourcing' and 'closing' teams. The handful of employees in between mediate much of the interaction. 
Since a split like this was not particularly welcome news to leadership, this analysis was an impetus for action. Early monitoring and benchmarking enable leaders within an organization to intervene with smarter management, better communication practices or informal digital gatherings before problems get out of hand, and innovation debt begins to mount. 
Data and AI for Navigating Our "New Normal"
Managing the hybrid workspace will be an ongoing challenge for organizations for the foreseeable future. Leveraging network analysis and AI is an important step towards effectively building and adapting a plan. Using this approach can help leaders maintain productivity, tailor employee environments and experience, and sustain effective collaboration between teams. 
For all we know about planning for the future of the workforce, navigating these challenges may, in fact, be our "new normal."