Society
Micromobility Is Thriving in the New 'Safety Economy'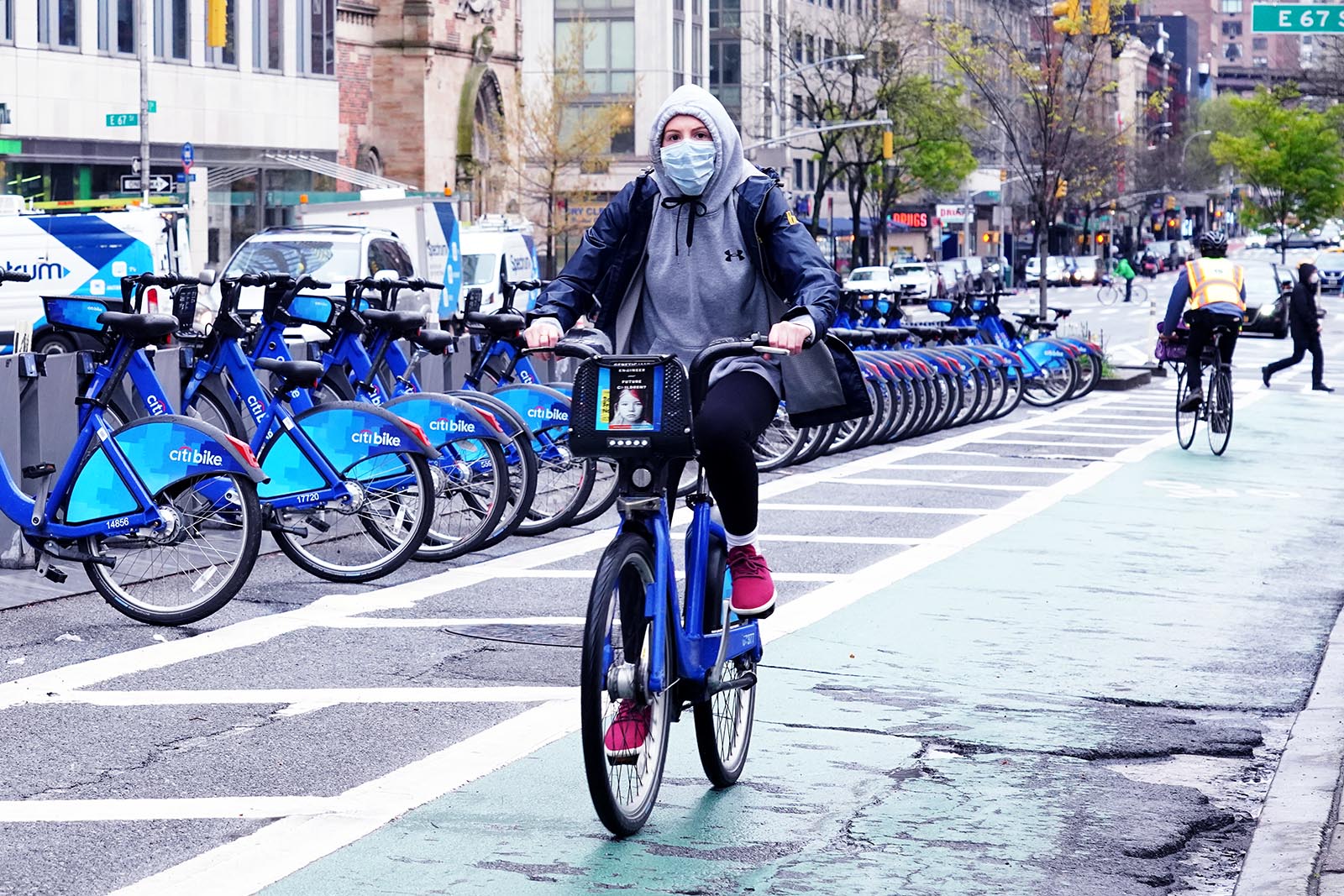 Thanks to the coronavirus pandemic, the world is shifting from a sharing economy to a safety economy. As consumers emerge from their homes, they seem to be opting for the solitary and hygiene of their own cars, bicycles and walking. Even as economies reopen, given the new priorities, mass transit and other modes of urban transportation can look forward to tough times.
But it's not all bad news. One of the modes that will not have to wait for herd immunity is micromobility, a term used to refer to bicycle- or scooter-sharing enterprises. These services are already seeing riders return — for some cities, in increasing numbers. The reason? Bicycles and scooters are used outdoors, allow for social distancing and can be wiped down before use. 
According to a recent eight-nation survey Oliver Wyman conducted with some 6,000 respondents, 44% of riders said they would be willing to increase their dependence on the service in the future and another 34% said they planned to use it as much as before the pandemic. Only 22% said they would decrease their use. Additionally, over a third of non-users said they were now equally or more willing to try the service.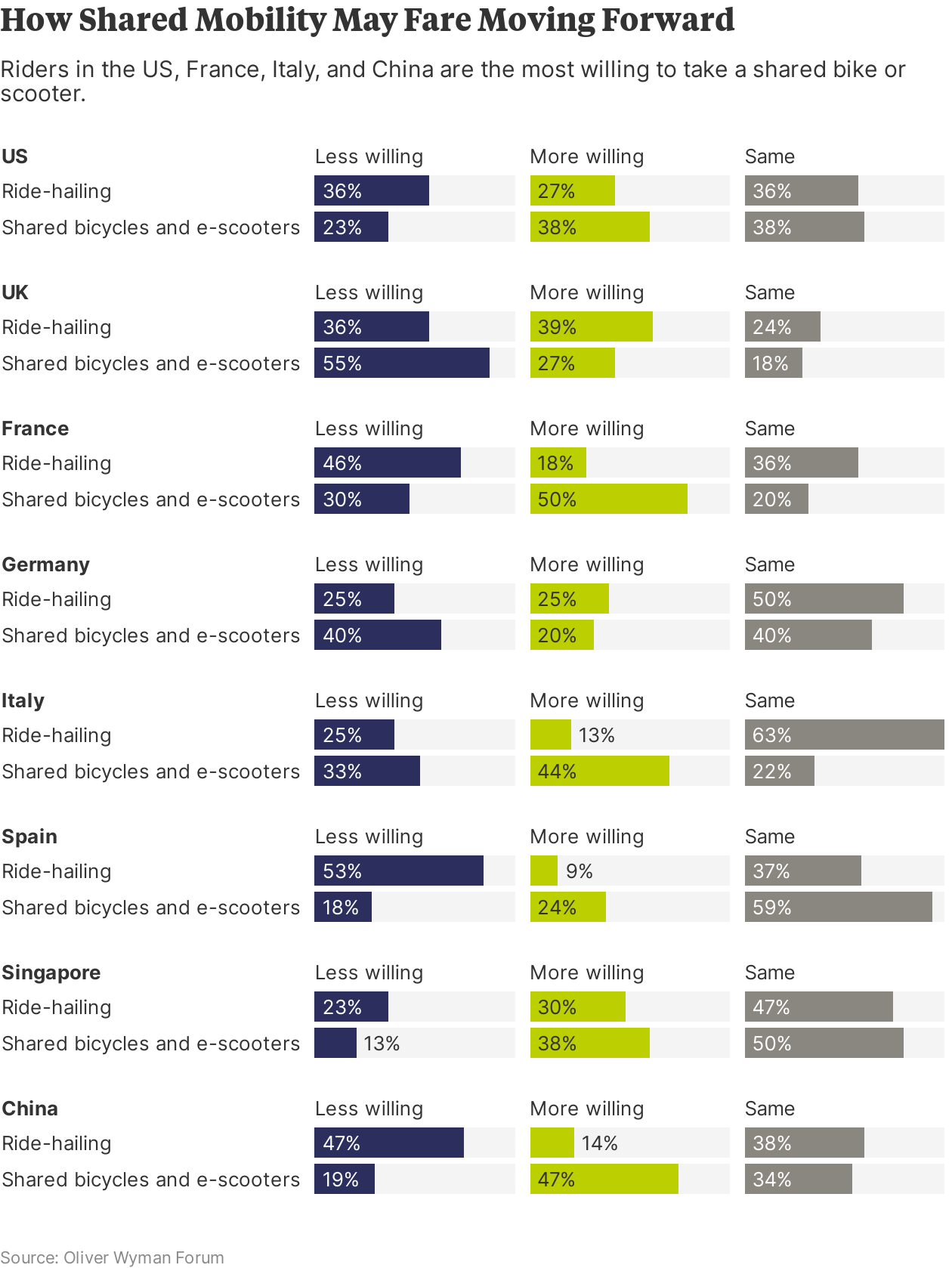 Initially, the pandemic prompted some of the micromobility startups to close down operations in the face of stay-at-home orders, and demand pretty much dried up, according to a New York Times analysis of credit card data. That decline in ridership was driven as much by corporate decisions to shut down operations as it was by the pandemic. Resuming operations in bigger cities may be a smart first step to lure many riders back to the service. Those that have are seeing better numbers, attributed in large part to essential workers. In New York City, Citi Bike expanded service during the pandemic into the Bronx because essential workers needed alternatives to mass transit to get to their workplaces. Capital Bikeshare in Washington, D.C., also announced plans to expand. Both operations never closed during the pandemic, and both saw demand throughout.
Filling the Gap
In the meantime, shared mobility services have had to look for revenue alternatives. To compensate for decreased ridership, some companies are adding or expanding delivery services for such items as food, medical supplies and groceries. 
Even before the pandemic, several large ride-hailing and scooter-sharing operations established relationships with popular food delivery services to enhance revenue. The pandemic only made last-mile delivery more important to most city dwellers, looking for ways to get food, pharmaceuticals and other essentials without leaving the safety of home. For instance, in our survey, 42% of respondents said they were using online grocery shopping and food delivery services more or for the first time.
The new revenue from these operations is helping, but it is probably not enough to compensate for the decline in ridership caused by the coronavirus. For many ride-hailing companies, even a doubling of their food delivery business would only partially offset the double-digit drop in ridership globally.
Modeling Safety
Contrary to what one might expect, the sharing and safety economies need not be at odds. Mobility companies that embrace a heightened focus on safety and work to reassure riders that they are watching out for their health are the ones that will emerge the strongest. For instance, many bicycle- and scooter-sharing enterprises announced implementation of extensive cleaning protocols, which include wiping down and spraying equipment regularly. 
Similarly, ride-hailing companies altered their business model because of the pandemic, switching to door-to-door, single-passenger rides while discontinuing ride-sharing services. Despite continuing pandemic-related challenges, our survey shows that many travelers will come back to ride-hailing and car-sharing, with a majority saying they plan to use these services the same or more after the pandemic.
Respondents from countries where the pandemic was the worst were the least enthusiastic about returning to shared mobility modes, with respondents from Spain being the most negative about shared mobility services. In Singapore, where the pandemic has only killed 30 people, there was much less resistance to the idea of using them during and after the pandemic.
Based on our survey, it's clear that the sharing economy has not retreated so much as it has morphed. In the new environment, micromobility looks set to take off as cities and consumers embrace its benefits. 
Alex LaValle, an associate at Oliver Wyman, contributed valuable insights and research that made this article possible.