Environment
Time To Rethink China's Renewable Energy Approach?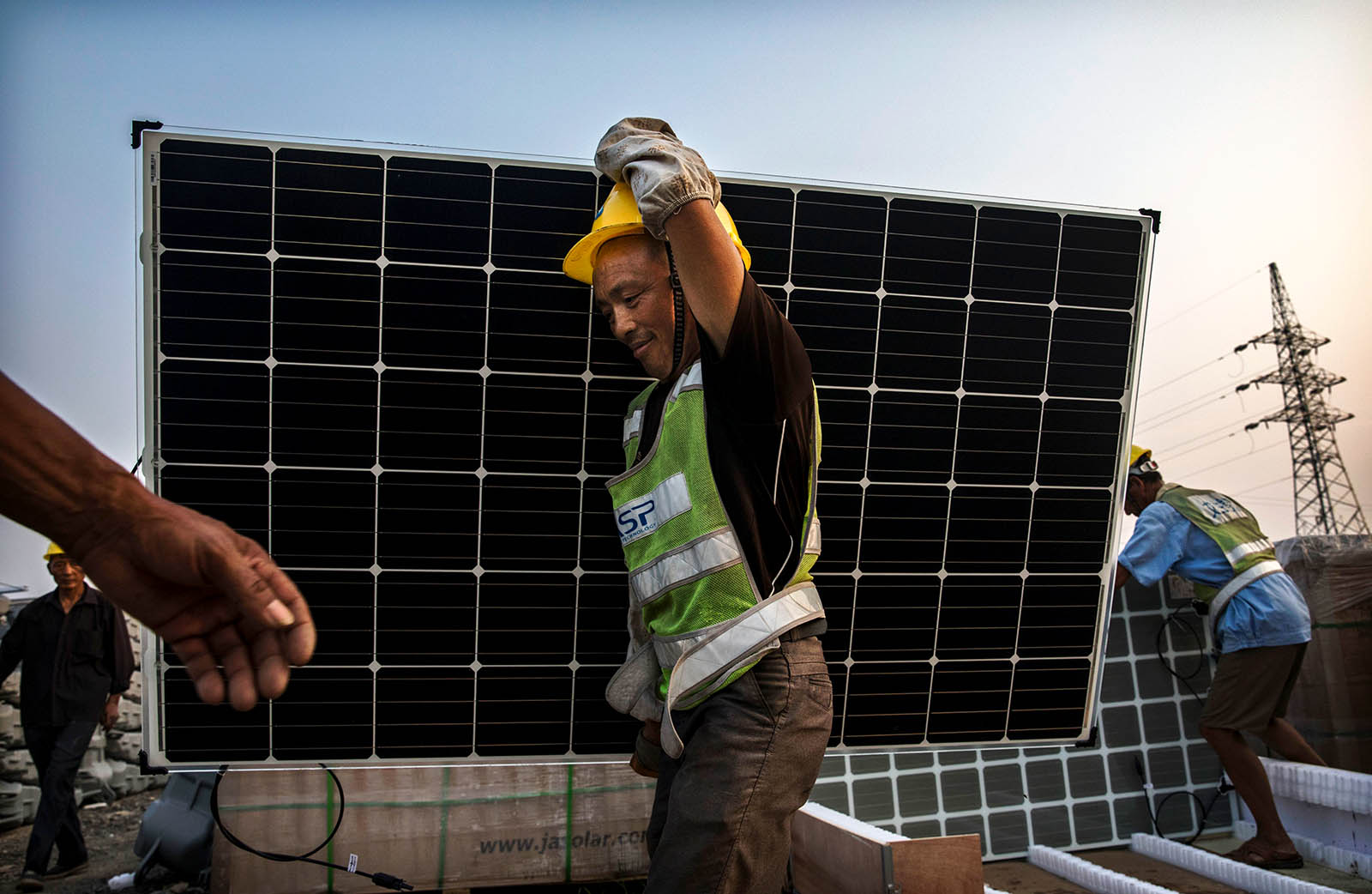 The development of renewable energy in China has attracted global attention in recent years. In 2012, China's installed capacity of wind and solar power was 61 GW and 3.4 GW, respectively, while the annual electricity generated by renewables was only 2.1 percent of China's total consumption. By 2017, China's wind and solar power capacity had increased to 168.5 GW and 130.06 GW, respectively, and renewables were generating 5.3 percent of China's electricity supply.
At present, China leads the world in terms of wind and solar power capacity. And with large-scale industrial applications, the costs have fallen substantially. A good example is photovoltaic (PV) technology: The price of PV modules decreased from about 30 yuan ($4.66) per watt in 2007 to about 10 yuan in 2012, and by 2017 it had decreased further to just 2 yuan per watt.
The Role of Subsidies
The success of China's renewable energy drive fully illustrates the effectiveness of China's on-grid tariff subsidies. The advantage of the on-grid tariff policy—through which the government can make renewable energy production more competitive and attractive to businesses and investors—is that it anchors the revenue of power generation throughout the entire life cycle. In this way, it conveys a clear price signal to investors and can effectively support the early stages of renewable energy development.
However, alongside the rapid expansion of installed capacity, the total amount of renewables subsidies is also mounting rapidly. Based on the average on-grid electricity tariff, the total amount of wind and PV subsidies in 2012 came to about 60 billion yuan, a figure that had increased to 170 billion yuan by 2017. Although the government reduced the value of subsidies several times during this period, the total subsidy amount continued to climb. The subsidies for renewable energy should be compensated by the renewable surcharge collected from end consumers. China's renewable surcharge was 0.015 yuan/kWh in 2012 and rose to 0.019 yuan/kWh in 2016. There was a surplus of 15 billion yuan in the account of China's renewable energy subsidy in 2012, but by 2017 it had turned into a large deficit of about 80 billion yuan.
Therefore, China's expansion of renewables will inevitably lead to a rapid increase in subsidies. Solutions to accommodate rapid renewable expansion usually lead to two phenomena: one is the rapid growth of end-consumer tariffs, such as in Germany, and the other is maintaining high subsidies, such as in China, but with a large subsidy deficit.
The rapid development of renewables in Germany has led to a significant rise in electricity tariffs, which have nearly doubled over the past decade, making Germany one of the countries with the highest electricity tariffs in Europe. Of these tariffs, the most significant has been the renewable energy surcharges. At present, Germany's renewable surcharge roughly amounts to 0.8 yuan/kWh—or 0.11 euros—which alone is equivalent to China's average end-consumer tariffs. This has had a considerable negative impact and has provoked great opposition. As a result, the development of renewables in Germany has slowed sharply in the last two years.
Last year, there was an appeal to increase China's renewable surcharge to 0.3 yuan/kWh in order to balance the subsidy deficit. But it did not happen. Instead, the government this year lowered the end-consumer tariffs for industrial and commercial consumers by 10 percent. It would seem it is not possible to increase funding for renewables subsidies. At the same time, the installed capacity of China's PV surged significantly. In the first nine months of 2017, about 42 GW of new capacity had been installed, and this increased the subsidy bill by nearly 30 billion yuan.
Time for a Shift in Focus?
At present in China, the quality of renewables, rather than the quantity, should be prioritized. Since competitiveness is crucial to future development, subsidies should be designed in such a way as to favor competitiveness. The current approach—subsidy based on quantity (generation hours)—could possibly prompt some enterprises to overlook the long-term interests of the industry in order to make short-term profits.
The curtailment of wind and solar in China is largely due to the imbalance in China's energy endowment. The majority of renewable generation is concentrated in western China, but the market's capacity to accommodate wind and solar power there is very limited. Despite the government's efforts, the relatively large curtailment is likely to continue, as long as renewable installed capacity continues to grow rapidly. As such, the government might need to consider reducing subsidies to contain the enthusiasm for renewables.
Further, with the current electricity surplus in China, transferring subsidy reductions into cost reductions can reduce inefficient capacity installations. Reducing subsidies can also force renewables manufacturers and power plant investors to consider future investments more carefully and encourage them to look for more economical projects.
All subsidies are, in general, temporary and unsustainable. With the rapid growth of renewable energy, the increasing financial burden will inevitably lead to the reduction and even elimination of subsidies. It is problematic for an industry to plan long-term development with a reliance on subsidies. Further, with the costs of renewables falling drastically, the marginal stimulus effect of subsidies on renewables has been greatly reduced. It could be more effective to promote renewable development by implementing an environmental tax, carbon trading and a carbon tax.
Funding Innovation
It is commonly understood that the 21st century is a time for renewable development. However, renewable energy development still encounters challenges. Given that the businesses involved in renewables are still, by and large, struggling in their financial performances, government support is still needed and, in particular, technological innovation needs sufficient financial support.
If subsidies are still necessary at this stage, the government should change the way subsidies are granted. For example, the government could consider subsidizing renewable energy enterprises for a fixed quantity until the quota runs out. This could prevent renewables firms from indulging in illegal behavior and force them to improve their competitiveness through innovation. Further, the government could move subsidies to the upstream of the industrial value chain to support key technologies such as energy storage.
Ultimately, renewable subsidies should encourage technological innovation. Only the cost reductions brought about by innovation will be certain and permanent.
As renewable energy in China enters this stage of rapid growth, subsidy policy should be more flexible and better designed to reflect reality. The government needs to carefully design subsidies in order to stimulate innovation and to address the developmental problems of renewables.
This piece first appeared on the World Economic Forum Agenda blog.