Environment
Preventing a Hurricane from Being a Showstopper to Your Business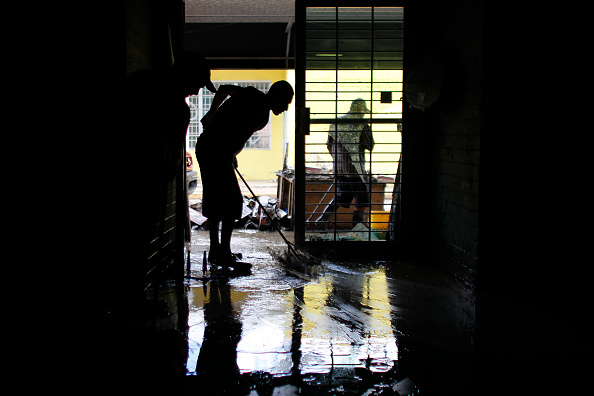 This piece is the fourth in a BRINK series exploring the global implications of hurricane season. You can find the rest of the series here,  here and here.
The National Oceanic and Atmospheric Administration is predicting a lot of activity this hurricane season, with as many as 16 named storms. This follows a historic 2017 hurricane season, which precipitated the most costly year on record for insurers, according to Swiss Re.
A savvy use of technology combined with equally savvy advanced planning can help companies prepare for the worst and expedite their recovery after a storm clears. Technology for storm preparation and recovery is steadily expanding in sophistication and utility, from drones that can navigate the interiors of flooded buildings to artificial intelligence-enabled applications that enhance modeling and speed claims processes.
Claims: The Quicker the Better
Whether Fortune 500 firms or small businesses, companies share a common goal when it comes to recovery after a hurricane or other major natural disaster: They want to replace lost inventory, infrastructure, stores, offices, and plants; ensure their employees are safe; and get back to normal operations as soon as possible.
Being able to file an advance claim—or, for that matter, help employees begin their own rebuilding process—hinges on how quickly and efficiently companies can gather the information and documentation needed in the chaotic aftermath of a major natural disaster.
In a recent Marsh survey, more than 80 percent of respondents indicated they would consider changing insurers or other advisers based on their ability to provide claims management innovations.
Leveraging technology, from drones to social media, can be crucial to prioritizing company response actions, speeding up the claims process, and getting the money needed to begin rebuilding, while also enabling employees to file their own claims for lost or damaged cars and homes.
A savvy use of technology combined with equally savvy advanced planning can help companies prepare for the worst and expedite their recovery after a storm clears.
Visual Intelligence
Visual intelligence made a big difference in accelerating organizations' recovery after Hurricanes Harvey, Irma, and Maria last year. In Houston, one hospital, flooded in the aftermath of Harvey, was able to use drones to capture evidence of the damage the water had wrought, with footage of the waterline along the complex.
In the Florida Keys, a retailer gathered critical information on the condition of its stores by leveraging imagery acquired via fixed-wing aircraft with sensitive imaging technology to document hurricane damage to all of its stores.
The flyovers helped the retailer take stock of the damage at each location and focus its recovery efforts on swiftly reopening undamaged stores while simultaneously directing restoration teams to the one location where Irma had blown the roof off.
The Value of Drones
Drones, aerial intelligence surveillance reconnaissance (hovering drones), fixed-wing aircraft, helicopters, and satellites can gather crucial information from devastated areas far faster than people on the ground. Drones can also save employees or adjusters from having to enter still-hazardous areas and scramble up on rickety roofs and other structures to check damage.
Deploying directly over the top of facilities can sometimes be a cause for concern to risk managers, but 360-degree panoramas developed through the clever processing of drone footage can offer detailed intelligence from a safe distance at the site perimeter.
3D imagery, in turn, provides a far fuller picture of damage than traditional photographic images, while a plane or drone equipped with thermal technology can spot flooding and roof damage at night or when it might otherwise be hard to see.
And thanks to advances in battery power and operator navigation technology, drones are starting to be used to inspect building interiors. In a recent case in the UK, a drone was used to inspect the fire-ravaged interior of a commercial building full of high-value machinery, safely performing what otherwise would have been a potentially risky job for an employee or contractor.
Don't Forget Public Information Sources
While drones and other aerial technologies are exciting, companies can also glean crucial intelligence about the condition of their facilities through careful monitoring of public sources of information, such as Twitter, Facebook, other online platforms, and even closed-circuit television cameras.
All of these techniques can help businesses resolve claims, recover from storms, and return to normal operations more quickly.
For example, a retailer with a $24 million store loss may be able to get an advance payment of $10 million on undisputed costs if it can show its insurer through video or photographic evidence that a return to work is impossible or that a location is a complete loss.
Is It Worth Having Your Own Capacity?
As companies consider using visual intelligence technology to gather critical storm damage information, they'll need to decide whether to hire an outside vendor or build up in-house capabilities. Some companies, especially in the energy sector, have invested heavily in building out their own visual intelligence capabilities.
Hiring seasoned drone pilots or training employees to handle this technology, however, can be an expensive process. Investing in external contractors might be the better course of action so that you can draw on precisely the right technologies and analysis.
If you work with an outside vendor, make sure its personnel are fully versed in regulations and the practical operational requirements for deploying any type of aerial technology in disaster situations, when emergency responders may be controlling airspace. You may also want to consider a vendor's overseas reach, in case Caribbean territories are once again in the spotlight in 2018.
Working at Street Level
This survey technology need not be airborne. If streets are passable, then Lidar, a laser scanner system, can be mounted on the roof of a van and can instantaneously take millions of measurements as it drives through a neighborhood to create 3D models. Put on a boat, the same device—coupled with an optical camera—could provide crucial documentation of a flooded neighborhood.
Insurers more often are on the scene with mobile claims units that travel into storm-damaged areas to help homeowners and others file their claims, but they're using technology in other ways. As some insurers allow customers to process claims via text messaging, email, and mobile apps, images of flooded or otherwise damaged homes and cars can give employees stranded in shelters or hotels the ability to start the claims process before they eventually return home.
Similarly, receipts and other documentation can be transmitted digitally. Behind the scenes, sophisticated software and artificial intelligence can help insurers process the incoming data and build the claim file.
Staying in Touch with Employees
Meanwhile, employers will want to establish a way to communicate vital information to employees after a storm hits and keep tabs on their well-being. Because major hurricanes can severely disrupt communications networks, you'll want to establish at least three different methods through which employees can get the information they need and report back to the company on their status.
One increasingly popular method is to hire a third-party mass notification vendor to handle such critical communications. In the event of a major storm or other emergency, the messaging service will reach out to employees by email, phone, and text.
The messages may also ask employees to register whether they are OK or not. This can provide a quick snapshot on how employees are faring and how many will be able to return to work.
With hurricane season upon us, new technologies can help businesses and individuals better prioritize their efforts, more efficiently collect information in support of claims payments from insurers, and accelerate a return to normal operations.