Economy
Reality Bites: Finance Execs Hoard Cash Again Amid More Gridlock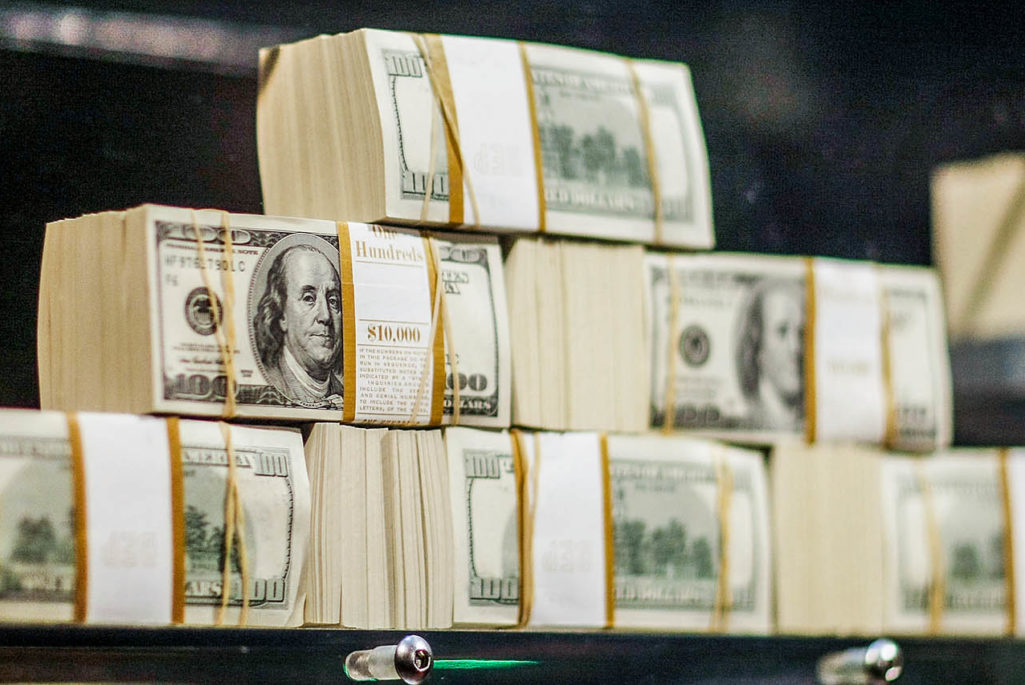 The honeymoon is over.
Flush with the optimism a new presidential administration brings, corporate treasury and finance executives said in early 2017 they were ready to deploy corporate cash. But legislative setbacks and current geopolitical events have dampened their enthusiasm.
And when treasurers and finance chiefs are plagued by uncertainty, their first instinct is to hoard cash.
According to the AFP April 2017 Corporate Cash Indicators (CCI), a quarterly survey of corporate treasury and finance executives conducted by the Association for Financial Professionals, U.S. businesses continued to build their cash reserves through the first quarter of 2017. This was not what they anticipated doing.
Last quarter, finance executives suggested that they were, for the first time in well over a year, willing to deploy cash in the coming three months. The latest CCI reveals the opposite. The quarter-over-quarter index of +15, which measures actual changes in cash balances during the quarter, contrasts with the anticipated change for the first quarter of -7. A positive number shows cash accumulation, and a negative number reveals cash spending.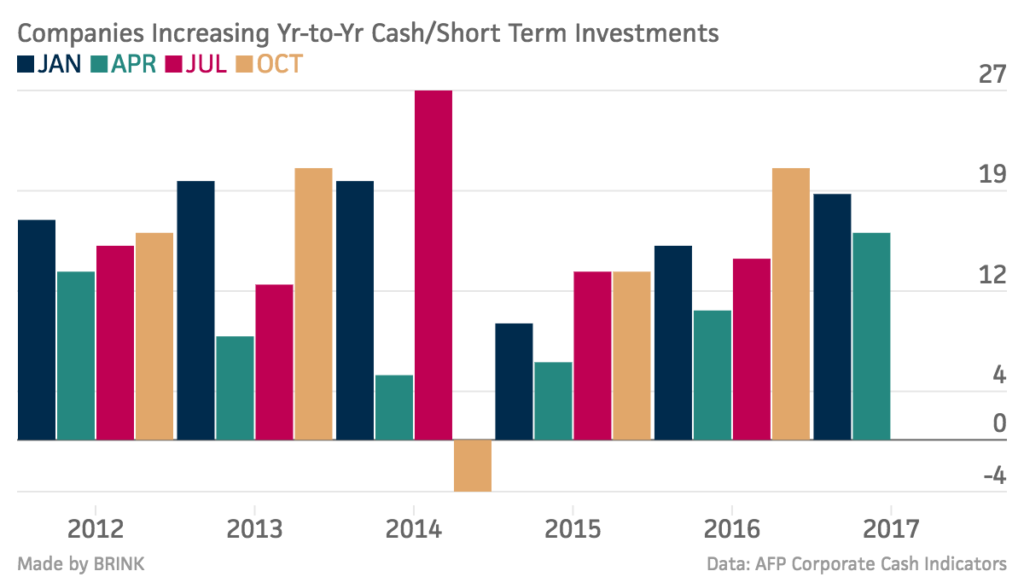 The forward-looking indicator, measuring the expected change of cash holdings during the second quarter of 2017, increased 10 points to a reading of +3, signaling a continued softening in finance professionals' business confidence through the spring and an anticipated increase in cash holdings in the coming quarter.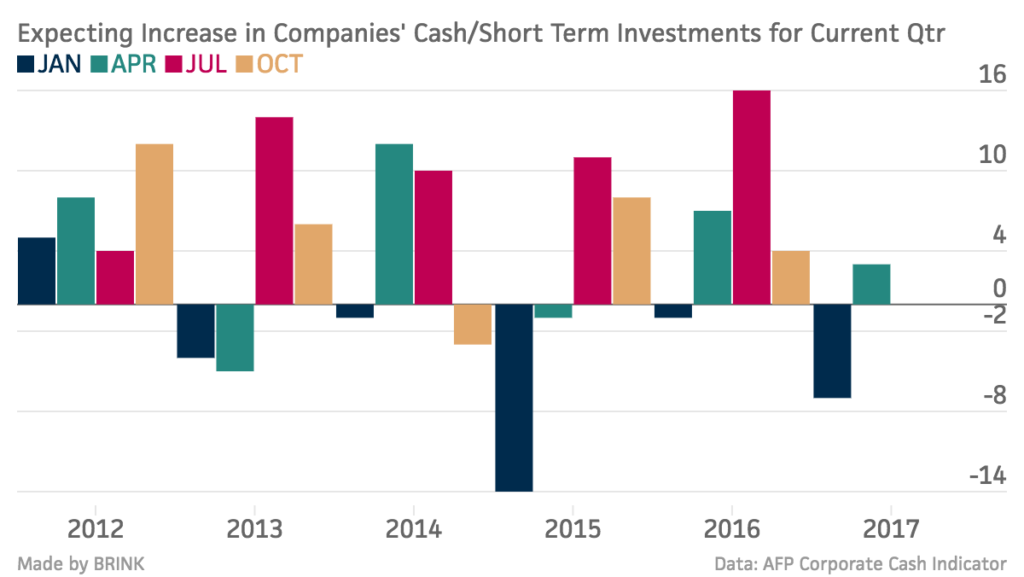 Why the reversal? We think the failure to reform health care was a sobering moment for finance executives. Put simply, it's hard to pass major legislation in Congress, and finance executives realized there would be no quick legislative fixes to any real-world challenges. Chief among them: corporate tax reform, an issue that concerns every corporate treasurer and CFO whose company does business abroad.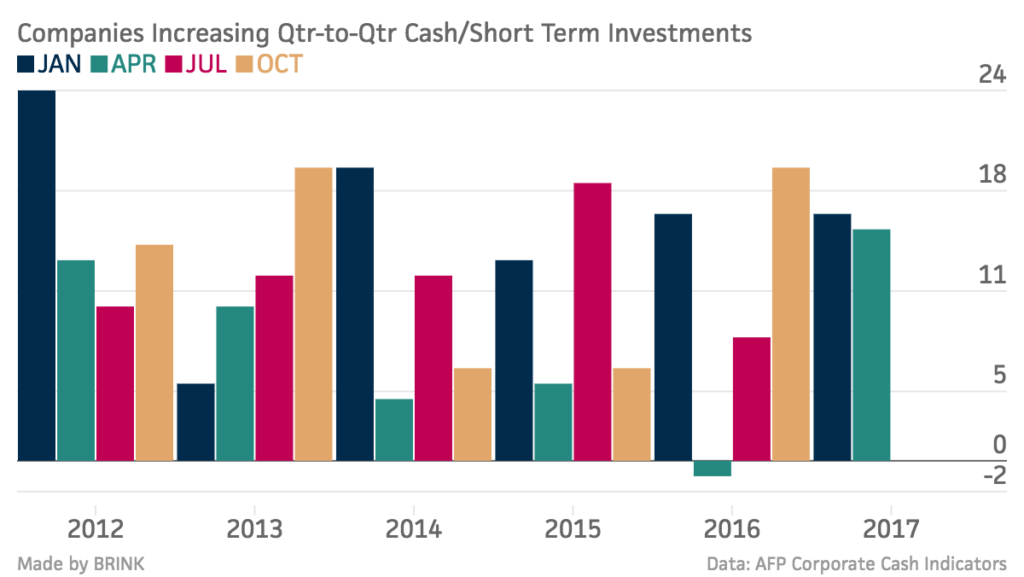 Right on cue, U.S. Treasury Secretary Steven Mnuchin told a reporter that passing tax reform before August was "highly aggressive to not realistic at this point."
While politicians struggle to advance legislation at home, new geopolitical uncertainties keep popping up. Will France elect a leader bent on leaving the EU? Will North Korea successfully launch an ICBM?
Corporate treasury and finance executives are worried about all of these uncertainties and more.
Perhaps Congress will pass major legislation and demonstrate that change has finally come to Washington. Perhaps there won't be a new geopolitical flashpoint for the next—oh, I don't know—five minutes?
Until these developments come to pass, finance executives just aren't in the mood to greenlight an expensive new initiative within their organization.