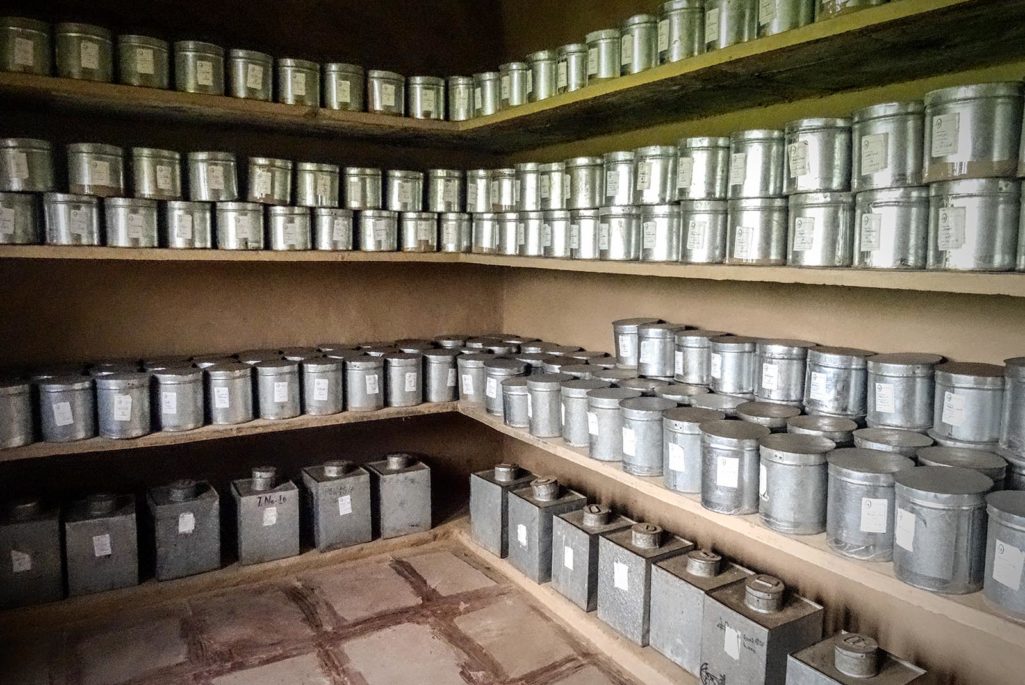 Every gardener knows that native weeds can be harder to kill than that one, precious exotic flower that seems ready to droop at the slightest affront. Yet few seem aware that the same principles apply to the foods we eat. Deep in the Himalayan foothills, farmers are putting this simple fact to good use by preserving indigenous varieties of wheat, corn and rice.
At a "seed bank," managed by Mr. Drona Chetri, indigenous varieties of seeds are being grown and saved, and they are proving to be more resilient to climate change than hybrid varieties made by U.S. corporations.
According to a study published by the Rural Advancement Foundation International, "about 93 percent of seed varieties sold in the U.S. in 1903 were extinct by 1983." Today, six companies (about to merge into four) control 70 percent of the global seed market and 75 percent of the pesticide market. As anyone who has traveled knows, there are at least a dozen tastier varieties of bananas in the world than the popular, well-known corporate-grown brands, which are bred to be big and perish slowly.
The idea of "banking" seeds became popular when scientists and concerned citizens realized that native varieties were becoming extinct, mowed down and replaced with corporate-produced hybrid varieties of corn, wheat and rice, to name a few.
International initiatives such as the Millennium Seed Bank in London and the Svalbard Global Seed Vault in northern Norway were built to store the seeds of plants nearing extinction underground at a constant temperature of −0.4 degrees Fahrenheit. There are now over six hundred such seed or "gene banks," which can be accessed through online portals like Genesys.
A Different Perspective from India
In contrast to the Svalbard fortress in ice, India's seed bank is in a mud hut with no air-conditioning. It is also not in Genesys. Located between Rishikesh and Dehradun in the state of Uttarakhand in North India, physicist Ms. Vandana Shiva started the experimental farm and seed bank over 20 years ago to "preserve ecological and cultural diversity" in India. She was motivated by a disastrous chemical leak at a pesticide plant in Bhopal, India, which killed over 3,000 people in 1984. Her solution was to return to traditional forms of agriculture, which had been practiced for centuries before British colonialism. Today, the bank serves a primary membership of more than 650,000 farmer families in 17 states across India with 111 seed banks across the country.
Unlike the "vault" idea, Ms. Shiva's bank is meant to be constantly changing and evolving based on local farmers' needs. Each year, farmers request the kind of seeds they want to grow the following season and her "Earth University" supplies the seeds, free of charge. The farmer agrees to keep enough food to feed the family, devote a portion of the crop to repay the seeds, and sell the remaining portion either locally or back to the Earth University.
In contrast to the Svalbard fortress in ice, India's seed bank is in a mud hut with no air-conditioning.
Boots on the Ground at 'Earth University'
In July, I visited Earth University, not knowing what to expect. The road to the farm was rough and, at times, I thought we were lost in a mangrove forest rather than on a road. But once we turned into the driveway, perfectly arranged lush floral gardens greeted us, next to bungalows for guest workers who come from all over the world to learn this type of farming.
The farm is 52 acres and has grown over 500 varieties of indigenous rice, whose seeds are preserved in the bank. It also grows medicinal herbs, wheat, corn and other indigenous plants. Seventy percent of the land grows seeds that are provided to farmers or stored in the seed bank. Call it artisan farming, wildcrafting, permaculture, etc., Ms. Shiva's farming techniques are popular with India's farmers, who are in the midst of a "suicide epidemic" due to insurmountable debts. India's decades-long "Green Revolution" encouraged farmers to buy foreign (and expensive) seeds, pesticides and fertilizers. Eventually, excessive debt led farmers to kill themselves at a rate of one every thirty minutes, primarily by drinking pesticides. Since the 1990s, 300,000 farmers have died this way.
Earth University helps farmers relearn old skills such as double-cropping (in case one crop fails), organic gardening, and growing indigenous strains of wheat and rice that are more resilient than their hybrid varieties. Organic farming offers relief from pricey pesticides and fertilizers and requires much less water. "We don't convince farmers," Mr. Chetri said, "because farmers have lost trust in everyone due to the Green Revolution. They come to us."
Mr. Chetri, a quiet Bhutanese man in his thirties, moved to India because he wanted to help others. Today, he manages the seed bank and the adjacent farm. Inside the seed bank, the walls were dusty white and clean and the temperature was pleasant. "The seeds need to be kept at the temperature they are familiar with," Mr. Chetri explained. On the wall, a simple chalk chart showed the varieties of seeds in the bank, which seems to increase each year. In 2016, there were 756 varieties of rice and 209 of wheat. At the Orissa seed bank, another 800 varieties of rice are held. "If it doesn't work one year, farmers don't want it the next," he explained.
"But what about the market?" I asked Mr. Chetri. "Isn't it set up only for selling certain varieties?"
"Yes, that was the problem," he replied. "So we had to set up the markets, too. We ask only that the farmers feed their family and animals first, and then we help them sell what they have left." To that effort, Earth University has set up local cooperatives, "artisan" and "slow food" communities, a restaurant, and two vegetable and grain markets in Delhi.
As for climate change, Mr. Chetri said, "The seeds themselves adapt to it." Speedy adaptability will prove to be a key survival strategy in facing climate change, and India's farmers, through their seed choices, are certainly exhibiting this skill. In the U.S., locally sourced seed banks and "libraries" are now catching on, such as the Great Falls Library Seed Exchange in Montana. In contrast, according to Professor Peter Scharf, U.S. agribusiness lost $10 billion, or 5 percent, of its corn crops between 2008-2011 due to shifting rainfall patterns. These crop losses put pressure both on insurance companies and on U.S. tax payers who subsidize farmers.
In India, where most farmers are not insured, suicide can look like the only solution after a crop fails. But India is also a country where organic farming is growing by 25-30 percent a year, compared to 8.4 percent in the U.S. According to a study published in Science, switching to organic farming could remove 78 billion tons of carbon from the atmosphere simply by restoring healthy soils, which are full of carbon. Indians may soon be teaching the world a thing or two about farming to save the planet—and ourselves.
Today, India is calling not for organic farming but for a "second Green Revolution," ushered in by hybrid crops that would be fed water through a nationwide river-linking project. Both will only lead to more farmer debt.
In northern Norway, at the world's largest seed vault, floodwaters breached the vault entrance this summer. Built to withstand nuclear attack, the vault may end up having a difficult time adapting to a changing climate. It was built in permafrost, which is now melting. Networks, it seems, are better than vaults for coping with the changes happening all around us—networks of farmers preserving, growing, and sharing seeds.
Editor's Note: After publication the Svalbard Global Seed Vault responded to our story with the following statement:
It has been reported that the Seed Vault has seen water intrusion due to melting permafrost. The Royal Ministry of Agriculture and Food in Norway, the Crop Trust, and NordGen would like to assure seed depositors and the public that the seeds are completely safe and no damage has been done to the facility. The Royal Ministry of Agriculture and Food and Statsbygg, Norway, are taking appropriate measures to ensure the protection of the Seed Vault and improve the construction to prevent future incidents. Globally, the Seed Vault is, and will continue to be, the safest backup of crop diversity.