Economy
South Korean Institutional Investors Join the World Stage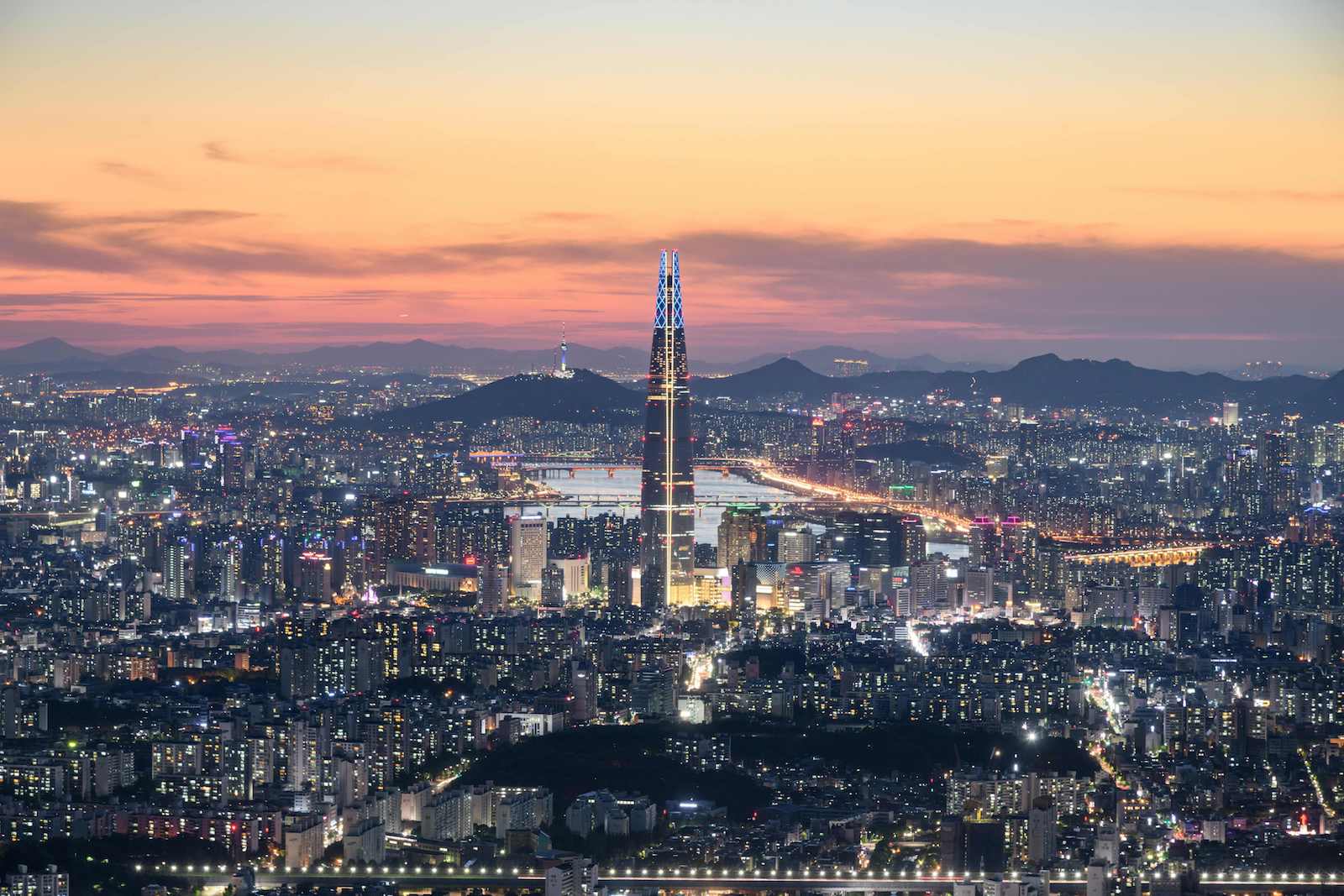 Despite having the world's 11th-largest economy, South Korea's alternative-assets industry has historically been relatively limited, in part because global investors have found it difficult to access the market.
By the same token, global investors have had comparatively limited exposure to the country. However, experienced domestic fund managers have begun raising Korea-focused funds across multiple investment strategies in a clear sign that alternative investing in Korea is coming of age.
An Expanding Investor Universe
South Korea's previous limited interaction with the global alternative-assets industry has not been because investors based there are investing insufficient capital. In fact, as of November 2018, there are more institutional investors headquartered in South Korea (154) than in Hong Kong (149) and Singapore (134).
Furthermore, many of these investors are sizable. The National Pension Service is by far the largest investor in the country, with assets exceeding half a trillion dollars, but other institutions, such as Samsung Life Insurance or the Korean Teachers' Credit Union, also control significant sums of capital. It is notable, though, that the majority of investors are made up of banks, asset managers, corporate investors and insurance companies; while these institutions are a minor part of the global investor universe, they dominate the South Korean investment landscape. This is likely due to the relative influence of large "chaebol" corporations, as well as the lack of regulation equivalent to Dodd-Frank or the Basel Accords, which limit banks' participation in alternative assets in the U.S. and Europe.
These investors are becoming increasingly active in alternative assets—almost two-thirds (63 percent) of Korea-based institutions now invest in private equity, while between a third and a half commit to the other private capital asset classes. Hedge funds, though, do not have the same level of participation, with just one in five South Korean investors allocating to these asset class. This is perhaps because of the role that alternatives fulfill for most of them: Long-term performance and portfolio diversification are key attractions of private capital funds, but hedge funds do not generally have the same risk/return profile.
However, allocation rates in Korea lag Asia-Pacific as a whole. While South Korea-based investors allocate 11.1 percent of their assets to real estate and 8.1 percent to infrastructure—above the regional average of 10.2 percent and 6.8 percent, respectively—allocations to private equity, private debt and hedge funds are lower. This, in part, reflects the size and goals of the investor universe; larger investors, like insurance companies, tend to invest lower proportions of their assets in alternatives. But it also reflects that South Korea is currently opening up to allocating more to alternatives. In time, we may see these averages rise to fall in line with Asia-Pacific as a whole.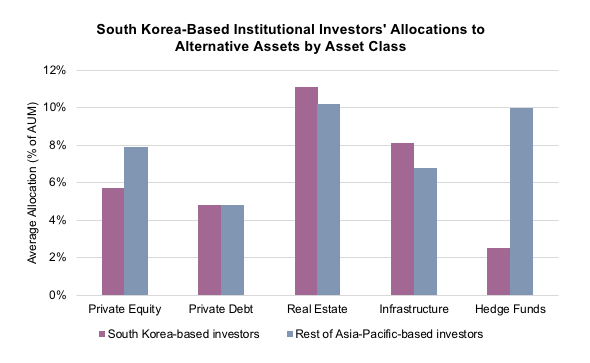 Diversification of Asset Classes
The participation of Korean investors in the alternative-assets industry has been focused on real estate and real assets. This is evident in their allocation levels—although more investors are involved in private equity, the average allocations to real estate and infrastructure outstrip any other asset class.
Given the type of institutions that form the investor universe in South Korea, this is not surprising: Real estate and infrastructure assets can typically provide a reliable income stream over long-term, or even indefinitely, and when pursuing a lower-risk core strategy. This is the approach that many investors adopt, with debt and core real estate being the two most-preferred strategies—sought by 87 percent and 67 percent of investors, respectively—while high-risk distressed real estate is targeted by just 26 percent.
In this context, Korean investors have long been a key part of the global investor universe. Although the highest proportion (69 percent) target their domestic region, more than half of the investors also seek out investments in North America and Europe. By seeking core investments in other regions, it's possible that investors in South Korea look to use real estate and infrastructure as a hedge against fluctuations in other areas of their portfolios—certainly inflation hedging and diversification are the two largest advantages of these asset classes.
However, we are seeing a distinct shift among South Korea-based investors to diversify their involvement in alternatives. This has been driven by changes in regulation, most notably the 2004 Indirect Investment Asset Management Business Act, which enabled private equity funds to be established in the country. More recently, the Korean government has looked to encourage entrepreneurship and startup investment, establishing the Ministry of SMEs and Startups, and dedicating up to $9 billion to make venture capital investments in high-tech areas such as AI, fintech and drone technology, spurring more fund managers to establish domestic Korea-focused funds.
This has captured attention from an investor universe that remains primarily focused on committing to domestic vehicles. Eight in 10 (82 percent) of South Korea-based investors in private equity have a preference for the domestic market. Given the size of many of these institutions, this represents a large potential influx of capital for funds focusing on the country.
Fund Managers Benefit
Increased participation by South Korean institutions in private equity has proved to be a boon for fund managers based in the country. Assets under management for South Korea-based private equity funds have grown year-on-year since 2011, and in the past two years, they have expanded quickly. Having stood at just $14 billion at the end of 2011, South Korea-based private equity AUM reached $47 billion as of December 2017—more than tripling in just six years.
Most of this increase has come from the unrealized value of invested assets rather than from growing stockpiles of available capital—while dry powder has doubled since 2011, unrealized assets have increased fourfold. This is testament not just to the growing interest of South Korean investors in private equity, but to South Korea-based fund managers' ability to put capital to work in investment opportunities.
However, despite the interest investors are showing in South Korean private equity, fundraising for vehicles based in the country has not seen sustained growth. The number of South Korea-based funds has grown, reaching a new record of 87 that closed in 2017, but these vehicles raised $5.5 billion less than funds closed in 2011 ($7.3 billion).
Similarly, the number of private equity-backed deals in South Korea has not grown year-on-year. Both the number and value of deals in the country peaked in 2014, when there were 36 deals announced worth a combined $9.7 billion, and although activity has been strong in recent years, it has not approached those record levels.
Outlook
There are several possible reasons for this. One is that the global outlook of South Korea-based investors extends to private equity, and although they prefer South Korea funds, they are committing to funds in other regions as well. The other explanation is that investors may be preferring to invest through alternative structures like separate accounts or co-investments. Given the size of many institutions based in South Korea, this is quite likely, as large investors are more likely to make use of these methods of accessing the asset class.
What is certain is that the South Korea alternative-assets industry is poised for further growth. With many institutions becoming more involved in the industry and continuing regulatory changes to promote and foster domestic investment, we can expect activity to expand in the coming years. In particular, the large corporate chaebols that have traditionally exerted a great deal of influence on the economy show signs of diversifying, and the government is actively supporting investment in SMEs that make potential targets for private equity firms. If this momentum continues, we might see South Korea quickly becoming a much more influential center for private equity activity in Asia.