Economy
The Global Economy on BRINK in 2020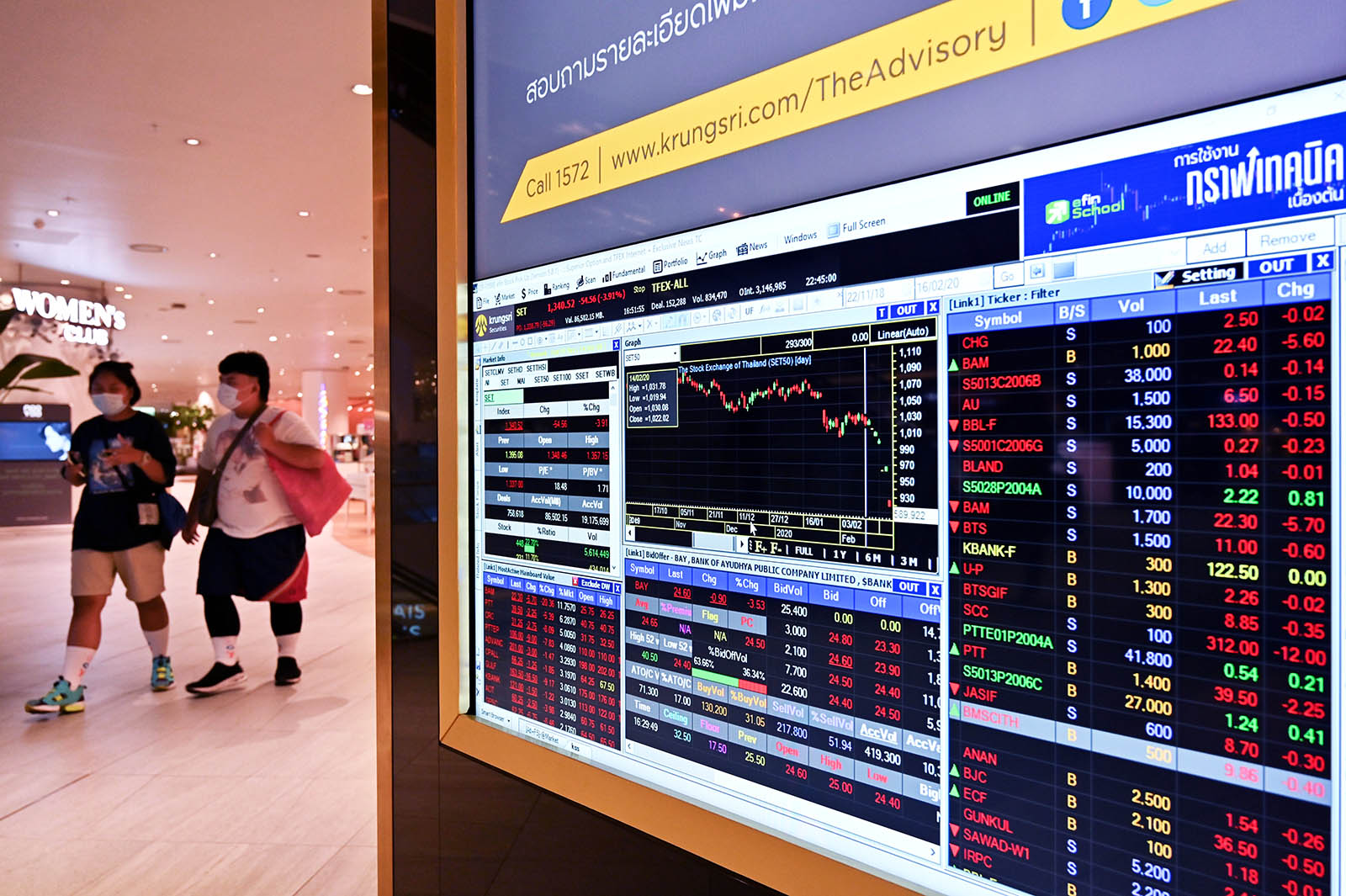 2020 was obviously an epoch-making year for economies everywhere and these historic shifts are fully reflected in the web pages of BRINK. 
In all, we published 130 articles on the status of the economy in 2020 — some on global tectonic shifts, but many pieces looking at what was going on in individual countries, as varied as Chile, Vietnam, India, Saudi Africa, Japan and Germany.
Optimism at the Beginning
The year began with a sense of confidence about the general direction of things. On January 28, we ran a piece by CEO Jim Kaitz of Association for Financial Professionals, called "Finance Executives Are Optimistic About 2020", which was followed by a Quick Take entitled, "People Skills a Priority Even As Tech Drives Jobs Growth in Major Economies." However, on that same day as the Quick Take (January 30), we also ran our first piece on COVID-19 entitled "Coronavirus: One Step Back for the Global Economy." 
At that time, it seemed like coronavirus might turn out to be similar to SARS in terms of its economic impact. But that quickly changed, as the signs became more ominous. The following week brought the first indications of its huge impact on individual industry sectors, with the publication of "The Novel Coronavirus May Damage Aviation More Than SARS." Over the coming weeks, this was followed by examinations of COVID's impact on supply chains, the EU financial system, the automotive sector, African economies and others.
By May 1, we were publishing stunning illustrations of COVID-19's impact on certain sectors, such as this one on the collapse in the demand for oil after only 3 months.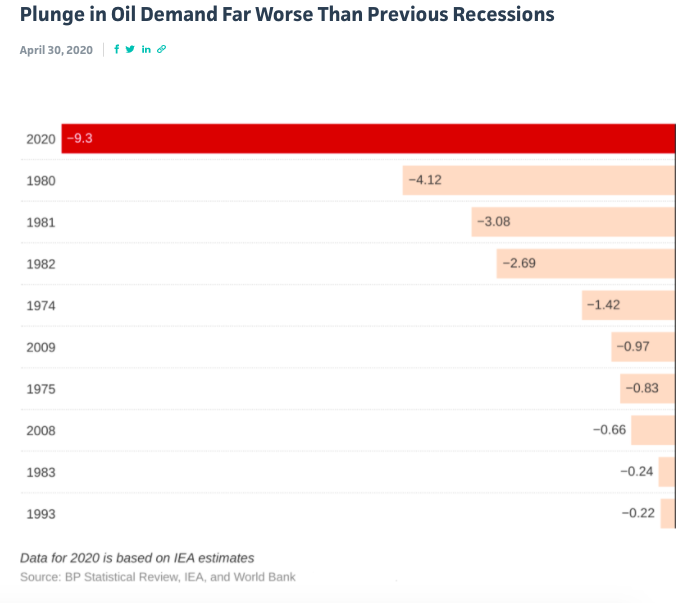 In mid-September we revealed the extraordinary drop off in oil and gas exploration that followed the fall in demand: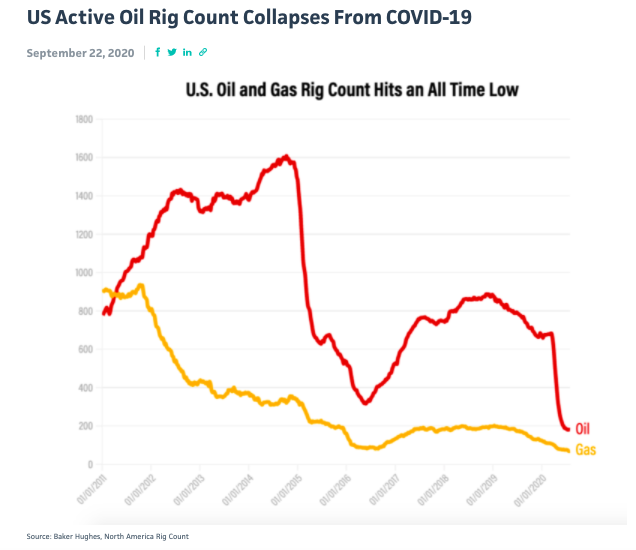 The Insights of Economic Advisors
Throughout the year, BRINK benefited from the insights of a number of influential economic commentators and thinkers. In mid-May, Moises Naim, the best-selling author of The End of Power, floated this possibility: "Is This Year One of an Economic 'Lost Decade'?" Naim reflected on how Netflix has a larger valuation than Exxon as a sign of the times:
"This crisis generates situations in which what we thought was permanent — institutions, ideologies, political and economic arrangements, business models, habits — ended up being transitional. And what we thought was temporary became permanent. 
A good example, an iconic example, of this in this current crisis, is with teleworking. Of course, people working from home had already become a trend before COVID-19 but not in significant ways. Now, most companies and governments will have work from home programs even if the pandemic recedes."
This was followed by Mohamed El-Erian, the well-known chief economic advisor at Allianz, and his predictions for the global economy.
"There's going to be a pendulum swing in corporate America and, also, around the world, from efficiency to resilience. So, the romance of just-in-time inventory management is going to give way to increasing resilience, and when you rewire the corporate sector, it takes time for productivity to go back up. 
Secondly, we're going to end up with much more involvement from government. And we're not doing it in a principled manner; it's being done in response to this crisis, So, you're going to end up with a spaghetti bowl of the public and the private sector. Historically, those are very hard to untangle. 
Thirdly, you're going to have a significant era of de-globalization, because this is the third shock to globalization in 10 years, and this one has all sectors of society looking to de-globalize. So, that de-globalization process is going to also accelerate the decline in productivity."
Given its ubiquitous impact, it's no surprise that COVID-19 features heavily in our top five most popular economy pieces of 2020:
The Impact of Central Banks
One of the most important features of the year was the response of governments and global financial systems to the crisis. In August, we asked Pulitzer Prize-winning Author and Economist Liaquat Ahamed about central banks: "How Well Have Central Banks Performed in This Crisis?"
"One of the things that has made this crisis very different is there's much less finger-pointing. In the 2008 crisis, it was hard to persuade the rich countries to bail out the poor countries because they were seen as having created the mess they were in.
This time, everyone agreed that the pandemic was no one's fault. As a consequence, there was much less political debate about what to do. For example, the U.S. government managed to do a $2 trillion stimulus within 10 days of the crisis. Whereas last time, it was pulling teeth to get even less than a trillion. And the U.S. government has done another trillion since then. And the same is true in Europe.
The problem is that central banks are reaching the limits of what they're capable of doing. We may be creating more problems for the future if central banks become the primary instrument for dealing with the downturn. Because they can only lend money, and it's probably not a good idea for corporations that already have too much debt to borrow even more money."
One of the more intriguing pieces we published was by Stephan Zheng, the lead research scientist at Salesforce Research, on whether AI could design a better tax system — one that is more equitable and efficient. The answer appears to be a qualified yes. Shortly before the U.S. election, we invited Eric Toder, the co-director at Urban-Brookings Tax Policy Center, to pick over Joe Biden's tax policies, and particularly his focus on increasing corporate taxes. 
"All countries are worried about the race to the bottom in corporate taxation that's been going on, so there'll have to be discussions around what the international tax architecture looks like if Biden wins."
All in all, it was a remarkable year for the global economy. If you would like to read more of BRINK's economic coverage in 2020, including topics like whether or not direct cash transfers work and what is happening to debt in Africa, you can find them all here. 
Happy Holidays from the BRINK News staff!