Geopolitics
The US Secretary of State's Visit to Africa Is a Good Sign for Business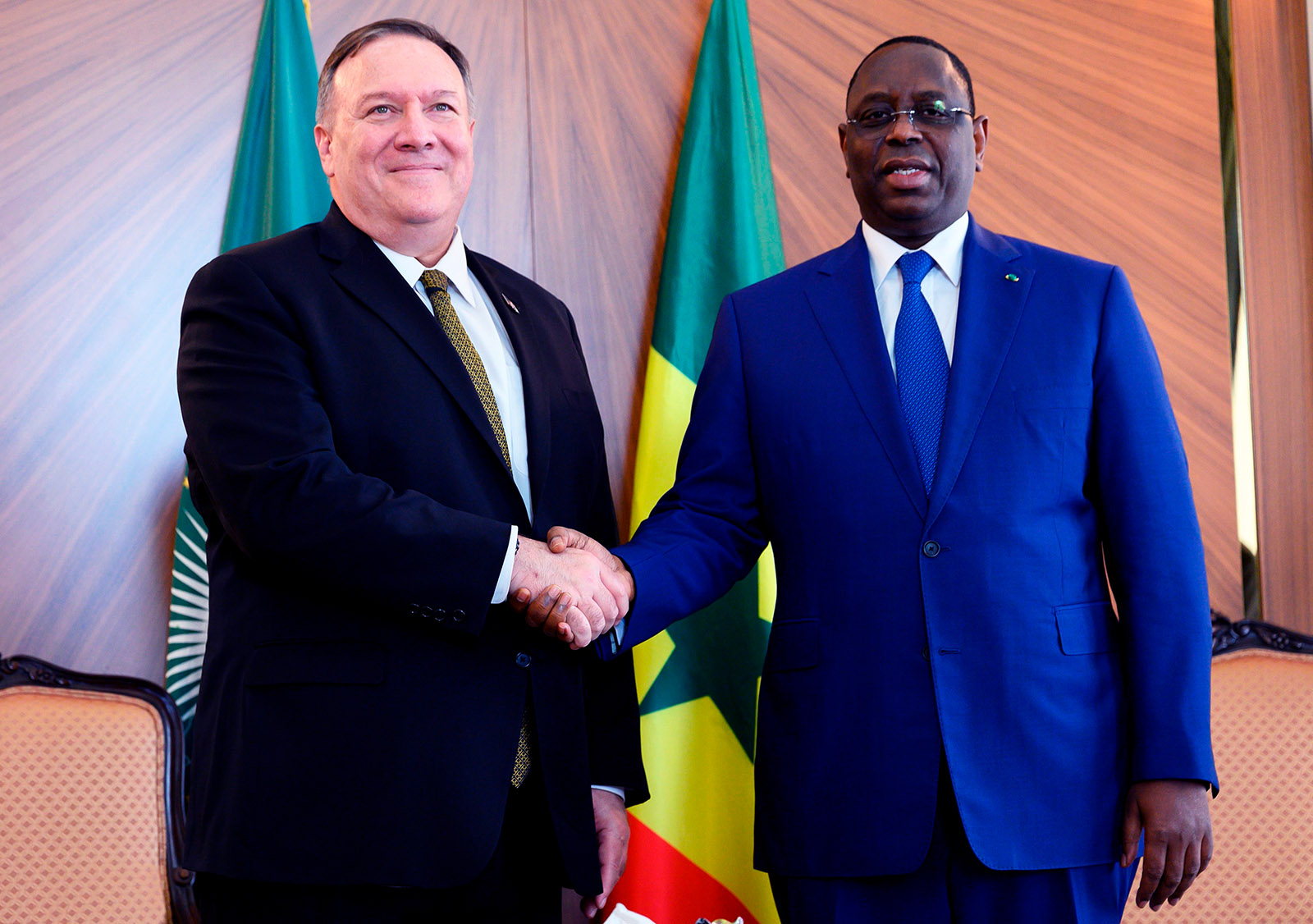 This week, U.S. Secretary of State Michael Pompeo traveled to Africa — the first visit by a U.S. cabinet member for 18 months. His tour took in three of Africa's most dynamic economies: Senegal, Angola and Ethiopia. This itinerary should make corporate executives sit up and pay attention. After decades of tight government control of their economies, Angola and Ethiopia are starting to build open, capitalist systems, while Senegal thrives under its free-market system. 
It is always exciting when large, untapped markets open up to foreign investment. Early market entrants usually find the best opportunities, get the warmest welcome and can develop the market based on their firm's strongest capabilities. Angola and Ethiopia aren't truly "greenfield" opportunities, but they're pretty close. And they want American companies to come, invest, hire local workers and prosper along with the nation. 
Secretary Pompeo's message to the three governments — "we are with you, we want to help you with security and we want your democracies to succeed" — lays the groundwork for American business to explore these markets. 
Diverse Nations, Different Points of View
Secretary Pompeo visited Senegal first. The French-speaking nation has a robust private sector and sits in a highly strategic location adjacent to the Sahel area of West Africa. This region lies just below the Sahara Desert, which is expanding south into areas that once had fertile grazing land. 
The fall of Libya and the unchecked spread of arms terrorist groups in the region is already a significant problem for countries in the Sahel, as well as to its south and west. Senegal and its neighbors have an important battle to fight for their citizens and for the world. 
Angola came next. This Portuguese-speaking country is a major oil producer and significant contributor to peace and stability in the volatile Great Lakes region of Central Africa. Decades of civil war followed by rampant corruption and an oil price crash have left Angola's economy in tatters. 
President João Lourenço came into office in 2017 promising to open the economy up to the private sector, attack corruption and put the nation's economy back on a stable footing. These ongoing efforts risk upsetting those benefiting from the status quo; Secretary Pompeo's highly visible backing of the president's anti-corruption efforts was a strong signal that change is inevitable as Angola builds a strong economy for all of its people. 
Ethiopia is in the midst of its own tectonic shifts. 
Marxist economic philosophies are being replaced with free-market capitalism, with a strong emphasis on lifting the whole population out of poverty. Prime Minister Abiy Ahmed's moves to open political space to different voices and allow open dissent are stirring up old ethnic grievances, introducing risk to Ethiopia's economic and political stability. Secretary Pompeo reiterated U.S. support for Ethiopia's economy, its new democratic institutions and the nation's position as a bulwark against instability in the Horn of Africa. 
Liberating Africa's Entrepreneurs
In a speech to African government and business leaders at the U.N. Economic Commission for Africa in Addis Ababa, Ethiopia, Secretary Pompeo unleashed his own inner industrialist. He described his meetings that day with Ethiopian entrepreneurs — always one of the most satisfying things a traveling businessperson can do in Africa. 
These conversations illustrate two critical things. They elicit the true commercial passion and creativity of innovative small business owners on the continent. And entrepreneurs are blunt in describing the regulatory-, infrastructure- and policy-related barriers they face in trying to run a profitable venture. 
Secretary Pompeo hammered home key points that resonate with American business executives: Countries must allow the private sector to thrive. This is the only way African nations can achieve the growth they need. To be precise, he said "Socialist schemes haven't economically liberated this continent's poorest people." And nations must persist in stamping out corruption. 
China's Presence in Africa Looks Daunting …
China invested more than twice as much in Africa from 2014-2018 as did the U.S. A considerable chunk of China's "investment" consists of loans that must be repaid, but that doesn't diminish the obvious and aggressive commitment China has made to Africa for commercial, political and strategic reasons. China's loan structures may be controversial, but African nations clearly benefit from the Chinese-led development of infrastructure, which they can use to support their own economic development.  
Chinese financial institutions and state-owned enterprises enjoy strong government support. Chinese equipment is generally cheaper, funding is almost always available quickly and firms aren't bound by anti-corruption rules. The government invited African heads of state to the Forum on China-Africa Cooperation and created the strategic infrastructure-building Belt and Road Initiative. 
… But American Firms Have a Clear Opening to Get More Active
It's not too late for American firms to step up, compete and prosper on the continent. During his trip, Secretary Pompeo emphasized the strengths of U.S. firms: They hire and train locally, pay attention to the environmental and social well-being of local communities and they make great products. 
Why isn't the U.S. investment into Africa larger? 
One reason is the lack of low-priced capital and risk-mitigation instruments available to private-sector firms. Until recently, support from the U.S. government fell far short of what's available to Chinese firms. The new U.S. International Development Finance Corporation has broader capabilities than the agencies it replaced and brings a whole new level of scale to the government's development funding capacity. 
Risk-averse corporate boards and executive teams may shy away from Africa. Much of the foreign direct investment from U.S. firms has been in the energy industry. Firms in the power, consumer goods, agribusiness and technology sectors have also planted flags across the continent. 
But for many other companies, Africa is still a black box. Some make deliberate decisions for specific financial or strategic reasons, while others take a broad-brush "hands-off" approach to doing business on the continent. Given the scale of the continent's potential demand for American goods and services, this is perhaps a riskier approach than it seems.
2019 FDI Into Africa
Africa Is the Future
Africa is a continent made up of more than 50 sovereign nations, home to more than 1 billion people. Each country has its own political and economic system, its own mix of resources, and its own domestic and regional growth strategy. 
What does the future hold? The nascent African Continental Free Trade Agreement will create larger addressable markets and allow economies of scale. And Africa's young, dynamic citizens are already supporting innovative communications and technology solutions, broad consumer markets, new types of financial services offerings and affordable health care delivery systems. With a growing young workforce, African countries welcome companies in education, urban planning, housing, services, agribusiness and manufacturing. 
Demographics in Africa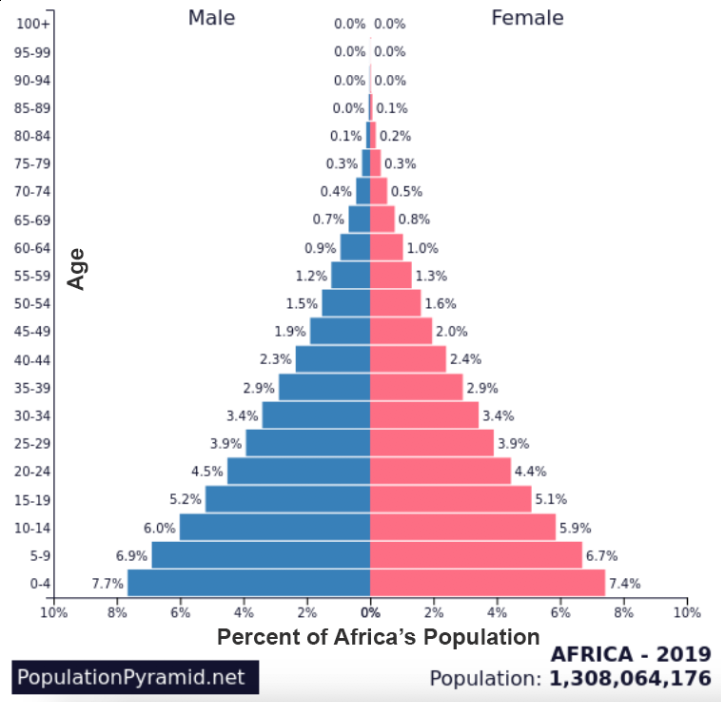 Secretary Pompeo's trip alone is unlikely to drive material change, but it's a step in the right direction. Financial and political support for American firms investing on the continent can only help the U.S. solidify and build on established positions in high-potential African nations.