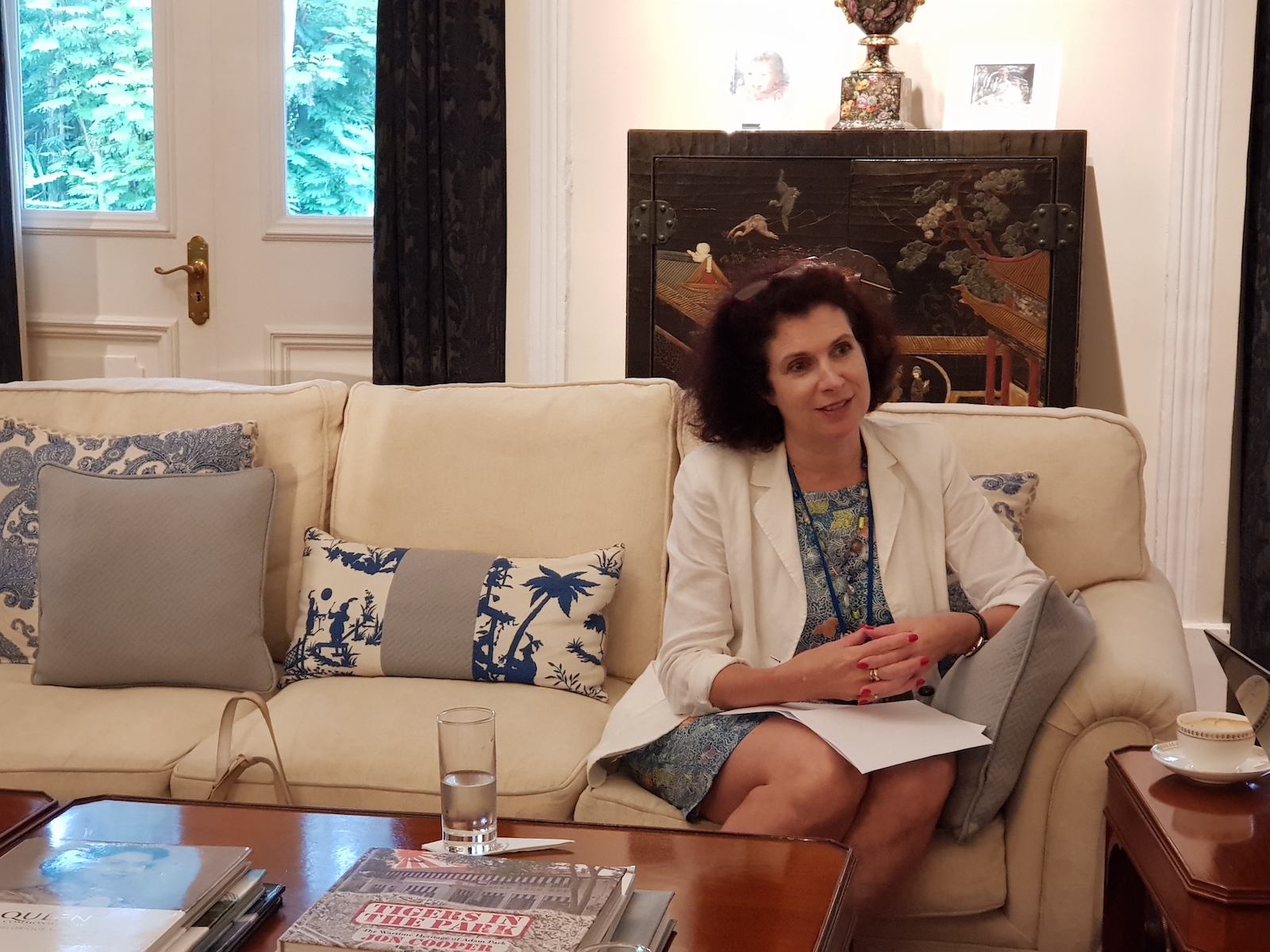 This is the fourth story in a weeklong series on ASEAN.  
Climate change is a pressing global issue that countries need to combat not only in their individual capacities but also at an intergovernmental level. Given the degree of the threat faced by communities worldwide, discussions around climate have come to the forefront of the global collaboration agenda. All eyes will be on the 24th Conference of the Parties to the United Nations Framework Convention on Climate Change (COP24), due to kick off next week in Poland, where the hope is that countries can agree on guidelines governing the Paris Agreement.
Countries in Southeast Asia will be among those most severely impacted if climate change is not contained. Traditionally dependent on fossil fuels, particularly coal, there is a pressing need to incrementally transition toward a low-carbon future, and efforts are underway.
BRINK Asia spoke with Camilla Fenning, the UK's head of the South East Asia Climate and Energy Network, about the UK's efforts on this front domestically and how the UK government is working with regional governments to help them transition from coal and develop green finance initiatives.
BRINK Asia: What are the main climate risks in/to Southeast Asia?
Camilla Fenning: Southeast Asia is one of the parts of the globe most vulnerable to climate change, and that is not necessarily looking at the future: It is already happening now. Already, there are increased extreme weather events—the number of typhoons, for example, flooding, droughts, temperature extremes, the extent of damage to some ecosystems, such as coral. These changes are linked to climate change, and instances are likely to worsen and rise.
BRINK Asia: Why does this matter to the UK, and why is it championing the transition from fossil fuels?  
Ms. Fenning: The UK is a global thought-leader on climate change. We worked very hard to help bring about the UN Framework on Climate Change's Paris Agreement in 2015, which is a fantastic first step in setting voluntary country greenhouse gas emissions reduction targets to try to keep global warming within 2 percent (and hopefully 1.5 percent) of preindustrial levels. The transition from fossil fuels (particularly coal) to low-carbon energy is one of the key ways in which we can reduce greenhouse gas emissions. This is particularly important in Southeast Asia, where energy demand is due to increase by 80 percent by 2040 (that's double the rate of China) and regional electricity demand to triple. If this region continues on its current emissions trajectory, we are highly unlikely to be able to stem the most damaging impacts of global climate change to the detriment of us all.
BRINK Asia: What are the main barriers to overcome in ensuring a successful transition to low carbon in the region?
Ms. Fenning: The good news is that we can increasingly make a strong economic case for low-carbon transition. The International Energy Agency has stated that, in nearly every country in the world, renewables will be cost competitive with coal by 2020, with a level regulatory playing field. Southeast Asia has huge potential to use renewable energy sources such as solar, wind, geothermal power. And of course, low carbon is cleaner, and there is less air pollution, so there is a huge health dividend.
It is also significant from a poverty alleviation and employment perspective—low carbon energy is a massive commercial opportunity for every country. In terms of barriers to low-carbon transition, the issue is increasingly not only about raw cost. The problem is that, historically, the ASEAN region and its infrastructure has been dependent on fossil fuels, particularly coal, and it is challenging for governments to make the radical long-term decisions to change tack, particularly when energy security is paramount. Barriers include unregulated energy markets and difficulties around power purchase agreements and feed-in tariffs that may make it difficult for new players in the renewable energy sector to gain a foothold.  
We must remember that it is not just about switching to cleaner sources of energy, but that consuming less energy is also an important part of the picture.
However, increasingly, governments in the region are recognizing a low-carbon transition is necessary. The ASEAN Energy Ministers' meeting in Singapore in early November, for example, renewed ASEAN's commitment to reach 23 percent renewable energy by 2025. So what the UK is doing is to work with governments to support them in this transition phase. There is definitely a will and part of our role is to work with them to find the way. 
BRINK Asia: How will the UK Prosperity Fund's South East Asia Low Carbon Energy Programme support Southeast Asia's shift toward a low-carbon economy? What are the key elements of this program?
Ms. Fenning: The South East Asia Low Carbon Energy Programme (2019-2022), funded by the UK's Prosperity Fund, will shortly roll out in six countries in the region—Malaysia, Vietnam, Myanmar, Thailand, Indonesia and the Philippines. Having discussed needs with the governments concerned, we are focusing on two areas—green finance and energy efficiency.
Why green finance? For ASEAN to reach its 25 percent renewable energy target, the UN's renewable energy agency, IRENA, estimates the region will need to invest $290 billion. Now, there is no way that any government in the region, or indeed outside, can cover such costs. However, this is a fantastic investment opportunity for the financial markets. Although there is increasing appreciation of the need for green finance in the region, and several countries are beginning to issue green bonds and green "sukuks," the level of engagement throughout the region differs.
Our program, building on the depth of expertise in the city of London, aims to improve understanding across the region of how green finance investment can support banks, governments and project developers who are seeking to access funding and potentially pair projects with investors. A more mature green finance capability will also help to reduce the risk perception of green investment in Southeast Asia, as projects can become more standardized in terms of their green credentials and perhaps more transparent. Hopefully, increased investments will be seen in the region in green projects, providing economic benefits, jobs, and reduced carbon emissions.
Why energy efficiency? The International Energy Agency estimates that the Southeast Asia region could witness 35 percent less energy consumption if it had better energy efficiency. So finding ways to support the region in reducing demand through efficiencies would have significant benefits for the environment as well as from a cost perspective. The program aims to work with governments and industry to try to strengthen energy efficiency policies and practices across the region. We must remember that it is not just about switching to cleaner sources of energy, but that consuming less energy is also an important part of the picture.
BRINK Asia: The UK has been decarbonizing at a faster pace than any other OECD member. How could this model be exported to other countries in Southeast Asia, especially those at different stages of development? And is it possible to reconcile rapid economic growth and decarbonization?
Ms. Fenning: We cannot completely use the UK model since every country is different with its own challenges. However, in terms of decoupling, the UK and European evidence suggest it is possible. Decarbonization is taking hold strongly in Latin America and countries such as South Africa and India, too. Since 1990, carbon emissions in the UK have fallen 43 percent, and economic activity has increased by 67 percent—the fastest rate among the G-7. In 2012, 40 percent of the UK's energy generation came from coal, while last year, it only accounted for 7 percent of total electricity generation. And some months this year we have burnt no coal for electricity at all. We will close all UK's nonabated coal plants by 2025.
We've also created about two-to-three-hundred-thousand jobs in recent years in the low-carbon sector, and for me, that is a really strong argument for the potential of low carbon in this region. Economies here are growing faster than the UK's, and energy demand is growing immensely. Therefore, the economic benefit and opportunities for this region in low carbon are almost exponential. And you have better sunshine for solar energy, which is probably currently the most promising and cost-effective renewable in this region.