Society
What Is On the Minds of Gen Z During COVID-19?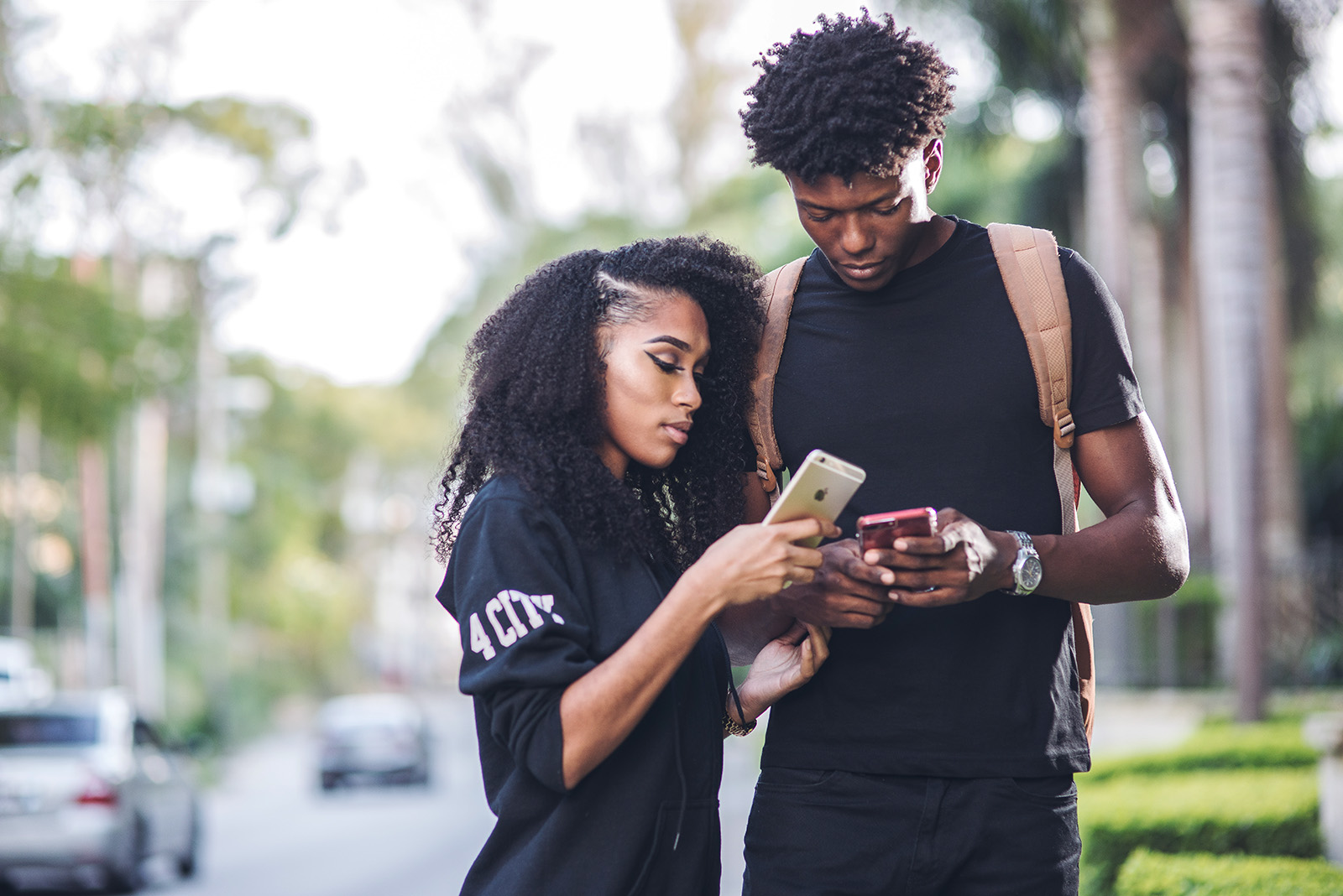 The weight of COVID-19 is rearing its ugly head on Gen Z, who say they are experiencing greater mental health and work worries. More are turning to social media while altering their living arrangements amid shifting college and work structures.
At the same time, Gen Z's tremendous focus on social justice is causing them to place racism as a top worry and go so far as to re-think their priorities for their workplace teams — from a "great manager" in 2019 to values, respect and diversity in 2020.
Gen Z includes those born in the mid-1990s and those who would otherwise be entering the workforce in their early 20s. Because of Gen Z's growing impact on the marketplace, CEOs and HR leaders need to think carefully about how they engage this generation and promote their brands and opportunities.
Girls With Impact's 4th annual report compared this year's findings to last year's by examining Gen Z's outlook, worries, confidence and workplace preferences during the pandemic. Here are five major takeaways from the report, which was made possible by the U.S. Bank and the national cybersecurity firm, Forcepoint.
Mental Health Concerns and Racism Rise in Importance
Job security and success remain among Gen Z's top worries. But mental health has gathered even greater steam — seeing a 20% increase over 2019 and moving up to second place from third in 2019 as Gen Z's single, greatest concern — perhaps the result of seeing family members lose jobs.
Worries about grades also rose, up eight points over the previous year. When asked what their single greatest worry is, being successful and getting a job tied as the top concerns, but "getting a job" dropped by a full 7%. Meanwhile, getting good grades placed second, a result of the current virtual learning climate. Racism, with all the focus on Black Lives Matter and diversity at work, rose 6 points.
A Shift in Behavior Amid COVID-19
When asked about the changes they expect to make as a result of COVID-19 — from work to delaying college — a sizable 69% of Gen Z'ers say they are spending more time on social media or streaming video this year; and 30% expect to live with their parents for the foreseeable future. Others are deferring college. There's no doubt leaders will need to think of alternative ways to keep Gen Z engaged, learning and advancing, even from home.
More Purpose-Driven Than Ever
To an even greater extent than last year, the generation wants to create something innovative or world-changing. More Gen Z men and women expect to be entrepreneurs running their own companies — up from 46% in 2019 to 53% in 2020. Far fewer expect they'll make it as leaders within established organizations with a surprising 64% saying they are unsure or unlikely of ever becoming one.
More than any generation, Gen Z is feeling the brunt of COVID-19 — and will for the foreseeable future.  Many Gen Zers realize that the only way to address and solve the enormous challenges facing our country, from racism to climate change, is to be their own boss.

Continuing Gender Gaps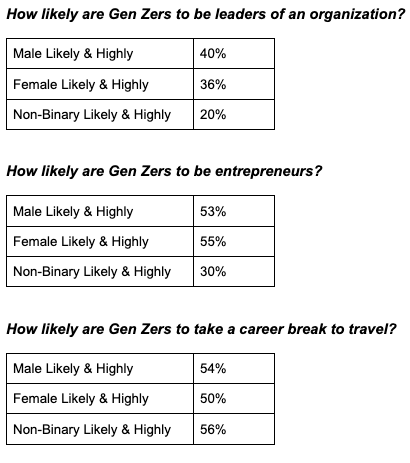 More men (40%) than women (36%) feel confident that they'll become leaders in an organization, which is, perhaps, why more Gen Z women are turning to entrepreneurship.  
On the compensation front, Gen Z women continue to have lower salary expectations — and the gender gap in earnings expectations has widened. Thirty-nine percent of men expect to earn over $100K by the age of 40, versus only 27% of women. When asked what would most boost their confidence, professional skills and body image issues such as weight loss topped the list. 
Values and Respect Trump Experience
Gen Z again flipped its priorities from 2019, when an older, experienced team mattered most. In 2020, it is values, respect and team diversity — along with a good manager — that top Gen Z's list of requirements for an effective team at work. While men value a great manager most, women say diversity is key.
Gen Z also shifted priorities when making job choices, from a short travel time and mentoring in 2019 to wanting remote working and flexible hours — with greater attention to volunteer opportunities.