Economy
Few Ships or Insurers are Ready to Carry Risk of Arctic Passage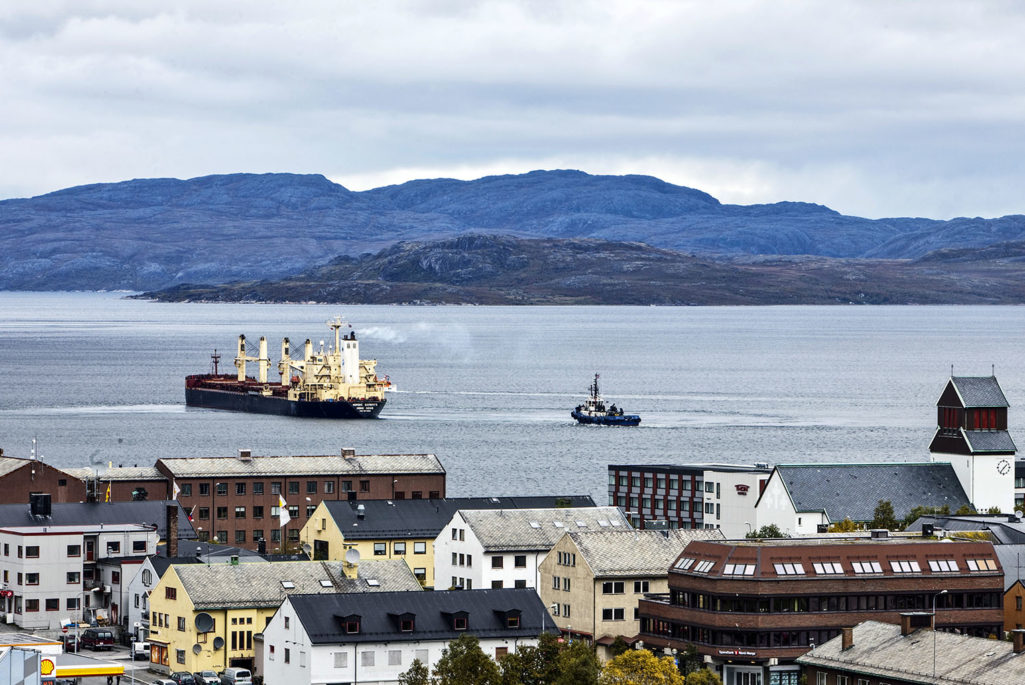 In October 2013, the bulk carrier Nordic Orion made the first-ever successful commercial transit of the Arctic's Northwest Passage (NWP), delivering a cargo of coal from Vancouver to Finland. The journey took around a week less than had it travelled via the Panama Canal, saving the operator both the toll fees and an estimated $80,000 in fuel costs. This was successfully repeated in the summer of 2014 by the Fednav icebreaking bulker Nunavik.
Global climate change—specifically the melting of sea ice—presents opportunities for international marine transportation networks in the Arctic, at least during the summer months. As well as the NWP, these include the Northern Sea Route (NSR) (which runs along the "top" of Russia) and the Arctic Bridge (which starts in Churchill, Canada, crossing the northern Atlantic Ocean and eventually ending in Murmansk, Russia). However, while these routes offer alternatives to the Panama and Suez canals, they pose new risks from these traditional routes.
Today, the majority of ships and their crews are not ready, the support service facilities are not in place, and the risks involved are not understood at a level to enable underwriters to price insurance for Arctic transit by those inexperienced in these waters, with either clarity or certainty.
Extreme climate and weather conditions create unique hazards, including floating ice, thick fog, and violent storms. Despite new safety features, vessels remain vulnerable to ice damage, machinery breakdown, grounding, stranding and more. The harsh environment also creates challenges for crews, few of which have been trained for or have experience in such conditions. And should a vessel run into difficulty, help is likely to be a long way away.
The international shipping industry is anxious to start maximizing the opportunities afforded by Arctic navigation.
The international shipping industry is anxious to start maximizing the opportunities afforded by Arctic navigation given the mathematical savings in time and distance. But it is not simply a question of mathematics. The marine insurance industry—whose collaboration is essential to the commercial viability of Arctic transit—holds a host of safety and navigational concerns, which may limit or prohibit the possibility of rapid growth in Arctic transit for the foreseeable future. The adoption of the Polar Code by the International Maritime Organization last year was welcomed by the insurance industry as a positive step, setting out recommended hull structural and senior officer training standards, but it will not be implemented until 2017 and questions remain over the bank of experienced personnel who could provide the effective training required, and the salvage and rescue infrastructure that exists in often remote areas, should an accident happen.
Meanwhile, published loss data to date does not bode well. In their latest Safety and Shipping Review 2015, Allianz Global Corporate & Specialty paints a worrying trend: From 2002 to 2007, the number of reported maritime incidents in Arctic waters averaged just seven losses per year. That number rose significantly as traffic increased. Between 2009 and 2013, the yearly average of incidents in Arctic waters rose to 54. In 2014 alone, despite a noticeable reduction in NSR transits, the number of reported incidents in Arctic waters rose to 55.
While both hull and protection and indemnity (P&I) insurers have a wealth of information and data on the traditional risks involved in shipping there are several risks associated with Arctic navigation that still need to be identified and measured to accurately assess the risk. For long-established operators in the Arctic and Antarctic regions, insurers may take a more willing approach. However, as more "untested" and inexperienced operators decide to navigate through these waters in a bid to reduce time and bunker costs, concerns for this type of operator grows. Limited or non-existent historical loss records for inexperienced operators makes it difficult for underwriters to establish premium rates and for insurers to develop comprehensive assessments of the risks involved in sailing through the Arctic.
Insurers Struggle to Sort Out Risk Could Stifle Arctic Route Growth
Arctic navigation presents hull insurers with considerable risks, which increase the possibility of groundings, strandings, machinery breakdowns, ice damage, heavy weather damage, and even fire should machinery break down or pumps fail to operate. If a vessel does suffer an incident, there are serious concerns over the distance to adequate salvage services or repair facilities, especially in the eastern part of the NSR. What might start as a small incident could quickly escalate if adequate assistance is unavailable or if large, difficult to replace parts are not carried on board. Any incident will also face a ticking clock as winter inevitably returns, creating possibly catastrophic consequences for a stricken vessel that cannot be removed quickly.
P&I insurers face similar, though somewhat different, concerns. Whereas hull insurance is normally limited to an insured ship, P&I insurance extends coverage to include wreck removal, pollution, salvage, crew injury and hospitalization, among others. The limited salvage equipment and search-and-rescue capabilities at certain points along both the NSR and the NWP, concern insurers that all of these risks could prove extremely costly, if an event were to occur.
Without any hard facts on preparedness, it will be difficult, if not impossible, for underwriters to put a price on an insurable risk with confidence, or even to agree to cover a voyage in the first place.
Use of the NSR accounts for a comparatively small percentage of the total global marine transport activity, and to-date the NWP has only been used by a few vessels. Nevertheless, these levels appear set to increase significantly over the coming years, and it appears inevitable that hull and P&I insurers will be more frequently asked to consider allowing vessels to navigate the northern waters. Underwriters' concerns surrounding remoteness, limited salvage support services, and other risks means that it is not at all certain that they will accommodate such requests, simply by operators agreeing to follow the Polar Code. If and when such requests for cover do appear, negotiations will need to be handled carefully by those who have been studying and engaged in the issues of this region.