Environment
Is Indoor Agriculture the Future of Farming?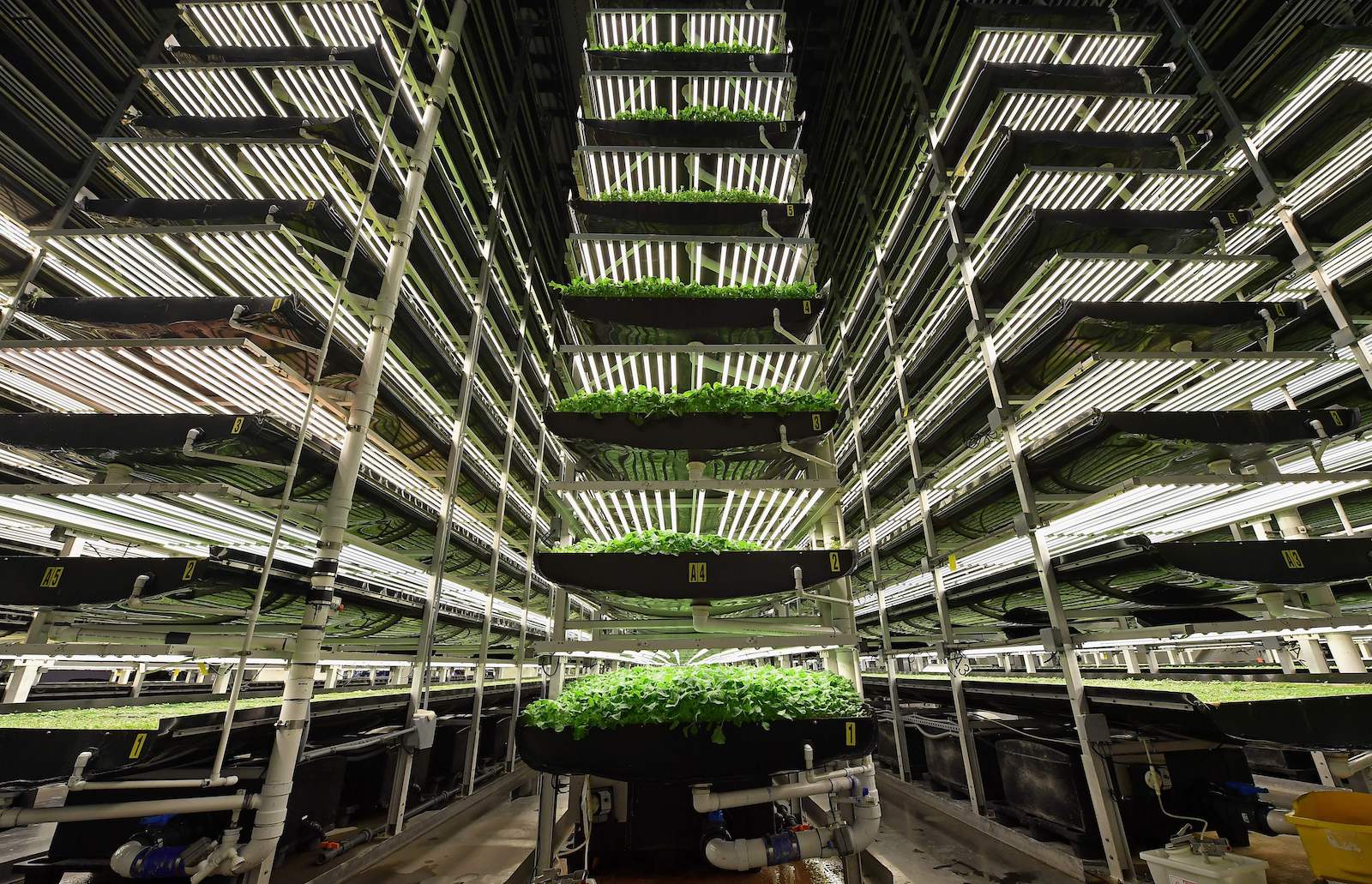 Plant factories may be the technology we need to feed a growing and warming planet. 
The factories, which have no access to natural sunlight and grow plants in vertical rows, are designed to be incredibly efficient. They require 95% less water and 99% less land than conventional farms, while growing leafy greens with scientific precision and without pesticides. Because of their small physical footprint, vertical farms can also produce food close to the urban areas where it will be consumed, reducing the need for transportation and logistics. 
The tradeoff: Indoor agriculture demands a staggering amount of energy. Lights run 16 hours a day, and facilities require impressive HVAC equipment, reaching an energy intensity per square foot that surpasses data centers. The energy load varies greatly depending on the size and type of operations, but it could be between 500 kilowatts and 15 megawatts — more than a retail box store and less than a data farm. 
An Opportunity for Electricity Providers
The international service provider Schneider Electric has identified indoor agriculture as one of the four major drivers that will increase electricity consumption in the next decade (the others being the electrification of heat, electric vehicles and data centers).
In partnership with Scale Microgrid Solutions, Schneider is extending its energy-as-a-service model to indoor agriculture companies. Under the arrangement, Scale finances, builds and maintains an onsite microgrid and sells the energy to the offtaker — in this case, indoor farming startups.
In the last year and a half, Schneider has announced deals with Fifth Season and Bowery Farming, two vertical farming startups.
Microgrids can serve the energy demands of indoor farming in the following ways. 
Microgrids can help growing operations get online faster. Many facilities aren't equipped to meet the electricity demands of an indoor agriculture operation. Upgrading the facility could take anywhere between six months and a year and a half and could cost millions of dollars, according to Mark Feasel, president of Smart Grid at Schneider.
"These are not trivial loads," Feasel said in a phone conversation. "There may or may not be the capacity on the grid to handle these loads, especially as you move toward metropolitan areas where electrical distribution can be constrained."
Not only can the upgrade take a lot of time, it can be really expensive. Depending on the utility, there may need to be ecosystem studies and a grid feasibility assessment, along with a slew of technical and environmental regulations that can slow the timeline and increase costs. 
It's on-brand. On-site electricity generation is kind of like harvesting your own energy to grow your own plants. It's a technological intermediary between the sun and photosynthesis. Because microgrids can run in island mode, this adds resilience to operations. 
Microgrids can also provide lower-carbon energy. Running an operation off of dirty energy would take a bite out of the startup's sustainability proposition. After all, it seems silly to burn fossil fuels to create artificial sunlight. 
If done well, and if located in a service territory with a friendly utility and regulator, indoor agriculture operations could achieve lower rates while benefiting the grid. 
Schneider and Scale's microgrids use a combination of solar and natural gas, which the company says is cleaner than the grid electricity. They are exploring ways to have completely clean microgrids, but there are space constraints for the number of solar panels needed for the energy intensity of plant farms, Feasel said. One farm likely would need many multiples of surface area to meet the demand inside the building, which may be difficult in urban areas.
Energy-as-a-service offers price certainty. Energy represents a major line item for indoor agriculture, accounting for 30% to 50% of the operational expenses at a plant factory. That's according to unpublished research conducted by Centrica Ventures' Logan Ashcraft, XENDEE's Zachary Pecenak, Energy Impact Partner's Shayle Kann and Kale Harbick from the U.S. Department of Agriculture. 
With Schneider and Scale's energy-as-a-service model, the startup will know the cost of energy in the future, making it easier to create a business plan and attract investors. 
"If we can provide a fixed energy price over a long period of time, this could be 10, 15, 20 years, they can optimize their balance sheet," Feasel said. "It provides energy certainty and less risk around the cost of energy."
The cost per kilowatt-hour (kWh) varies from service territory and project, but Feasel said it's in the range of 10 cents to 15 cents per kWh, competitive with average industrial energy rates, depending on the region. 
However, it's unclear if this price for electricity will work for indoor farm operations in the long run. Ashcroft's analysis shows that a farm would need a price of between 7 cents to 9 cents per kWh to break even. Matt Barnard, CEO of the vertical farming startup Plenty, pegged the desired cost even lower, saying the company would need 3 cents to 5 cents per kWh to succeed. 
"This question gets to the heart of whether this industry will be able to succeed and scale. It's a discussion of unit economics," Ashcroft said. "These are growing commodities. And they're forced to compete with commodity prices at the grocery store. I have not seen any evidence that consumers are willing to pay any multiple of any price for produce."
Investment Is Growing
Still, the market is young, and capital is flowing to technological innovations. The Union Bank of Switzerland predicts food innovation will be a $700 billion market by 2030 — a fivefold increase from 2018, meaning financial markets are investing in rethinking food production. Fifth Season has raised $35 million in finance, Bowery has raised $172.5 million and Plenty has raised $260 million, thanks to Jeff Bezos and SoftBank, so the startups may have wiggle room to work on efficiencies and economies. 
Indoor Agriculture's Unique Opportunities and Challenges
Plant factories have a unique energy load profile. They're incredibly energy-intense for three-quarters of the day and then shed most of their loads when the lights turn off and the plants get tucked into their vertical bunks for their night.
Plants don't care when "night" comes, meaning operators have the opportunity to respond to utility price signals. This flexibility is different from more finicky power loads, such as data centers, which must have constant electricity to function.
For example, if the grid has excess solar capacity in the middle of the day, plant farms could absorb it. Then, when peak rates hit, the plants could start their "night" cycle. If done well, and if located in a service territory with a friendly utility and regulator, indoor agriculture operations could achieve lower rates while benefiting the grid. 
While the energy demand of indoor agriculture is tremendous, it is, potentially, a panacea for numerous global issues. Indoor agriculture could be a significant response to industrial agricultural pollution, food insecurity and hunger, and the limited space in urban areas for traditional agricultural operations — if, indeed, it can succeed at scale. 
A version of this article originally appeared on GreenBiz.