Technology
AI Is Enabling Faster Delivery of Health Care to More People in APAC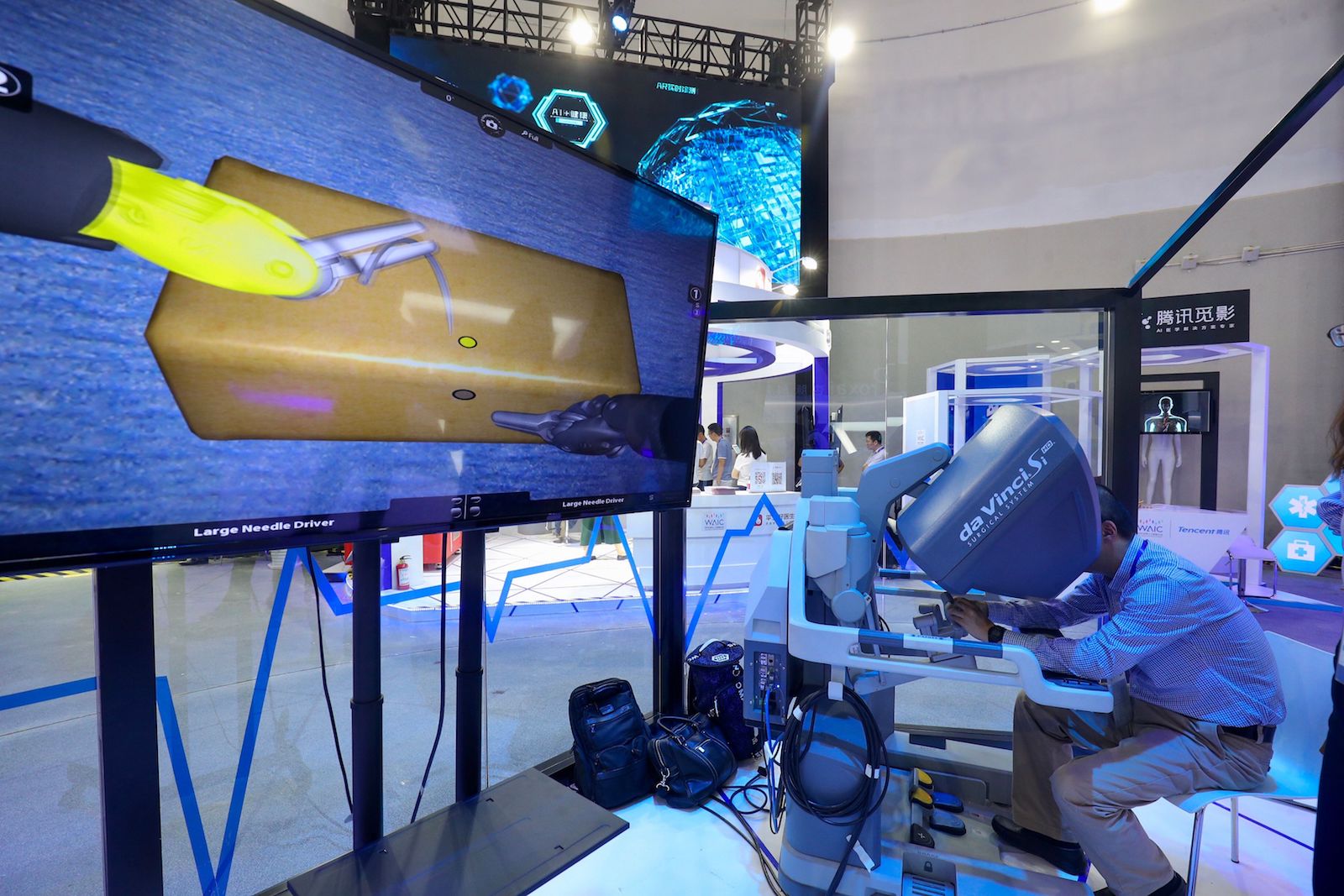 This is the final article in a special series focused on health related issues. The previous pieces in this series can be read here, here, here and here.
Of all the industries in which artificial intelligence is staking its claim, its impact on health care could be the most consequential. Many problems tax the world's health infrastructure at once—including rapidly aging populations, doctor shortages, underserved regions and the need for personalized medicine.
Asia-Pacific's health care systems are finding ingenious uses for AI that meet these needs and more, which could fundamentally alter the health care sector in the region.
Equalizing Care for Vision Problems
Researchers in China are using AI to tackle discrepancies in health care access between metropolitan and rural areas. This is especially true for vision care, which Jim Wang, CEO of NovaVision Group, says is a problem practically begging for an AI-centric solution.
According to Mr. Wang, China doesn't rely on family doctors and referrals. Instead, large hospitals in cities see continual overcrowding and patients in outlying areas often go without vision care altogether. They expect AI to change this status quo.
Mr. Wang says NovaVision wants to equalize access to vision care. Its plan is to empower small practices and increase the speed of care in cities, with what his company calls "algorithm cameras." These cameras can screen for 1,000 eye-related diseases with 97 percent accuracy with just one image-capture session. The result would be a more empowered medical community in rural areas that can meet the needs of the underserved without their traveling to a city for care. It also means doctors in city hospitals could diagnose more patients without sacrificing quality of care, resulting in less crowding.
Making Medicine More Personalized and Accurate
Japan's government is serious about AI in health care and has pledged to increase its investments four times over in nine years. Japan will see its total AI health care market rise to 15 billion yen (over $100 million) by 2025. In fact, Japan's AI efforts in health care has talent coming together from across academia as well as the public and private sectors. The goal is straightforward, yet imposing: curb spending while allowing under-staffed medical centers to see more patients and spend more time with them individually.
Japan hopes to open 10 prototypical AI-infused hospitals across the country by 2022. Some of the work done by these AI assistants involves behind-the-scenes clerical work, such as updating patient files and charts. Employing machines for this work eliminates much of the potential for human error and frees staff to devote more of their time to patients.
The developments get more impressive from there. The companies involved in this initiative are hard at work on AI programs that can pore over endoscopic images, electrocardiograph readings, MRIs, blood tests and even patient DNA records to arrive at meaningful diagnoses and recommend the most useful mode of treatment for each patient. The final diagnosis is still up to doctors, but this kind of technology unquestionably sets them up for success and should help doctors in remoter areas see more patients.
Smartphone-Based Intelligence and Whole-Life Care
India is home to 1.3 billion citizens. According to the World Health Organization, the country trains 50,000 new doctors per year who fall below recognized standards for service accessibility. To close the gap and expand coverage in a way that meets those standards—a 1:1,000 doctor-patient ratio—India needs 2.3 million trained doctors by 2030. Even if India's health care infrastructure doesn't yet reach its whole population, researchers are tapping into something that has virtually pervaded the whole country: access to smartphones.
An app called mFine uses intelligent bots to extend service to areas without reliable access to doctors. The app already facilitates treatment for 15,000 individual cases a month from 800 Indian towns that lack a medical center. The mFine app represents a direct portal between patients and 375 doctors in 20 specialized medicinal fields.
But it's not just a communication tool. The app uses interactive bots to gather information from users, including patient basics as well as more detailed data about their symptoms. These bots allow doctors to consult with far more patients than before, and they help make diagnoses, too, even at a great distance. For instance, patients can cough into their smartphones and diagnostic algorithms in the app can determine if they have a respiratory infection.
Best of all, the app can help families with whole-life care, beginning with pediatrics. Researchers are "training" their algorithms through machine learning to identify various kinds of medical distress, even by listening to the sound of a distressed baby crying.
Two things differentiate Asia-Pacific's pursuits of AI: company-patient collaboration and meeting current needs while investing in future potential.
Identification and Treatment Planning for Cancer
South Korea has hit the ground running with Dr. Answer—a state-run initiative to build an artificially intelligent health care apparatus with an emphasis on identifying and laying out personalized treatment models for eight kinds of cancer and other conditions, including breast cancer, colorectal cancer, prostate cancer, cerebrovascular disease, heart disease and dementia.
South Korea's Ministry of Science, along with 19 AI developers and 25 hospital partners, anticipate completing the project by the end of 2020. By then, they will have spent more than 35 billion won ($30 million) on the project, whose closest American competitor is IBM's Watson.
The first stage of the project involves the translation and standardization of patient records into a format that can be read by algorithms. The emphasis isn't just on identifying these conditions in patients—it goes further by diving into relevant genomic data and developing personalized treatment regimens.
Researchers involved with developing the platform remain cognizant of the fact that two patients suffering from the same disease may not respond the same way to the same type of treatment. They hope that by focusing their efforts on just eight maladies, they can develop truly comprehensive treatments that are effective on a personal level.
Assistive Robots for a Rapidly Aging Population
In 2013, Japan's Ministry of Economy, Trade and Industry (METI) outlined a long-term plan for bringing assistive robots into its health care networks. The program is called Robotic Care Equipment Development and Introduction Project, and it is focused on several kinds of AI-focused assistive technologies:
Intelligent monitoring for nursing home patients

Bathing and toiletry assistance for elderly patients

Mobility aids for indoor and outdoor use

Smarter assistance products to be worn on the body
METI has recognized these as high-priority needs as the country and the rest of the world comes to terms with its rapidly aging population and seeks to improve its care models.
APAC and U.S. Both Focused on AI in Health Care
Japan's robotic development program has similarities to an initiative begun in the U.S. in 2016, called the Robotics Roadmap. Both programs share the goal of developing intelligent wearables and assistive robots for the elderly and infirm as well as investigating new avenues for robotic surgery research.
Not surprisingly, AI and its implications in health care have emerged as a mark of national competitiveness. Robotics in health care is part of a larger tapestry of connected tools and assets designed to collect, analyze and distribute meaningful data among shareholders and users. In the U.S., the Internet of Things is on track to become a $19 trillion industry by 2020—and that includes assistive robots, wearables and hospital and clinic infrastructure powered by AI.
There are two things that differentiate Japan and other Asia-Pacific countries' pursuits of robotics and AI—a closer collaboration between companies and patients as well as a stricter focus on meeting current needs versus investing in future potential. By some accounts, this could mean the U.S. is leaving money and potential on the table in the form of abandoned projects that don't have immediate commercial use.
By any standards, however, research into AI in health care is an exciting field that's making waves and improving lives all over the world; and Asian economies are, in many ways, driving this phenomenon.