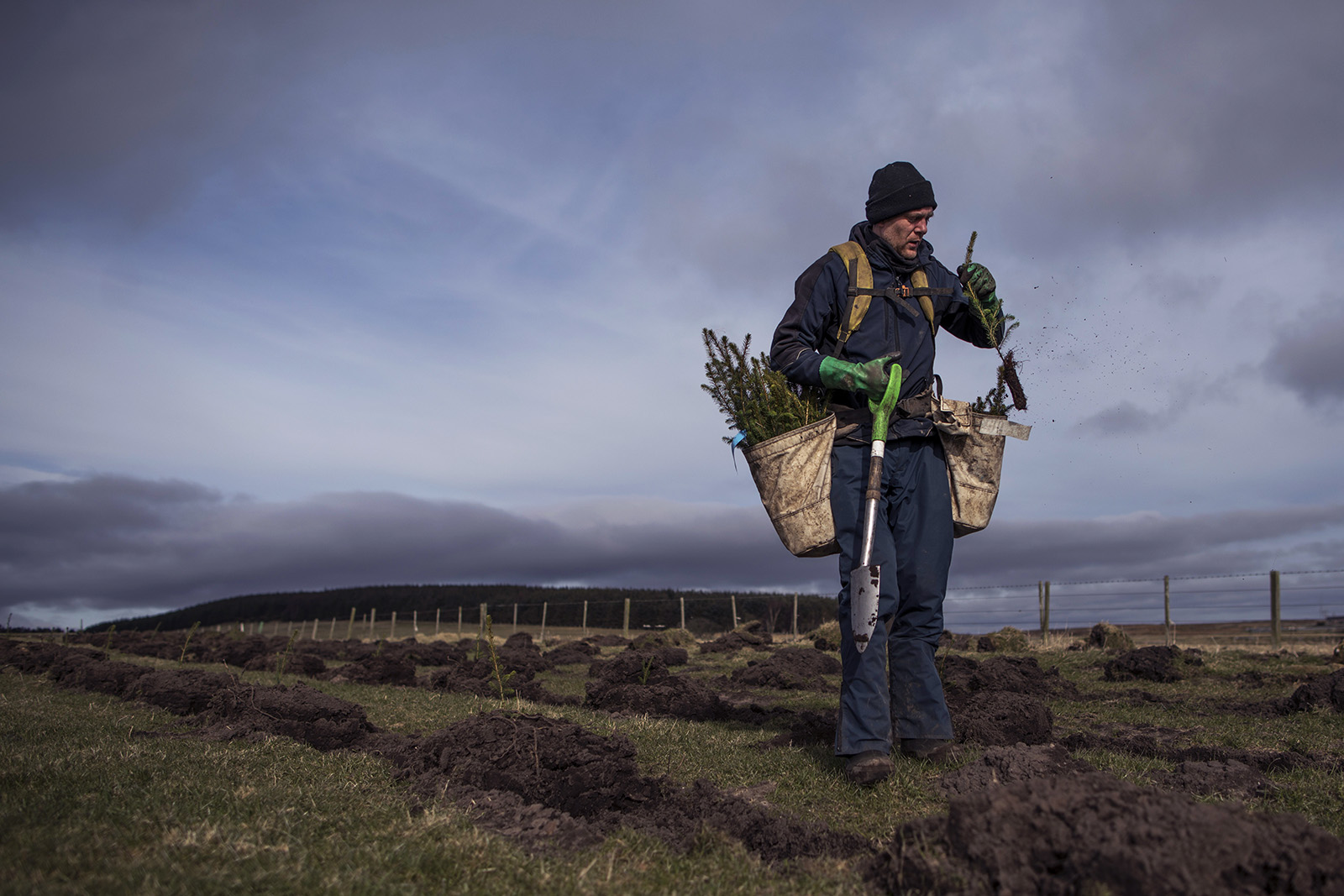 When addressing climate change, we often hear about the need to reduce carbon emissions, but the concept of removing carbon that is already in the atmosphere is also receiving increased attention. 
If we want to maintain a stable climate, both are essential. The cheapest and safest approach to sequestering carbon — the process of capturing and storing carbon from the atmosphere — is through landscape protection and restoration, with a focus on reforestation. 
Stabilizing the Planet
Landscape protection and restoration offer benefits well beyond environmental restoration, from investments in local communities, supporting farmers in developing countries and creating green infrastructure that supports additional economic, social and environmental projects.
Current projections estimate that we need to restore 950 million hectares — roughly the size of the United States — by 2050 if we hope to maintain a stable climate. 
The natural habitat is critical for stabilizing the world's climate, securing the 10 million species with which we share the planet and for providing clean water, food and energy for much or the world's population. Yet, we have now degraded 75% of the world's natural ecosystems and are losing an area of forest the size of Greece each year. 
If this continues, we will not achieve the targets the world's governments have set to stabilize our climate, resulting in the greatest humanitarian and biological crisis in human history.  
Reforestation Offers the Biggest Impact
In carbon removal, reforestation is currently the only major solution that offers the removal volumes with social and environmental impact, at a commercially viable price. 
For companies seeking to invest in carbon offsets, which will have a sustainable positive impact on the planet, reforestation projects have several key advantages over avoided deforestation projects. 
First, they are recognized globally as one the most impactful investments in the fight against climate change. Second, companies can show with evidence a direct contribution of their project to their stakeholders — customers, shareholders, supply chain partners, etc. Third, reforestation carbon credits are viewed as more credible and valuable in the long term than other types of forest credits. 
Unfortunately, to date, there has been no market for reforestation. 
Creating Highly Credible Carbon Credits
In the past 20 years, a total of only 252 afforestation/reforestation projects have qualified for carbon credits. The average project reforests less than 500 hectares per year. 
We are inches away from triggering a massive-scale forest restoration carbon market; therefore, there has never been a greater opportunity to invest in forest restoration than now.
But this is changing. According to Ecosystem Marketplace, "offsets from tree-planting projects increased 342% from less than 2 metric tons of carbon dioxide equivalent (MtCO2e) in 2016 to 8.4 MtCO2e in 2018 and were distributed around the world." 
Of course, this is a tiny amount relative to the overall market potential. It represents perhaps 400,000 hectares of reforestation — against a 2050 climate target of 950,000,000 hectares.
Natural State, a U.S. nonprofit organization, has identified five barriers preventing reforestation at scale:
The lack of infrastructure and capacity to implement at scale in areas of the world where reforestation is most needed

Weak impact measurement systems that are unable to give accurate, detailed and timely assessments of project implementation progress

Complicated and expensive carbon certification processes

A lack of opportunities to invest directly in large-scale reforestation projects

The low price per ton of carbon does not match the true costs of climate change and environmental degradation
 Corporate Engagement Is Growing
In the past three years, corporate pledges to achieve environmental sustainability and carbon neutrality have skyrocketed. More than 130 of the global Fortune 500 companies have made commitments to be carbon zero or better by 2030. In 2020 alone, BP, Shell, Microsoft, Apple, Google, Facebook, Walmart and others pledged to spend billions of dollars to become carbon zero or better.
Although the largest multinationals are leading the charge, companies of all sizes should consider the impact of carbon accountability on their bottom-line performance and sustainability. The impact of climate change poses serious threats to supply chains in every industry. 
More intense regulation of carbon emissions is coming, driven by government commitments to global targets and by consumer demands. The litigation risks over climate change are increasing rapidly, and carbon reductions and removals are opening new opportunities to create competitive advantage in traditional business sectors.
With the billions of dollars that have already been committed to offset carbon emissions, a small number of private sector companies could catalyze a large forest restoration carbon market by investing in impact monitoring technology, helping develop more efficient certification and verification processes and paying enough per ton of carbon to restore and protect the forests.  
Alexander Rhodes, head of Mishcon Purpose at international law firm Mishcon de Reya states that "Buying cheap carbon credits may look like a great deal now, but — as with most things — you need to understand what you are paying for. Consumers, investors and regulators are demanding increasingly transparent and accountable net-zero strategies, and this is driving new standards. For most corporates, carbon capture will form a central plank of their strategy, and there is significant risk exposure in not doing your due diligence."
The Trillion Tree Initiative
Companies that take a longer-term view will note that, although the price per ton of carbon of legitimate forest restoration projects is more expensive than the average price per ton, carbon prices are projected to increase significantly, and high-quality forest carbon credits will soon be a lot more expensive.  
Being an early buyer of forest restoration carbon credits is good business and good for the planet. 
Momentum is building. This year at Davos, the Trillion Tree Initiative was launched by countries and businesses around the world. The UN has declared 2021-2030 the UN Decade of Restoration. Each week, more companies are making commitments to become carbon neutral, many of which are explicitly focusing on nature-based solutions. 
We are inches away from triggering a massive-scale forest restoration carbon market. There has never been a greater opportunity or a more important time to invest in forest restoration. The low-carbon economy is here. The biggest risk facing both companies and the planet is not moving fast enough.