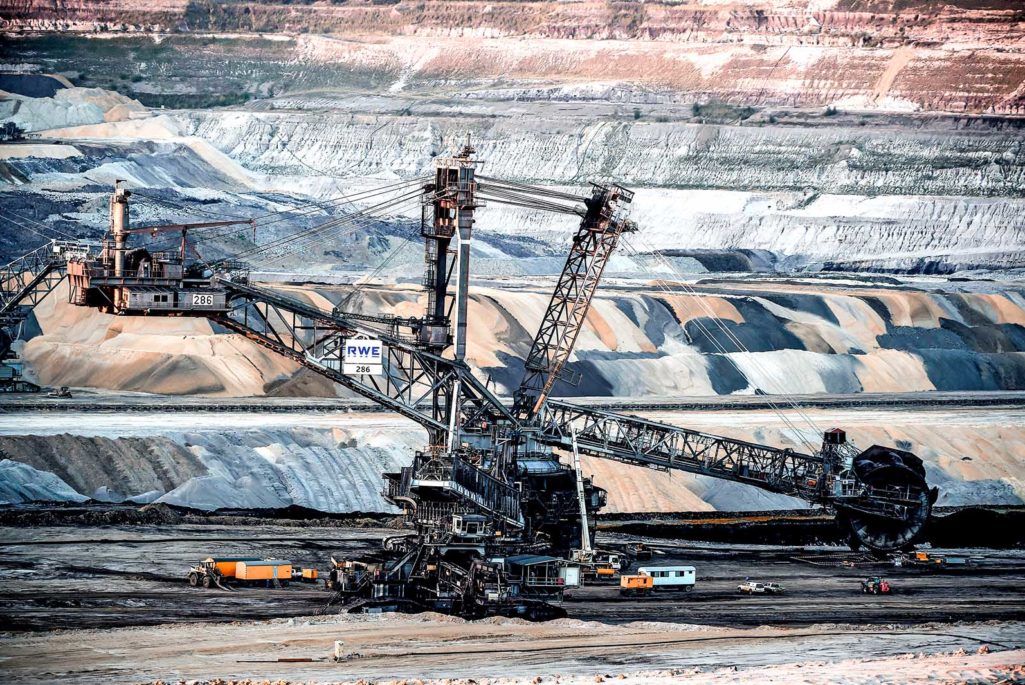 Two weeks ago, the U.S. coal industry was rocked when its flagship producer, Peabody Energy, skipped a $71.1 million interest payment on its senior notes and said it may have to seek Chapter 11 bankruptcy protection. In official filings, the company raised "substantial doubt" that it could remain a going concern.
Peabody is just the latest coal giant to stumble; several coal producers, including Arch Coal, have been pushed into bankruptcy over that last year, and many coal stocks have lost 90 percent of their value since 2009.
The financial troubles are just the blunt tip of devastating spear in side of the coal industry that has seen a trend of ominous negative events of late:
The U.S., as the third largest consumer of coal in the world behind China and India, would seem to be a proxy for the fate of coal, but such is not the case. Coal still generates more than 40 percent of electricity globally and is used in the production of 70 percent of the world's steel, an increasingly critical commodity as the world's population grows along with massive migration to urban areas.
"The importance of coal in the global energy mix is now the highest since 1971," said Fatih Birol, executive director, International Energy Agency (IEA). "It remains the backbone of electricity generation and has been the fuel underpinning the rapid industrialization of emerging economies, helping to raise living standards and lift hundreds of millions of people out of energy poverty."
Jason Hayes, spokesman for the American Coal Council, put it more bluntly: "There's that old quote: 'The story of my demise is somewhat overstated,'" speaking of a seeming death knell for coal.
Global Demand for Coal Continues Despite Obstacles
Indeed, the world's lust for coal seems endless, although it's tempered somewhat in the last two years. Global coal consumption increased by more than 70 percent between 2000 and 2013, making it the fastest-growing primary energy source, according to the IEA. However, "demand growth has slowed of late," the IEA said, with 2014 showing the first decline (0.9 percent) since the 1990s. That decline was attributed to a downturn in consumption in China; however, the IEA sees coal growth continuing through 2020 at a rate of 0.8 percent per year.
The IEA forecast is greatly reduced from its previous five-year forecasts, reflecting economic restricting in China, "which represents half of global coal consumption. Coal demand there is sputtering as the Chinese economy gradually shifts to one based more on services and less on energy-intensive industries."
The Association of Southeast Asian Nations (ASEAN) region alone will triple coal demand between 2011 and 2035, with coal's share of power generation increasing to almost 50 percent.
India's coal use increased by 90 percent between 2001 and 2011 and is expected to more than double by 2035. Hundreds of millions are still without power in India and the government is making a concerted effort to raise its population out of poverty on the back of providing coal-fired electricity.
In the direct aftermath of the Paris Climate Summit in December, Piyush Goyal, India's minister for power, said the country still plans to double coal output by 2020; the country is dependent on coal for about two-thirds of its energy needs.
"The environment is non-negotiable and we are extremely careful about it," Anil Swarup, India's top coal ministry official said. "(But) our dependence on coal will continue. There are no other alternatives available." Despite the country's plan to add 30 times more solar-powered energy production by 2022, renewable energy has its limitations and coal is still seen as the most efficient energy source, Swarup said.
The IEA's Birol acknowledged that the coal industry "is facing huge pressures" because of the downturn in China, "but that's not the only reason." Birol said, "The economic transformation in China and environmental policies worldwide—including the recent climate agreement in Paris—will likely continue to constrain global coal demand."
Coal Claims its Energy Future
The coal industry isn't sitting idly by, watching its industry struggle against regulatory and environmental concerns. Realizing that coal is going to be in the energy mix for decades to come, the industry has turned to lobbying for increased investment in "clean coal" technologies as a way to help mitigate climate risks and pushing for more efficient coal plants to be built.
At the Paris Climate Summit, the world's nations committed to ambitious reduction targets for greenhouse gas emissions. "Complying with these commitments will require a variety of approaches, including enhanced conservation/energy efficiency measures, expanded roles for renewables, nuclear power and natural gas, and, most importantly, deployment of advanced coal technologies capable of reducing, capturing, utilizing and storing CO2," wrote Janet Gellici, executive vice president and COO of the National Coal Council, in an article for BRINK last year.
"Today's modern, efficient supercritical pulverized coal plants, coupled with carbon capture, utilization and storage (CCUS), are the most promising path to continued urbanization and modern energy access for all while meeting stated emission goals over time," wrote Frederick Palmer, a former Peabody Energy executive, in an article for BRINK last year. "Analysis from the IEA states that 'carbon capture and storage is a critical component in a portfolio of low-carbon energy technologies aimed at combating climate change. Given the dominant role that fossil fuels continue to play in primary energy consumption, the urgency of CCS deployment is only increasing.'"
Movement in this area is happening, the IEA said. More than two-thirds of the coal-fired plants under construction will use newer, higher-efficiency technologies, led by China; however, India and the ASEAN region are "lagging behind," the IEA said. Carbon capture and storage (CCS) technology is no longer merely a theoretical possibility, the IEA said, owing to several commercial-scale CCS projects started or near construction in North America, Australia and China. "Nevertheless, CCS deployment is still largely off track and needs to be accelerated by strong policies in order for coal to contribute to a carbon-constrained energy system," the IEA said.
All that adds up to coal remaining a vital part of the world's energy equation, although somewhat muted in developing countries. On the U.S. side, despite the current downtrend for coal, it may be down but not out for the count.
"I think that replacing 40 percent of the nation's baseload generation is something that is much, much more difficult than anybody outside of the industry realizes," said Mike Easley, CEO of Powder River Energy Corporation. "The amount of wind generation and gas generation and the amount of infrastructure that would be required to be built in order to replace coal, to build it and site it and permit it, I think all of those things, it would be a long time before all of the coal is gone out of the United States' generation portfolio."