Environment
Why Clothing Brands and the Circular Economy Are a Natural Fit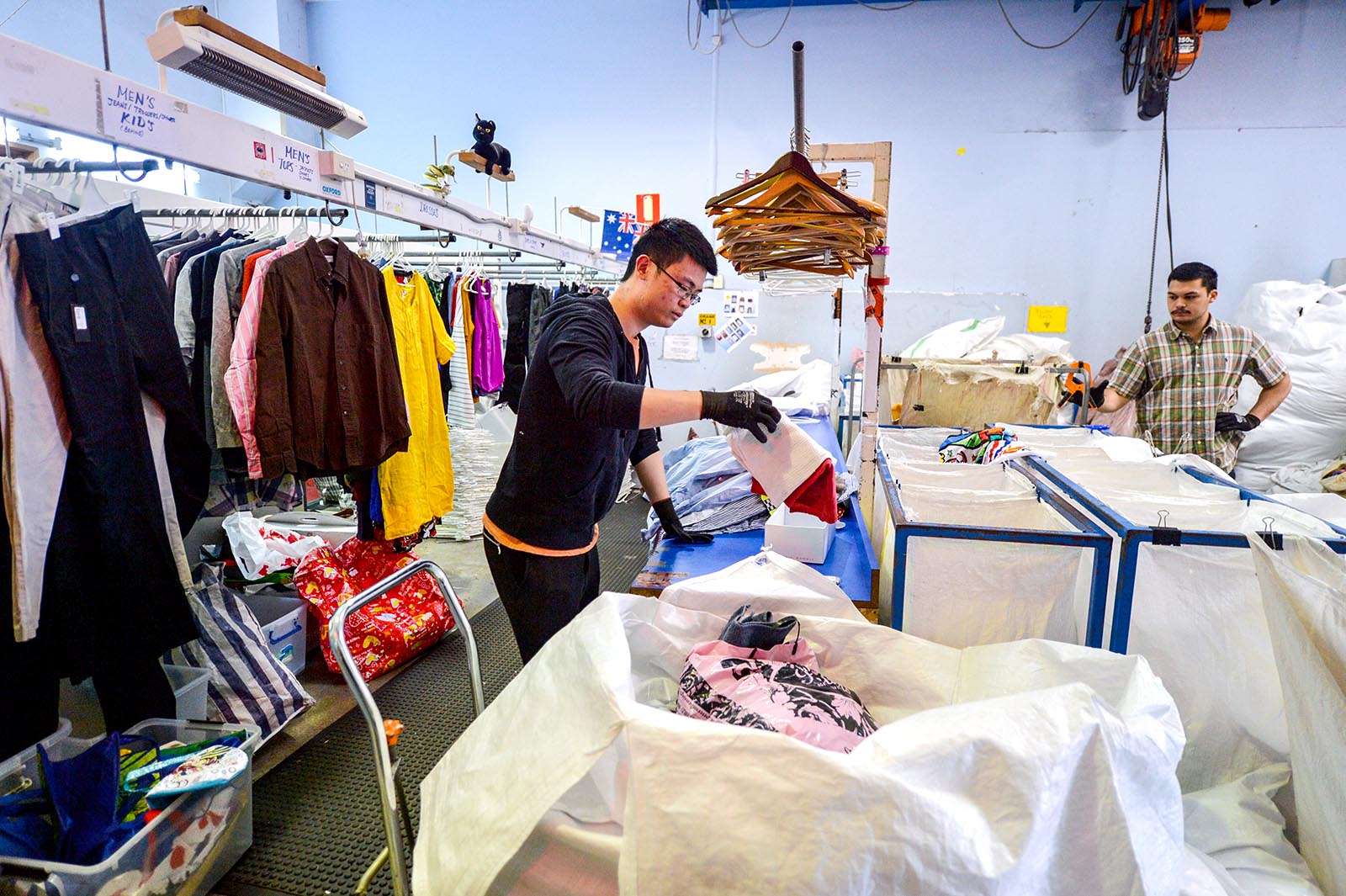 In early October, the world's largest online thrift store, thredUP, announced a new program to partner with well-known apparel companies on its secondhand retail platform. While nothing is inherently new about selling used clothes, the announcement highlights a growing trend within the apparel industry: Clothing brands are turning to so-called recommerce partners to tap into secondary markets. Given the significant environmental impact of fashion in general, and fast fashion in particular, the implications could be significant.
Money talks: Secondary retail apparel—a $20 billion industry—is projected to grow 15 percent annually over the next five years. That significantly outpaces traditional retail, which is projected to grow only 2 percent annually, according to thredUP's 2018 Resale Report. Given that secondhand clothing sales exist regardless of whether brands approve, the opportunity is obvious: Brands can make a margin on selling the same garment multiple times while maintaining brand and quality control.
As the average quality and durability of clothing increase, so do opportunities to capture new value through resale markets. Third parties offer brands the logistics, renewal, repair and recommerce expertise to quickly ramp up resale models at scale. By centering on the consumer experience—improving the ease of selling used clothes, streamlining logistics, offering engaging online shopping platforms and ensuring quality—recommerce is more convenient and accessible to consumers than ever.
A More Circular Business Model
Recommerce, particularly when executed by partners, unlocks a low-risk, high-reward market for goods and offers a straightforward path into a more circular business model.
In some companies, sellers can choose between receiving cash or store credit in exchange for their clothes, a common approach for secondhand stores. Others offer an additional 15 percent in value if sellers select payment in the form of a partner brand's gift card. If a brand agrees to drive traffic to a recommerce company's online thrift store and pay the 15 percent bonus to sellers, it can drive sales to returning customers without even touching the used clothing.
"Retailers are realizing that through this program, they can launch a loyalty program that is good for the planet and good for business," said Karen Clark, vice president of marketing communications and partnerships at thredUP, in a recent interview. "Sometimes, they don't need to be mutually exclusive—customers are incentivized to resell."
Brands can make a margin on selling the same garment multiple times while maintaining brand and quality control.
Other companies have developed a so-called "white label" service for big-name apparel retailers like Eileen Fisher, Patagonia and REI  that enables brands to develop an online recommerce marketplace under their own names, without investing in a new website and warehouse or straying from their core competencies. The apparel brands encourage customers to return used goods in exchange for store credit, and the recommerce company repairs and refurbishes those goods so that the apparel companies can sell them again as refurbished under their own brands in their own online stores, complete with warranties, customer service and return policies.
Better Than Waste
The third type of recommerce companies are those that offer retailers a fully outsourced recommerce service, managing the reverse logistics, repair, cleaning, quality assurance and resale of used clothing to big brands. Apparel brands pay a processing fee at a rate comparable to apparel waste management and can sell "renewed" clothing in their stores or on the company's website under a revenue-sharing agreement.
"The idea is to really brand the durability story by showing how their clothing lasts and retains its value," said Nicole Bassett,  co-founder of The Renewal Workshop.
Finally, some companies are targeting the luxury resale market. According to Allison Sommer, director of marketing at the RealReal recommerce company, "A few years ago, there was a lot of uncertainty into how we fit into luxury fashion, and all of a sudden, we are getting inbound requests from designers wanting to learn more about how our partnership with Stella [McCartney] is doing and how it is structured." This week, the RealReal launched an online "sustainability calculator" to quantify its impact. An initial calculation found that the 2.5 million women's clothing items consigned to the RealReal since 2012 have offset the equivalent of 65 million car miles worth of greenhouse gases and energy.
The Fear of Cannibalization
Some brands are beginning to find that recommerce, particularly when executed by partners, unlocks a low-risk, high-reward market for their goods and offers a straightforward path into a more circular business model. But so far, only a handful of companies are embracing recommerce. Many fear revenue cannibalization: that by making refurbished versions of their products available, they'll curb sales of new ones.
Yerdle Recommerce's Andy Ruben believes this perspective is shortsighted. "The used business is happening whether a brand promotes it or not. So, the real question is, does a brand want to partake in what is happening in a consumer-driven economy?" he said. "There is a different customer for these used products than for new products. A brand participating in this space gets access to a group of customers that weren't necessarily shopping them before."
Time will tell whether brands will embrace recommerce at scale or if this trend will quickly go out of style.
This piece first appeared in GreenBiz.