Technology
Blockchain Builds Trust in Marine Shipping with 'Single Version of the Truth'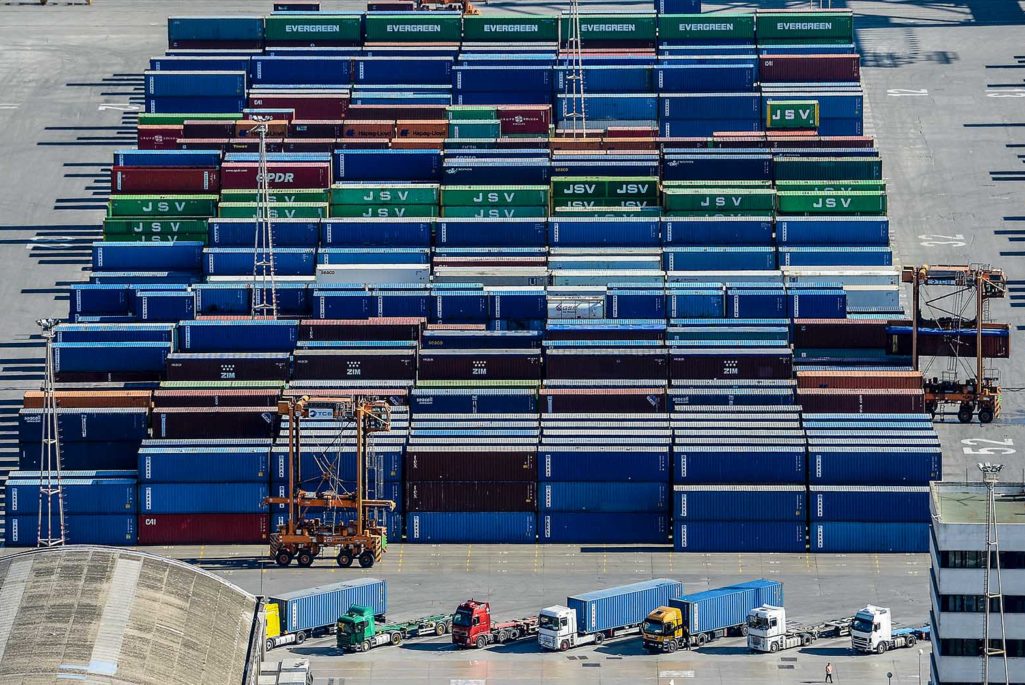 Disruption in the marine shipping industry is spelled: "Blockchain." The technology promises to revolutionize container logistics by connecting the supply chain in a way the industry has never seen before, eliminating costly time-consuming processes and creating trust and partnership in an industry where such principles can, at times, be misunderstood by providing the 'single version of the truth' to all parties involved.
Blockchain is best known as the underlying foundation for the crypto-currency Bitcoin. But its ability to create "mutual distributed ledgers," which are self-governing, tamper-free, online databases that no one owns but that everyone has access to and can trust, has begun to make inroads to mainstream commerce, such as banking and insurance. It promises the potential of mass disintermediation of trade and transaction processing.
Container logistics is a $4 trillion a year industry rooted in a byzantine world of legacy IT systems, massive amounts of data-entry-type paperwork and milestone management processes. A study by Maersk, one of the world's largest shipping companies, said that, on average, about 30 people and organizations touch the shipment of a product using a shipping container. That process alone resulted in more than 200 separate interactions, each requiring a different set of documents. This is typically done by humans interacting with multiple parties, whether that's with legacy computer systems, email, phone calls or sometimes even faxes.
Each of those interactions represents a potential point of failure, vulnerable to illicit manipulation or simply human error.
The money spent processing documents is astronomical. Ibrahim Gokcen, chief digital officer for Maersk Transport & Logistics, said that his company "looked at the money that's spent on documents that are not digitized, the entities that need to be involved" and came away with a figure "going into the trillions of dollars."
The introduction of blockchain in the marine shipping environment eliminates much of the problem in today's cargo logistics process. Each blockchain consists of records, called "blocks," which reference and identify the previous block using a cryptographic function. This forms an unbroken, verifiable chain of custody. Old transactions are preserved forever and new transactions are irreversibly added to the ledger. The beauty of this process is that it's distributed, meaning it can live on multiple computers at the same time, accessible to anyone with an interest in that particular transaction.
We estimate that blockchain could save $300 per container in terms of labor and processing associated documents. An Ultra Large container ship can carry 18,000 containers, which means the savings for one ship's full cargo would amount to $5.4 million.
The beauty of blockchain is that no one needs permission to implement it. There's no regulation—the field is open.
Blockchain can be a boon for smaller companies, too. It can automate requirements for a specific product, such as how a container needs to be loaded following various regulations, based on linking to customs. So it literally could be a cut and paste exercise for most companies, which would enable smaller companies to be more agile within the global trade environment.
Blockchain in the Real World
There are a lot of proof-of-concepts now in the works. At the Port of Antwerp, blockchain is being used in container security processes, but not for tracking the containers. At the Port of Rotterdam, a consortium is involved in a two-year trial that will test blockchain applications for sharing logistical and contractual information between parties. And Maersk ran a limited blockchain-based freight tracking trial earlier this year with a single client's shipment of goods from the Port of Rotterdam to the Port of Newark, New Jersey, in the U.S.
Our own system has now processed 27,000 containers in the UK. The system increases supply chain visibility and health and safety within the supply chain. We do this by creating a cyber-physical representation where a digital asset, such as the actual shipping container, is represented physically and digitally.
As the container moves along the landside supply chain, we are able to track its contents and provide versions of that information to regulatory agencies that need to see what's going on inside these containers, which aids in fewer inspections of the cargo. At the same time, we are able to provide almost-real-time track and trace through data analytics of how far a container is from the port and then complete specific milestones that need to be fulfilled before containers are loaded on board the vessels.
Risks and Challenges of Blockchain
There needs to be a system of governance and consciousness that we apply to when determining whether the technology should be deployed.
Relationships that are valued in the market today will look completely different in the future. Today it's human-to-human selling or interaction, whereas tomorrow most of this information or the ability to create those relationships will be managed more by technology and by processes rather than human beings selling to each other. Blockchain would dehumanize the process of buying, selling and perhaps operating.
But at the same time there's a duty of care to ensure this technology is implemented in the right settings. For example, we don't need to go and create social economic issues in developing countries where jobs might be replaced by automation. But at the same time, in European and Western countries where we have a higher head-count cost, the technology can enable us to reduce those costs.
Blockchain will also allow humans to collaborate with each other and create trust that has never been created before. It has a very wide-reaching potential that, if applied in its most holistic sense, would be extremely beneficial.
Wide-scale adoption of the technology could be hampered, however, if large industries and the people involved in supply chain management don't move beyond the current "proof-of-concept" trials out of apprehension over sharing data. Or worse, from fear about how it will change their business models. And that's the biggest risk of all: that the technology won't be used or that it will be used on a proprietary basis.
The beauty of the technology is that no one needs permission to implement the use of blockchain; there are no regulations—the field is wide open—we can simply go ahead and do it. But there's an inherent lack of understanding of the technology that is inhibiting a more widespread use it at the moment.