GeoWatch
South China Sea Tribunal Creates Confluence of Tides for China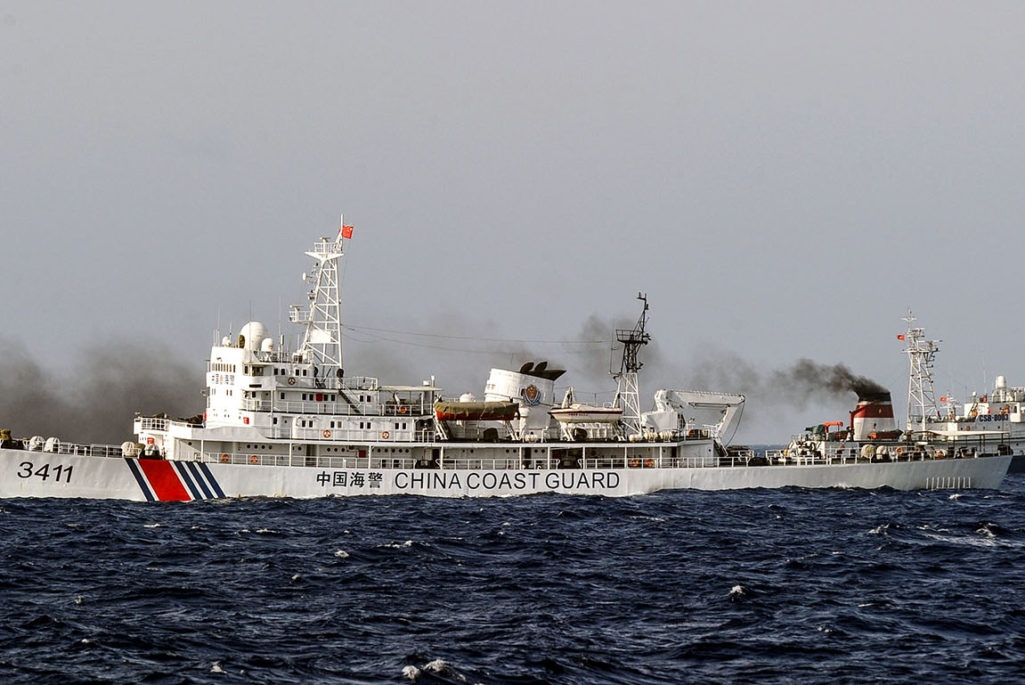 On Tuesday, an international tribunal handed down a stunning rebuke of China's claim that it had historic title to an expansive swath of the South China Sea and delivered a major blow to consistent statements that it was a state acting in accordance with international law.
The 479-page decision from The Hague is the first legal ruling denying China's self-awarded stake to the waters of the South China Sea, a position that has raised tensions in the region and soured Beijing's international relations among a host of countries, including the U.S. and particularly the Philippines, which brought the issue before the Permanent Court of Arbitration, resulting in Tuesday's ruling.
Despite heroic attempts to bolster China's claim on the South China Sea, such as the articulate and exhaustive argument put forth last month by Madame Fu Ying, chairperson of the Foreign Affairs Committee of the National People's Congress and former ambassador to the UK and an official point-by-point government issued position paper bolstering claim on the waters, The Hague's decision completely shredded any notion that China held any legal or historical right in the matter.
Manila had brought its case against China's claim to more than 80 percent of the South China Sea, based on a line drawn by a geographer in 1936 and enhanced by a 1947 Nationalist government map. The area includes a number of contested island chains: the Paracel Islands (also claimed by Vietnam and Taiwan), the Spratly Islands (claimed by Vietnam, the Philippines, Malaysia, Brunei and Taiwan), Scarborough Shoal (claimed as well by the Philippines and Taiwan) and the Natuna Islands (also claimed by Indonesia).
Specifically, Manila sued Beijing over the latter's occupation of Scarborough Shoal, a small, rocky outcrop that is located some 150 miles off the coast from Manila.
China, which is a signatory to the United Nations Convention on the Law of the Sea (UNCLOS), has stated that it does not recognize the court, nor will it abide by its decision, emphasizing its previous statements questioning the court's ability to even hear the case. China also refused to participate in any of the tribunal's hearings or process.
The Hague's South China Sea decision shredded any notion that China held legal or historical rights in the matter.
Calling the tribunal a "political farce," China's Foreign Minister Wang Yi said the decision has "put the dispute into dangerous territory of worsening tensions and confrontation."
The day after the decision, China Daily published a map of some 70 countries that purportedly sided with China's claim to the contested waters. A commentary in the Chinese Communist Party paper, the People's Daily, said the tribunal "acts as a lackey of some outside forces." Although China boycotted all the tribunal's proceedings, the country issued a 14,000-word white paper in defense of its claims that called the Philippines' charges a "concocted pack of lies."
The U.S., for its part, has indicated to China that it can go so far and no further, sending navy ships and aircraft into the sea and airspace that China claims, including close to the artificial islands it has constructed and militarized in the South China Sea in order to enhance its claim to that area.
More recently, Washington lawmakers issued a round of forceful statements on the matter. Congressman Matt Salmon, Chairman of the Subcommittee on Asia and the Pacific, said, "China should be held accountable to the tribunal's ruling."
State Department Spokesman John Kirby told reporters at a news conference in Washington on July 8 that, "We support the peaceful resolution of disputes in the South China Sea, including the use of international legal mechanisms such as arbitration … As provided in the Law of the Sea Convention, the tribunal's decision in this case will be legally binding on both parties, the Philippines and China. It's our expectation that both parties will comply with their obligations and exercise restraint."
Kirby, of course, left out the fact that the U.S. itself has shunned participation in the UNCLOS, as Congress has refused to officially recognize the treaty.
Just to emphasize the precarious nature of China's position, Colin Willett, Deputy Assistant Secretary of State, stated recently that Law of the Sea Convention makes clear that the absence of a party or failure of a party to defend its case shall not constitute a bar to the proceeds and that a decision by the tribunal shall be complied with by the parties to the dispute, adding somewhat ominously that, "The world will be watching to see whether China chooses a path of diplomacy and co-operation or continues to walk a long one of confrontation with its neighbors."
China will undoubtedly belabor the fact that the U.S. has not ratified the UNCLOS and seek to diminish Washington's moral stance on that basis. That will not, however, lessen its own responsibility to act in accordance with the tribunal's verdict. And therein lies the danger.
Can President Xi Play the Long Game?
Chinese President Xi has taken several steps to cement his position as China's leader, including unleashing the forces of nationalism that he will be hard-pressed to control now. He will have to demonstrate that he (and China) can stand up to what will be seen as Western aggression against a rising China. It is likely that China will, therefore, continue with its claim and establish an air defense identification zone, demanding that all non-Chinese vessels and aircraft identify themselves before traversing the region, thus reinforcing the idea that that part of the South China Sea is Chinese territory. It could also bring economic pressure to bear on Manila or militarize Scarborough Shoal.
If it did militarize Scarborough Shoal, however, it could face a major retaliation by the U.S., which signed an "Enhanced Defense Cooperation Agreement" with Manila, allowing for a rotating U.S. military presence at five Philippine bases. Washington could speed up its alliance building with Vietnam, including exporting military technology and platforms to Hanoi, do the same with Manila and determine with Tokyo what further measures it could take. It is difficult to see how countries such as Afghanistan, Gambia, Pakistan and Zimbabwe, states that backed China's claims, could be of any significant assistance in this matter. It's more likely that Beijing will call upon Manila to enter into bilateral negotiations with it on the issue.
There is the strong possibility that Manila will respond positively to that call. Newly elected President Rodrigo Duterte recently said, "When if it's favorable to us, let's talk. We are not prepared to go to war. War is a dirty word now." Duterte had previously indicated that he is willing to place all claims on hold, if China would do likewise, in return for Chinese investment in The Philippines. It is more than likely that China will accede to this proposal in order to then claim that it has no issues in following an unfavorable verdict from a court it does not recognize in order to play a peacemaking role in the region.
And Now the Rocky Seas of Finance, Diplomacy and Trade
It is difficult to see how China cannot play for time. The verdict against it comes at a time when it faces many economic problems, including finding itself in the same deflationary situation as Japan. Beijing has been forced to abandon its "solemn pledge" to keep its exchange rate stable. It is now devaluing the yuan, its currency basket has slid by around 12 percent since the beginning of this year and factory prices are falling at around 3 percent, further hastening its economic deflation. Beijing has tried to circumvent this problem by exporting more steel, glass and solar panels. Two large markets have retaliated, however. The U.S. and India have both sought to impose additional tariffs on these Chinese products, especially steel. The EU, for its part, has several ongoing investigations into Chinese dumping of steel. China, furthermore, will need to renegotiate several agreements with the UK after Brexit. It is difficult to envision it obtaining a good deal on steel products, given that it was its dumping of steel in the EU that led to steel mill closures in the UK.
Europe poses yet another problem for China and Xi, in particular. Xi sought to make the One Belt One Road project his legacy. It was intended to recreate the old silk route between China and the rich markets of Europe. That market, however, is fast becoming more engrossed with its internal affairs, including the influx of relatively poor immigrants and the risk of countries breaking away from the Union. It is likely that it will, in the shorter term (read: Xi's term as president), concentrate more on creating jobs for its citizens rather than on importing goods and services from China.
To compound China's worries, Prime Minister Shinzo Abe of Japan, a staunch nationalist who has previously taken a strong stance against China when he saw it necessary, returned to office with a larger majority after recent elections. While he has stated that the further revision of the Japanese constitution is not his immediate objective, there is no doubt that he will work to further remove the limitations on the Japanese military. Japan plans to purchase around 40 Lockheed Martin F-35 fighter aircrafts in addition to developing its own fifth-generation fighters.
It is this confluence of issues that enhances the risk to China, the countries of Southeast Asia and elsewhere. If cornered, China could behave even more provocatively. In order to demonstrate that it is a superpower, it could engineer an issue or force a circumstance that leads to conflict. A conflict with the U.S. will see China's aspirations cease for a very long time. Failure would be the hallmark of Xi's presidency.
It is incumbent on Xi, therefore, to attempt to negotiate a suitable outcome with the Philippines and put the best face on that situation domestically in order to contain the nationalism there while he plays for time. It is likely that Duterte will take full advantage of the situation to acquire as much Chinese investment at the most relaxed terms as he possibly can. If China seeks to bring matters to a head, though, it is likely that, as one analyst observed, the U.S. could find itself at war in the Far East once again.