Geopolitics
China's Belt and Road Reaches Latin America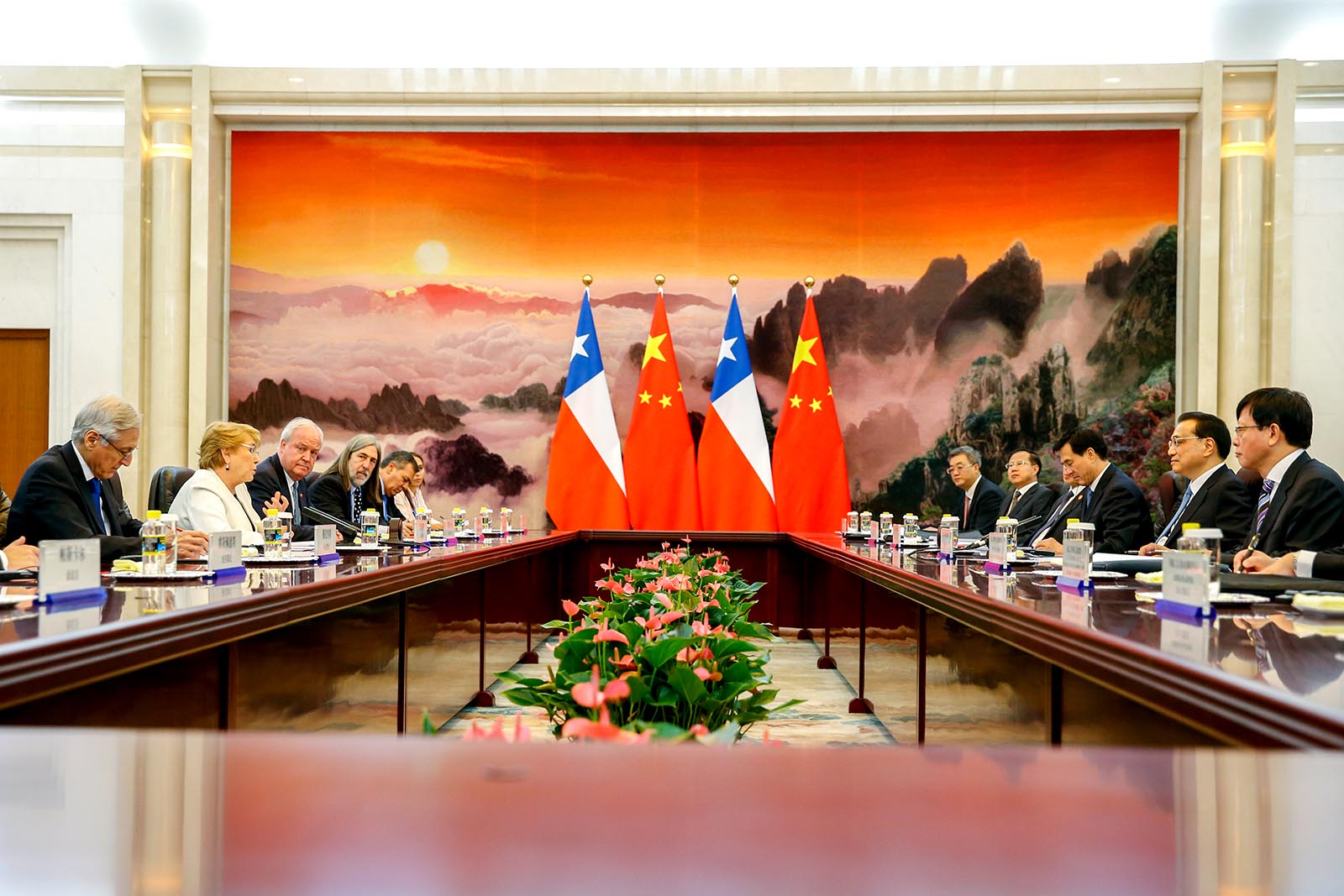 Over the past 10 years, Chinese investment in South America has accelerated dramatically, increasing by more than 480 percent between 2008 and 2018, compared to just 89 percent globally. Over half of China's investments into South America have gone toward infrastructure projects—particularly in energy and transport.
With persistently high savings rates and limited investment opportunities locally, China has become the world's third largest source of foreign direct investment after the U.S. and Japan. This investment has increasingly found its way to Latin America and the Caribbean (LAC) ever since 2008, when the Chinese government launched its first-ever policy paper on the LAC region.
With a broad mandate for long-term cooperation—ranging from debt reduction and cancellation assistance to establishing contacts between Chinese and Latin American sports institutions—the strategy has created deep trading and investment ties between China and LAC nations. By 2018, Chinese investment in South America comprised over a tenth of total Chinese outbound investment.
China Is Now Latin America's Largest Creditor
Chinese lending to Latin America has also increased significantly in recent years. Chinese loans to Latin America multiplied by more than 20 times between 2007 and 2017, and approximately 88 percent of this lending went to infrastructure projects.
These trends made China the region's largest creditor in the last decade—overtaking both international and Latin American counterparts. Indeed, lending from China between 2007 and 2017 amounted to over $150 billion, outpacing similar lending from the Inter-American Development Bank and the World Bank.
Exhibit: Selected Major Lenders to Latin America (2008-2018, in Billions)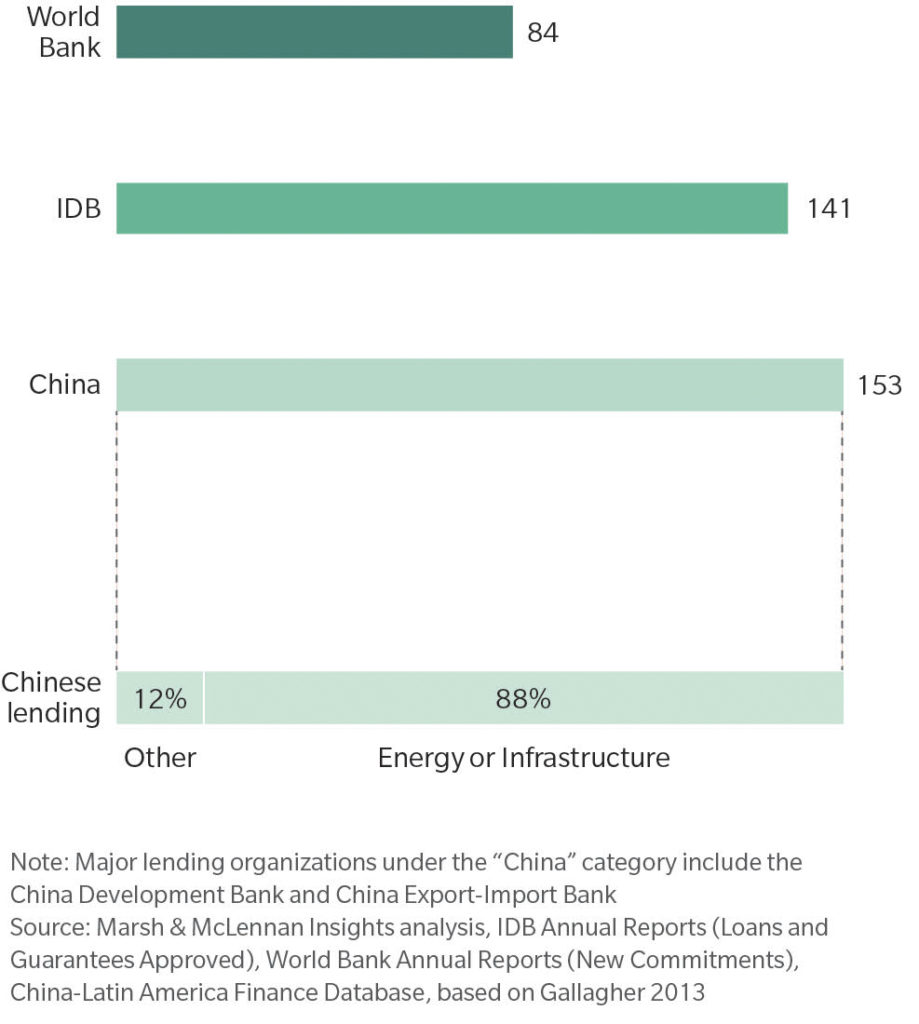 The Belt and Road Reaches Latin America
Chinese involvement in the region is increasingly being activated through China's Belt and Road Initiative, China's ambitious global infrastructure development and investment campaign.
Although Latin America was not included in the BRI's initial phases, China issued an open invitation to LAC countries to join the BRI at the beginning of 2018. Panama became the first Latin American country to join in November 2017, and many others have followed suit since. A recent major addition to Latin American BRI countries is Peru—Latin America's fifth largest market for infrastructure investments—which signed on to the BRI in April 2019.
As of May 2019, 19 LAC territories have signed documents indicating cooperation with the BRI. Of Latin America's six major markets for infrastructure (Brazil, Mexico, Colombia, Argentina, Peru and Chile), Peru and Chile have formally signed on to the BRI, while the others continue to accept significant Chinese investment without formal BRI agreements.
Table: LAC Countries and the BRI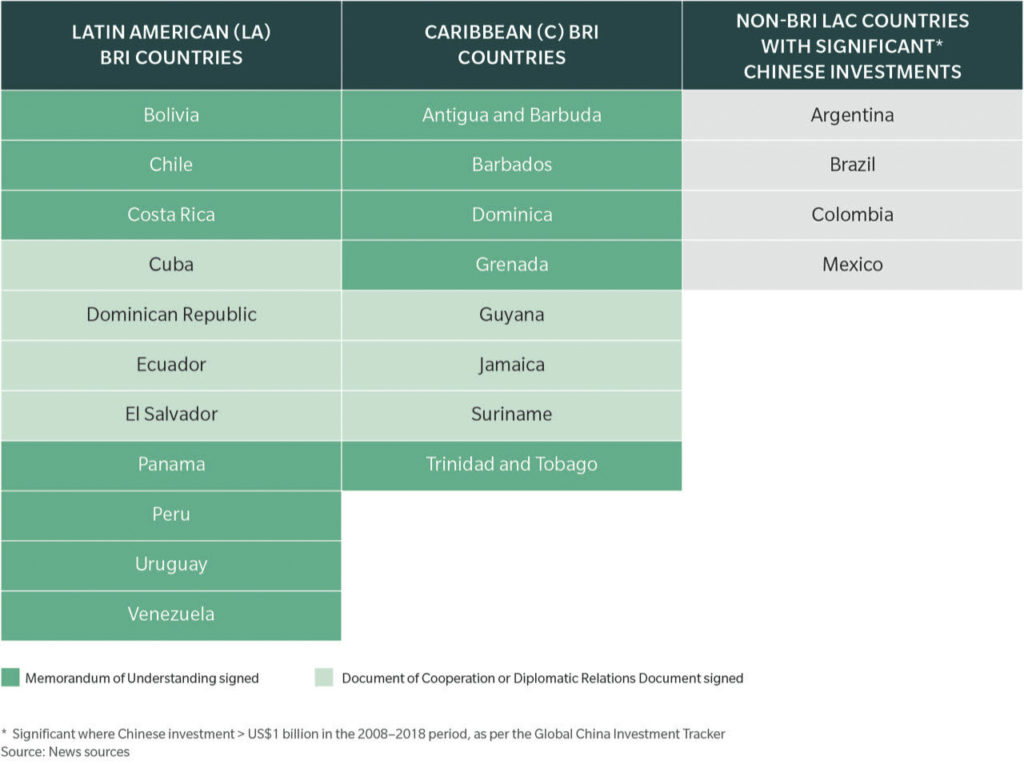 Filling the Hole Left by Corruption Investigations
The recent emergence of corruption investigations and associated disruptions have created an additional impetus for Chinese investment in infrastructure.
In 2014, federal police in Curitiba, Brazil, began to investigate suspicious activity amongst politicians and industrialists, eventually discovering an expansive network of bribery across the region centered on the Brazilian construction giant, Odebrecht.
The so-called car wash investigation eventually branched out across the region, implicating hundreds of Latin American politicians and unseating several heads of state across several Latin American nations. Generally centered on companies with expansive infrastructure investments, these corruption investigations have resulted in the interruption and paralysis of millions of dollars' worth of infrastructure projects in Latin America.
As is discussed in Bankability through the Lens of Transparency, many incumbent companies and investors in the region have therefore found themselves having to step away from infrastructure projects in the region—creating room for Chinese companies to take their place.
Chinese state-owned Three Gorges Corp consortium, for example, has agreed to purchase Peru's Chaglla hydroelectric plant—Peru's third-largest hydropower facility and one of the largest concrete-faced rock-filled dams in the world—from Odebrecht in the wake of the fallout from the investigation.
Chinese financing has also stepped in to the major "Comperj" refinery project in Rio de Janeiro, as well as the Santo Antonio hydroelectric power plant for similar reasons.
Environmental and Social Concerns
Chinese investment in the region does not come without its risks, however.
Environmental, social and governance concerns plague Chinese infrastructure projects in Latin America, resulting in both institutional and public impediments to project completion. In Argentina, the construction of hydroelectric dams in Santa Cruz began without an environmental impact assessment—resulting in the Supreme Court ultimately halting the project due to environmental concerns.
Sinopec's oil refinery plans in Moín, Costa Rica, faced similar institutional obstacles: The country's national secretary of environment objected to the first evaluation of the project due to questionable omissions, slowing project progress.
Chinese infrastructure projects have also faced public opposition. The Rositas hydropower project in Bolivia, for example, failed to incorporate the opposition of local communities over land displacement and food security into its feasibility assessments. The project has now been delayed several times with no resolution in sight.
In Mexico, a major high-speed railway project deal between a Chinese consortium and the Mexican government was cancelled—in part due to public outcry over corruption allegations relating to the consortium and individuals related to the Mexican administration.
Working with the IDB
However, Chinese investors' collaborations with multilateral development banks in the region, such as the IDB, will aid in mitigating these risks. The IDB has worked with the China International Contractors Association (CHINCA), for example, to build a set of principles for sustainable infrastructure in LAC. CHINCA and the IDB are now paying special attention to the investment and construction of sustainable infrastructure and are keen to enable an improved version of Chinese involvement in the region.
As China looks to expand the footprint of its Belt and Road Initiative and strengthen ties with Latin America, partnerships such as these will be key to ensuring stable regional investments in the long term.