Geopolitics
Examining Geopolitical Risks Under a Different Lens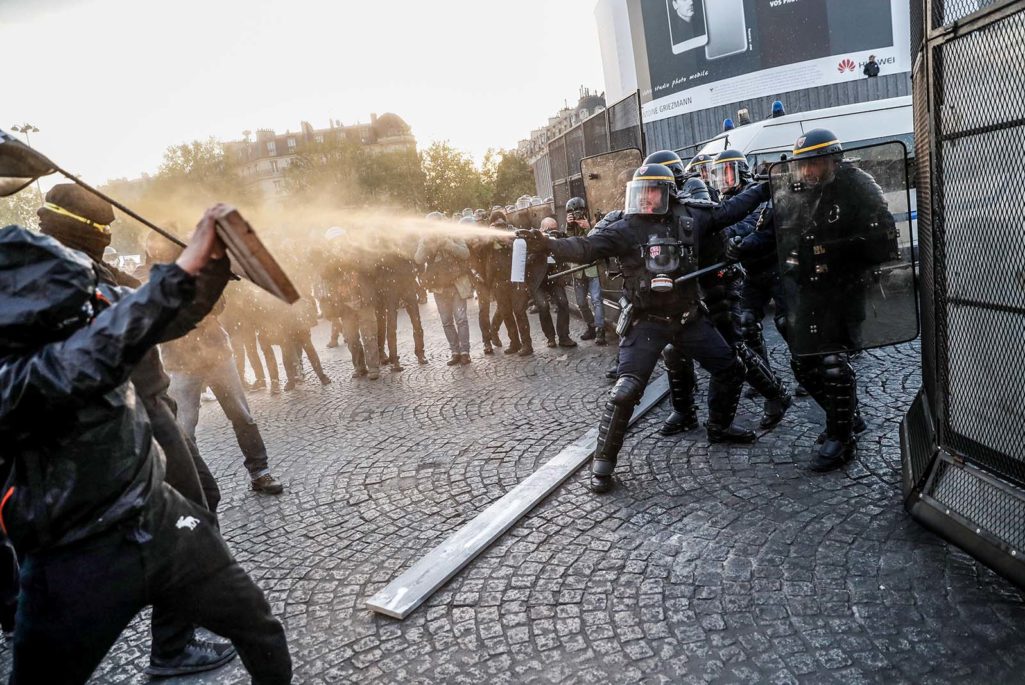 Geopolitical risks for multinational businesses increased in the past year and show no sign of abating, ushering in a potentially prolonged period of instability and uncertainty.
In recent weeks we have seen the UK formally trigger its exit from the European Union, the U.S. engage in high-stakes warnings to North Korea about nuclear weapons, the far right make a strong bid for power in France, and a referendum in Turkey giving increased authority to President Recep Tayyip Erdogan.
Businesses globally need to respond by looking at geopolitical risk through a different lens than that which they have traditionally used.
Developed Markets See Rise in Political Risk
Although emerging markets continue to represent the highest level of risk in terms of corporate assets and investments, businesses were generally unprepared for the rise in populism seen in more developed economies over the past year. Events such as the election in the U.S. of President Donald Trump and his subsequent actions and the UK's decision to leave the EU (Brexit) have garnered much attention. How will developing U.S. policies impact established trade agreements and the delicate geopolitical balance holding together some of the world's more tenuous regions? Will Brexit imperil the UK, the EU and other economies?
At the same time, anti-establishment parties and policies in European countries have gained traction as people are increasingly dissatisfied by the status quo and demanding change. Anti-immigrant feelings run high and are intensified by seemingly unabated terrorist attacks, which were felt in the past year in cities including Brussels, Nice, Istanbul, and more recently in London and Stockholm.
European elections in 2017, increasing tensions across the globe, possible succession risks in emerging countries with aging leaders, and government scandals in South Korea and elsewhere add to the unpredictable nature of political risk. For example, in France, the conservative National Front this weekend became one of the two parties that will vie for the presidency in the country's May 7 election. At the same time, tensions are rising between the West and North Korea, with China as an uneasy mediator, and recent events in Syria have led to a further breakdown in relations between the U.S. and Russia.
Today's instability and era of change, requires businesses to develop a 'new lens' for assessing geopolitical risk.
Economic Risks and Deglobalization
Trump's election was built in large measure on a protectionist trade platform, but the U.S. is not alone as the world economy moves away from globalization. China, Japan, India, Russia and Turkey are being led by what many consider to be their most nationalistic and protectionist leaders in decades. Beyond the potential for increased trade barriers, today's geopolitical environment raises the likelihood of constraints on investments and the movement of labor.
Economic conditions are leading to increased risks in many developing countries, not the least of which is Venezuela, characterized by the International Monetary Fund as being "mired in a deep economic crisis" with unemployment topping 25 percent. Meanwhile, events such as Brexit—which has now led to a call for snap elections by UK Prime Minister Theresa May—have the potential to increase economic risks in a number of countries—or even globally.
Today's environment means companies must build business strategies that take into account such questions as:
Will political instability bring increased tariffs and trade wars with resulting impacts on corporate operations and profitability?
How will the threat of military action—or actual armed conflict—in hot spots such as North Korea affect the business climate in affected regions or globally?
How will the negotiations for a final Brexit affect cross-border commerce?
If supply chain risks increase based on political disruption, how might that impact cost structures?
What happens in developed markets certainly affects emerging ones. The forefront of globalization has long been the U.S. and Western Europe, but now there is a greater prioritization of national economic objectives in these two regions, which increases international friction. It remains to be seen exactly how this will translate into trade policy, but there is a sense that there will be a pulling away from multilateral trade agreements that have been in place for many years.
Technology Adds a New Dimension to Political Upheaval
Today technology is exacerbating political risks. For example, we have heard about the increased sophistication of cyber attacks aimed at influencing countries' internal political affairs, which has given a new dimension to geopolitical risks that is more unpredictable and far-reaching.
Increased interconnectivity, specifically through social media, allows previously alienated populations to communicate their grievances and potentially coordinate demonstrations and revolt in a manner that could easily spread beyond national borders. The pace of change is swift and difficult to predict.
Technology has also impacted the way individuals receive information, which, in turn, has the potential to impact the way we view the political landscape and to fuel dissatisfaction. As pointed out in the 2017 Global Risks Report from the World Economic Forum, approximately 63 percent of online news consumers acquire their news from social media. But news sourced in this way is subject to the same dynamics as other forms of online content and may be unreliable. It is the most popular content that spreads, regardless of its factual accuracy, which led to the rise of what is termed "fake news." Adding to this, social media platforms often tailor content to the user's views based on past activity/likes and dislikes. For businesses, a more critical approach to examining information is needed.
Although technological innovation holds great promise, there is some worry about how it will affect the nature of work and employment. If technology replaces more jobs than it creates, social and political risks could be heightened as people find it more difficult to engage in steady, meaningful employment.
Developing a New Lens
In the current environment of instability and change, businesses should develop a new lens with which to view political risks for their organization.
Historically, when assessing a potential foreign investment, a company might limit analysis to the economic and political risks associated with the host country and, possibly, to those that border it. Companies were generally most concerned about host government expropriation actions and international conflict.
Today risks are no longer constrained by borders and are taking new forms. Ideological and social conflicts are high on the list of what companies must consider. And there are technological angles that play an increasingly relevant role in global economic and political situations.
The new lens organizations use must focus on political situations in both the developed and emerging markets. This may mean greater stress testing of supply chains or deeper cross-border analyses when considering new opportunities. It may require performing scenario planning that analyzes a greater range of outcomes and examines the ways in which each could impact the full scope of business operations. It may mean investing in the talent and tools required to understand how technology innovations may disrupt global ways of doing business.
There is no consensus as to whether this challenging environment is a short-term period of instability or the edge of a longer period of change. But by better understanding the breadth, scope, and depth of geopolitical risks, companies can be in a better position to thrive while meeting the challenges ahead.