Society
How Technology Can Support Healthy Aging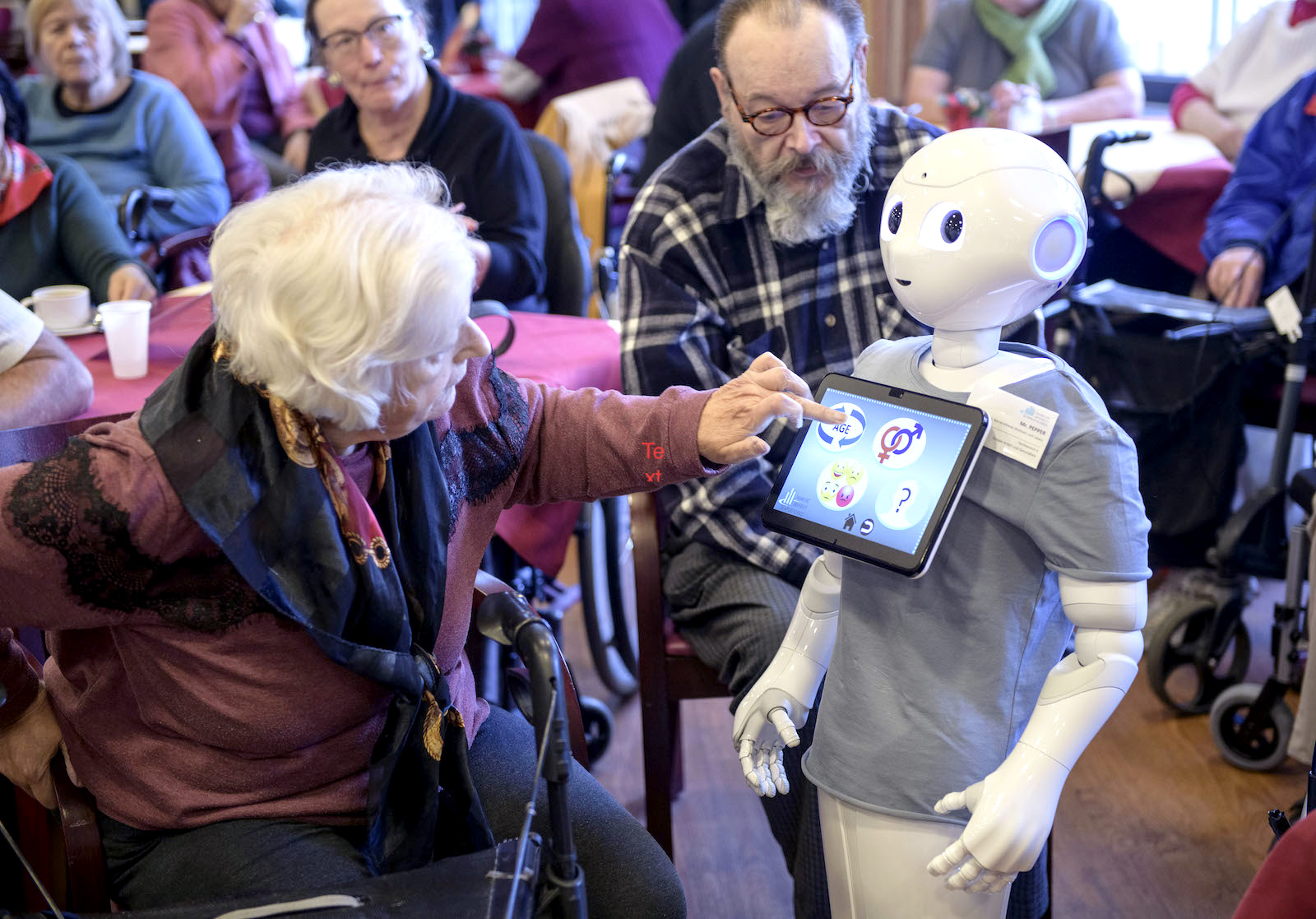 As populations are aging around the world, people are spending more time in poor health. In 2019, the global average time spent in poor health was 10 years, up from 8.6 years in 2000. The COVID-19 pandemic has now exacerbated health risks for the elderly, while straining the capacity of health and care systems to cope with growing demand.
This moment calls for a re-examination of how the elderly can age well: independently, well cared for and happily. Below are some examples of how technology can support this mission.
Supporting the Elderly's Independence
Most people would like to "age in place" by growing older in their own homes or communities, surrounded by family and friends. In the U.S., for example, a recent survey found that 88% of Americans would prefer to receive care and assistance at home as they age; only 12% would prefer to live in an elderly living or long-term care facility. The challenge then becomes around how the elderly can stay safe while remaining in their own homes.
Technology can help the elderly live independently for longer by facilitating preventive care, early detection of — and response to — emerging health issues, as well as timely support for daily tasks. 
Isolation is a common risk factor for mental health issues among the elderly — and as with physical health, this is an area where preventative technologies may be able to help.
For example, automated pillboxes and dispensers can remind people with chronic health conditions to comply with their medication plans. Ambient and wearable sensors can monitor environmental, motion, location and health indicators — which can help identify early signs of disease, manage chronic conditions and prevent or detect falls. 
Simple, inexpensive versions of such devices can help the elderly manage daily tasks, boosting their confidence and their caregivers' peace of mind. Such devices might also reduce care costs by reducing visits from home care workers or clinicians and by potentially reducing health complications and hospitalization.
Facilitating Care
Access to timely and professional care is another key dimension of supporting healthy aging. At present, however, many people struggle to navigate the elderly care system — and may not receive high-quality support once inside it. Technology can help increase the accessibility and quality of care.
In Australia, families struggling to understand care options for their elderly loved ones can use Care & Living with Mercer. Offered as an employee benefit, this digital portal streamlines the planning process by helping users create action plans based on their loved one's living preferences. Users can also seek further personalized advice from health care professionals.
For the elderly who plan on living in their own homes, technology can help to better match them with appropriate care staff. There is a growing gap between workers' skills and the increasingly complex and changing needs of patients. The Tribe Project is a U.K. digital platform that sources, verifies and trains local care providers before matching them with people seeking support. Over time, the service uses machine learning to predict changing care needs in the community and how those needs can be met by upskilling care providers.
In elderly living or long-term care facilities, residents can benefit from technologies that reduce employees' workload and job strain. Traditionally, jobs in the elderly care sector have been both physically and mentally demanding, often involving physically strenuous tasks and a heavy workload under time pressure. 
Japan has explored several technological remedies including powered exoskeletons and assistive robots that can help lift residents, reducing the risk of injuries among staff as well as residents. Elsewhere, software platforms or apps have helped streamline the recording of patient data, allowing staff to save time on administrative tasks and spend more time with residents or on higher-value tasks.
Promoting Mental and Emotional Health
Around the world, more than one in five adults aged 60 and older are affected by a mental or neurological disorder. Isolation is a common risk factor for mental health issues among the elderly — and as with physical health, this is an area where preventative technologies may be able to help.
Among other digital tools, social platforms for the elderly have become more popular during the pandemic. Social media and content aggregation websites or apps for the elderly feature simple interfaces and larger fonts. They can provide information, entertainment, and a feeling of connection with loved ones, especially when in-person visits are not feasible. 
Also seeing growing demand during the pandemic are animal-like companion robots, which can keep the elderly company and respond to touch and sound. These devices provide a sense of companionship without the challenges that come with caring for a pet.
Not a Silver Bullet
While technology can support the elderly's independence, facilitate care, and promote mental health, it is not a silver bullet. Relationships are central to people's well-being and increasingly prioritized as people age — but there is no perfect technological substitute for human connection. That said, technology can play a supportive role in maintaining the elderly's relationships by helping them remain in their own home and communicate with existing loved ones. 
Technology is not only a partial solution, but also one that introduces its own set of risks. Some technologies — such as digital tools for mental health — possess uncertain effectiveness in real-world settings, where levels of user adoption and engagement vary. The risk of data breaches and misuse remain high, as health care is highly vulnerable to cyber threats and health records are among the most lucrative targets. Prohibitive costs may put some technologies out of reach altogether for both end users and elderly care providers, potentially widening disparities in health and care outcomes.
Technology is best leveraged as one part of a multi-pronged approach to healthy aging. This will require collaboration among multiple stakeholders — such as governments, businesses and community organizations — to strengthen the social and environmental determinants of health: clean air and water, nutritious food, access to health care, financial security and age-friendly communities that enable the elderly to stay active and engaged. 
Yvonne Sonsino also contributed to this piece.