In Practice
How Well Are We Coping With Hybrid Working?
An interview with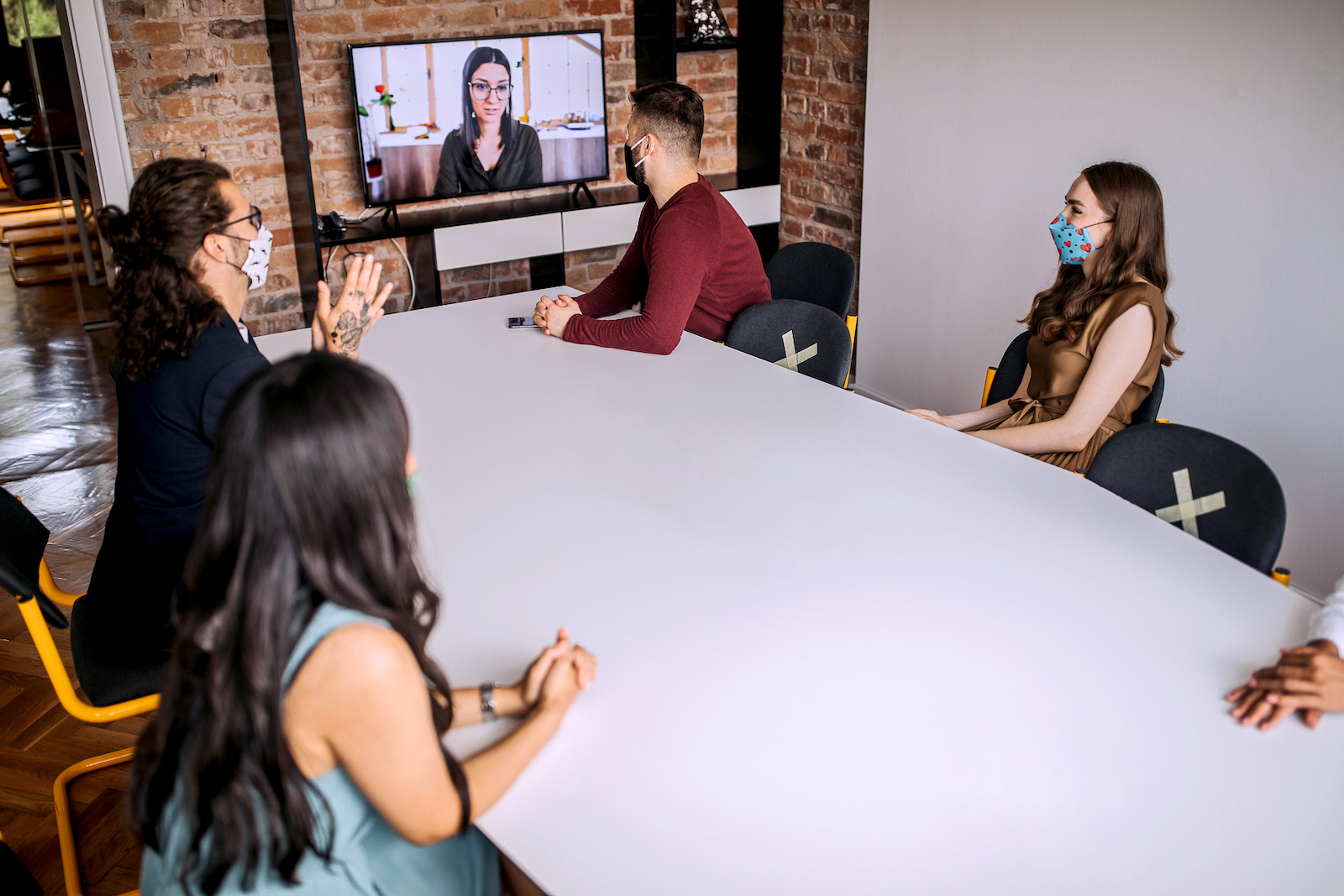 Back in July, we spoke to Jennifer Wild, a psychological scientist with expertise in risk and resilience, about the psychological stresses facing employees who are returning to the workplace. 
We caught up with her this month to see how she thought people were managing six months later, in this new world of working partly from home and partly from the office that many employees are experiencing.
Jennifer Wild: I would say that there is a level of anxiety about return-to-office working for some people. My employer, Oxford University, has adopted a hybrid approach, so that people can work at home or come into the office if they want to.
Most people seem to like the opportunity to be in the office and to have face-to-face contact with other staff members, but also still benefit from working at home some days, which can reduce stressors linked to on-site working, such as time spent commuting. I've been invited to do a lot of well-being seminars around returning to work and how to manage stress and overcome anxiety, and I still get a lot of questions around catching COVID and exposing family members to COVID, and that seems to be a consistent theme throughout.
BRINK: In the summer, it looked like COVID might be going away, and now it seems like it's going to be with us for a long time. Does that change people's perceptions about going back?
WILD: There's certainly uncertainty about what will happen in the future, such as the virus mutating and how vaccines will respond to mutations, et cetera. But not everybody feels this, and some people feel a lot more relaxed because there are measures in place to reduce the spread of COVID-19. 
And working from home can impact quality of life in helpful and unhelpful ways. It can reduce stressors linked to on-site working, such as commuting. However, it can also reduce our capacity for social contact, like the face-to-face spontaneous coffee room chats. And many people are less active when working at home because there's just less walking around. Everybody that I've talked to when I've been back at the university has been really positive about being back in the office and feeling as though life has achieved a little more normality.
Many people may absorb COVID as a risk in the same way that we have come to absorb the risk of developing cancer. The risk is there, and we do what we can to lead healthy lives to mitigate the risk.  
Confronting Your Fears
BRINK: When we spoke in July, you talked about people's concerns about their social skills being out of practice. Are you finding, for those that are going back to work, that they have got their social skills back?
Wild: I haven't come across any spikes in social anxiety as a result of returning to work, quite the opposite actually. I think people are able to confront their social fears much more readily once they're back in the office and around other colleagues. They're able to discover that nothing bad happens. They've actually had positive interactions with colleagues, which can help to update fears about being rejected or having lost social skills.
BRINK: And what about this idea that people who are anxious stay at home and then fear they might be missing out on their career if they're not in the office — have you come across that much? Is that a concern?
WILD: Most of the colleagues that I work with are working in a hybrid fashion, but we do have some colleagues who are working just fully at home and they haven't expressed a fear of missing out. All team meetings are still conducted virtually. In other companies, however, perhaps where most employees are working solely from the office, fear of missing out may be more of a problem for people working only virtually. 
Long-Term Psychological Effects
BRINK: If this thing continues to rumble on and we stay in this hybrid world, what do you think would be the long-term psychological effects on people and how they work? 
WILD: If people are able to engage in hybrid working, I think that's really positive. If they have any fears about their social skills or about COVID, then they can target them by going into the office. If they don't get sick, this may help to reduce anxiety about catching COVID. If they have conversations with other people and discover that nothing bad happens, this helps to reduce social anxiety. 
People working fully at home aren't able to test out their fears in the same way, and this might keep their anxiety going. They're unable to easily challenge thoughts such as "I'm not sure I'll be able to handle social situations," or "I might get COVID if I go back to work."
In the long run, people working solely at home may be more at risk of feeling socially disconnected, or feeling more anxious about catching COVID, and may be more at risk of having a drop in mood because there's less face-to-face social activity when people work at home. 
Absorbing It As a Risk In Everyday Life
WILD: I can't see hybrid working having any harmful effects in the long term. Many people may absorb COVID as a risk in the same way that we have come to absorb the risk of developing cancer. The risk is there, and we do what we can to lead healthy lives to mitigate the risk.  
We're still learning about the virus, how it mutates, and its longer-term consequences, but we have much more understanding now than we did at the beginning of the pandemic. And I think that, ultimately, is reassuring.
I think people are doing better than we might have expected; it's not to say there's no anxiety, but on the whole, people have shown flexibility in terms of being able to adapt to hybrid working and return to a form of office working.
Even when people have been given the opportunity to work at home every day of the week, many people have opted to adopt hybrid working and have reported that they've liked it, they've liked the social contact, and they've been reassured by the safety measures in place to reduce the spread of COVID-19.
Understandably some people may worry that unvaccinated work colleagues are at greater risk of spreading the virus than vaccinated staff. However, research published in the Lancet demonstrates that there are no differences in transmission of COVID-19 between vaccinated and unvaccinated people, concluding that it is "grossly negligent" to ignore vaccinated people as a source of transmission. 
There is also research in the Lancet that underscores the effectiveness and longevity of natural immunity — immunity acquired from having caught and recovered from COVID-19. We don't know the levels of natural immunity in the community, but it may help to remind ourselves that our colleague may be vaccinated, may have natural immunity from a previous COVID-19 infection or may be unvaccinated and never had COVID-19. 
When we don't know the vaccination status of our colleagues, the best we can do is to take sensible steps to protect our health and do what we can to reduce the spread of the virus.