Society
Rethinking Resilience in an Age of Fractures: The Outlook for 2021 and Beyond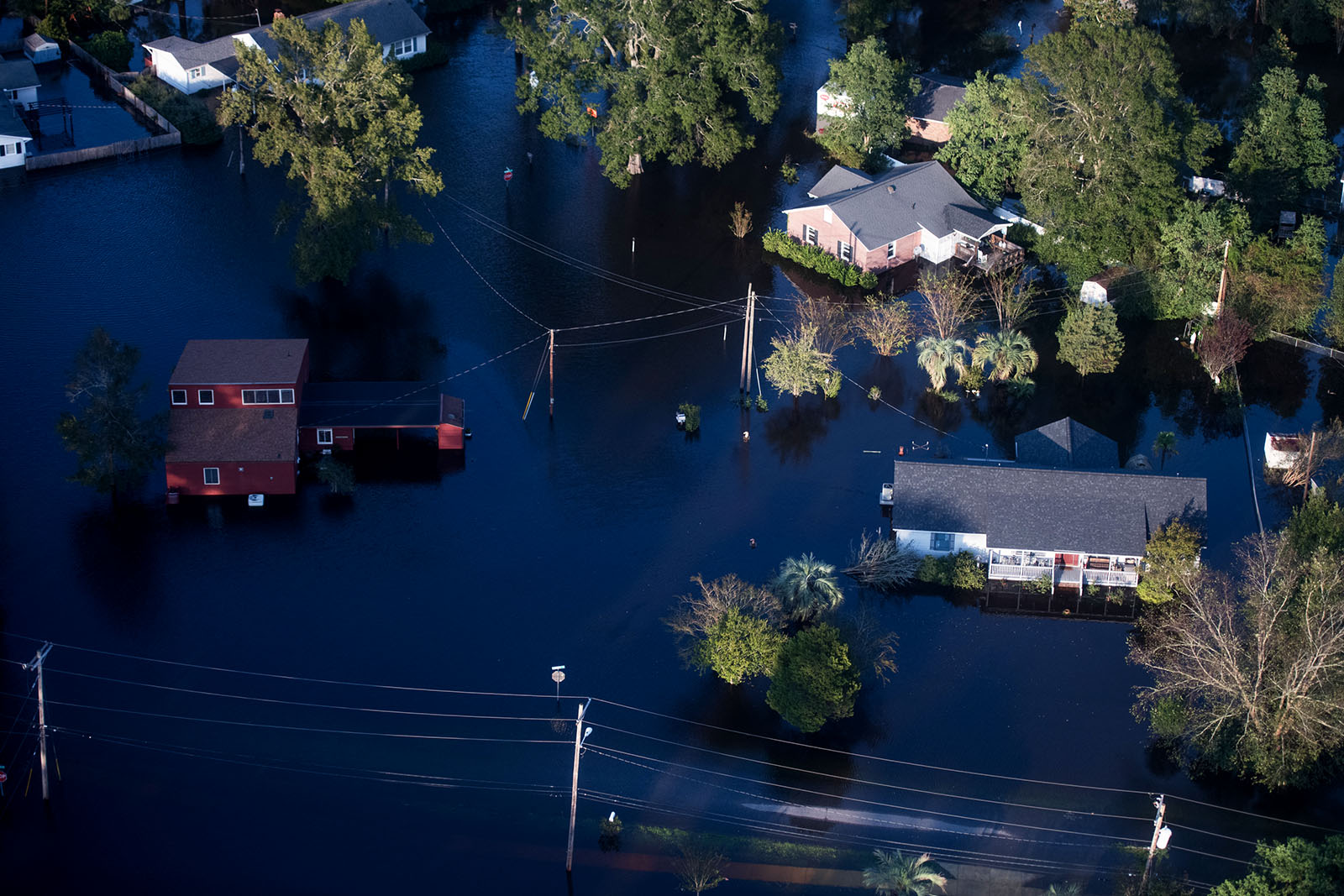 At a societal and individual level, we continue to deal with the fallout of the COVID-19 pandemic while striving to make progress on recovery efforts. As highlighted in the 2021 Global Risks Report prepared by the World Economic Forum with the support of Marsh McLennan and other partners, the world is contending with a fractured future, where the disparities laid bare by the pandemic and the acceleration of risks such as cyber and climate must be carefully and creatively managed to produce a more sustainable and resilient future for people, businesses, communities and governments.
Industry At a Crossroads
A disorderly industrial shakeout is currently underway, with businesses under increasing pressure from inward-looking national agendas, greater tech concentration and dependency, and heightened public scrutiny. 
In their immediate response to the pandemic, governments injected substantial stimulus into their economies. They continue to do so with the $1.9 trillion plan unveiled by President-elect Joe Biden as the most recent example. However, in this quest for domestic resiliency and self-sufficiency, efforts may have been misdirected or overlooked certain industries and even restricted global supply chain and investment flows. 
Smaller businesses are also facing increasing pressure from major competitors that have been able to leverage their resources to solidify their market position and expand. In the technology sector alone, dozens of acquisitions were made by the largest players throughout 2020. As governments look to enhance market competitiveness through more interventionist means, businesses may be exposed to more scrutiny or experience ripple effects due to their greater dependence on major technology service providers impacted by tightening regulations. 
Pressures from investors, consumers and employees alike are mounting around key societal issues, from labor and consumer protections to company ethics, inequalities and climate change. At the height of the Black Lives Matter protests in June and July, for instance, thousands of businesses stopped their advertising on social platforms. By meeting the societal imperative of taking firmer and more active stances on key issues, during this critical recovery period and well into the future, businesses can avoid diminishing their revenue, reputation and access to capital and talent.
Technological Transformations Driving Increasing Cyber Exposures
The pandemic precipitated an unheralded technology revolution for big and small businesses alike. Rapid digitization transformed social and work interactions overnight. E-commerce, virtual conferencing, gaming and streaming all underwent unprecedented growth. By some estimates, internet use in 2020 increased by 30% worldwide, with e-commerce expanding from 15% to more than 30% in major global markets.
This rapid digitization also exponentially increased companies' cyber exposures and created more complex and potentially less secure networks. This year's survey, in fact, highlighted the failure of cybersecurity measures as a top short-term risk. And throughout 2020, we've seen increasing cyberattacks on government agencies and companies globally. Comparing the second half of 2019 to the first half of 2020, the volume of cyberattacks doubled, with many leveraging the COVID-19 crisis for an entry point. 
This monumental shift could create potential catastrophic risks on a longer horizon. Consider the long-term outlook for automation: It threatens to replace 85 million jobs in just five years. The rush toward digitization, in response to the need for efficiency and reduced on-site labor, may further expose businesses to unforeseen security, regulatory, financial and ethical risks, particularly with more socially activist consumers and workforces concerned with further job losses.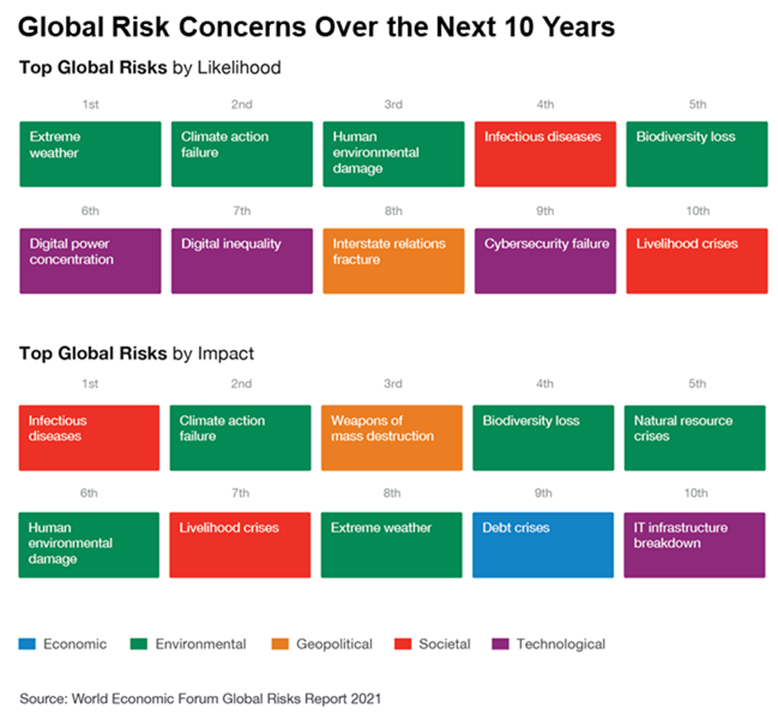 Overlooked Environmental Risks?
In a year when the pandemic and its cascading impacts were a primary focus and surfaced as a top five risk in the Global Risks Report, environmental risks retained top spots as the most likely and consequential risks over the next decade. This should come as no surprise, with 2020 one of the costliest years on record for natural hazards and with the pandemic complicating responses to extreme weather events. Most of the $210 billion in global losses from natural hazards globally were uninsured, compounding the recovery and resilience challenges for governments and society. 
Looking forward, many governments are focusing on a "green recovery," with green infrastructure and clean energy project investment central to their stimulus packages. Over 146 such plans and programs were introduced, announced, proposed or implemented in 2020. The funding dedicated to such efforts has dispelled the myth that governments do not have the financial capacity or will to support more rapid decarbonization and energy-efficiency transitions. Lower consumption levels and demand for oil, if they persist, also may provide grounds for further accelerating regulatory action. 
Business will benefit from investing in sustainability transitions now, leveraging increasing government-provided incentives, rather than risking forced timetables and a more disorderly and costly transition.  
A Complicated Geopolitical Landscape
The geopolitical landscape continues to be shaped by the U.S.-China rivalry, with other nations having to navigate ratcheting tensions. This has constrained opportunities for countries who may lack superpower status, but still play influential roles in international relations, to create meaningful multilateral partnerships and tackle important global challenges. 
Further complicating the outlook has been countries' varying successes dealing with COVID-19, which set back cooperation and diplomacy in many instances as countries turned inward to protect their own people. More than 90 jurisdictions implemented controls over the export of medical supplies and medicine in 2020. 
Although some partnerships have been strengthened in 2020, notably the signing of the Regional Comprehensive Economic Partnership between 15 Asia-Pacific countries and upgrades to ties between the EU and ASEAN to a "strategic partnership," concerns still persist on critical global risks. Progress in important areas most in need of multilateral cooperation — such as trade, security, health and, notably, technology governance and climate change — remains at risk of being seriously impeded.

Creating a More Resilient and Sustainable Future
In the face of strategic uncertainties and complex emerging threats, the Global Risks Report serves as an important resource for businesses seeking to transfer lessons learned from the pandemic crisis to pressing global issues and their associated emerging risks. It also serves as a reminder that companies should remain vigilant about "forgotten risks" that may seem low in probability, but are potentially catastrophic in their impacts and their interactions with other perennial risks. 
The pandemic has forced conversations on how we understand, prepare for and manage risks — particularly emerging and complex risks — in a fast-changing environment. During a volatile recovery period, critical questions on risk ownership and governance are being asked, and new approaches to management — within organizations, across the public and private sectors and across borders — are being explored. 
Business should use this opportunity and the report to understand, identify, and explore this complex risk ecosystem. It requires considering the potential for intersecting and cascading risks that could impact them in unique ways. These novel threats should be factored into strategy and decision-making, and appropriate responses should be devised. Throughout this process, businesses should also assess the extent to which different units and leaders think about risk, are empowered to reduce it, and collaborate to move toward organizational resilience. This will involve evaluating trade-offs in achieving true agility and resilience, finding the balance between efficiency and robustness, and carefully weighing risk acceptance, mitigation and transfer. 
By keeping an eye on potentially high-impact events across the risk landscape, and by evolving into more prepared and responsive organizations, businesses should be able to enhance their resilience and successfully navigate the risks and opportunities ahead.