Economy
Can Argentina Stay in Lockdown With a Failing Economy?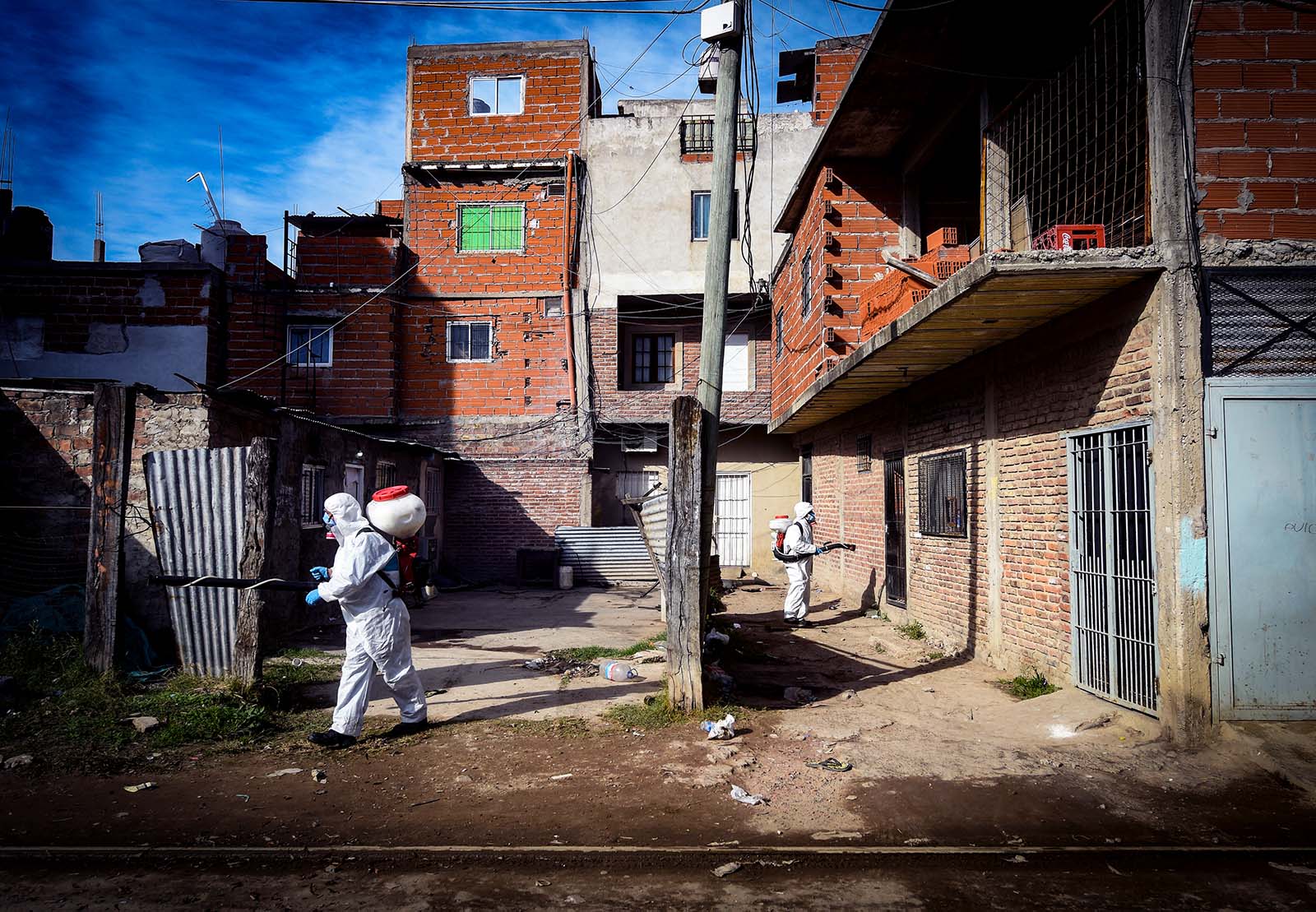 When Argentina's President Alberto Fernández took office last December, he faced serious economic difficulties, a polarized public and little in the state coffers to pay off mounting debt. A pandemic was the last thing Latin America's third-largest economy needed. But COVID-19 has had strange consequences: It has boosted his administration's popularity at home and distracted the world from yet another default. Still, there are likely to be tougher times ahead. 
A COVID-19 Approval Bump
"Faced with the dilemma of preserving the economy or life, we do not hesitate: We choose life," President Fernández said in May as COVID-19 was spreading around the globe. Argentina's Peronist leader has been true to his word. Even as the nation exceeded 100,000 cases of COVID-19 infections in mid-July, the death toll has been a far cry from that of neighboring Brazil and Peru.
The government was quick to impose a strict lockdown, invest in ICU beds and respirators and roll out measures to support those most affected. The public has largely thanked the president. A recent poll shows that 68% of Argentines approve of President Fernández's performance against the pandemic. The administration's swift, bipartisan response to the COVID-19 crisis even earned Argentina a spot on Time Magazine's list of best global responses to the pandemic. 
The Pandemic's Economic Strife
But the coming economic crunch will be painful. The nation is headed for an estimated 12% GDP contraction in 2020, following two straight years of recession. According to the Federation of Commerce and Industry of Buenos Aires, one in five businesses in the capital have shut down since the coronavirus began. With the government printing pesos to pay for stimulus measures and no rainy day fund to tap, fears of hyperinflation later this year are growing. 
Argentina's poorest will bear the brunt of the pandemic. Many of the country's 10 million poor lack access to sanitation and health care. About 1 million Argentine households live in shantytowns, where social distancing is difficult, and working in the informal sector deprives them of government benefits. The United Nation coordinator in Argentina predicts that 59% of children and adolescents will be in poverty and 850,000 jobs could be lost by year's end due to the pandemic.
Debt Deals in the Making
Amid the coronavirus pandemic, Argentina also defaulted on its sovereign debt for the ninth time. The government opted to renegotiate its $65 billion debt to foreign creditors first, with a new tentative deadline of August 4. Reaching a deal is key for Argentina to avoid a damaging legal standoff, but both sides will likely continue playing chicken to strengthen their positions.  
More surprising has been Argentina's camaraderie with the International Monetary Fund (IMF), a departure from their relationship dynamic in the past, which also provided a record-breaking bailout to the former Mauricio Macri administration in 2018. Ahead of $44 billion debt negotiations, President Fernández has said he is "working very well with the fund." The IMF even publicly complimented Argentina's latest offer to foreign creditors. 
Argentina has avoided the high death tolls and political crisis that COVID-19 has wrought on other nations, but the country isn't out of the pandemic woods yet.
The niceties might not last. As economist Joseph Stiglitz noted, this is an opportunity for the IMF to "show that it can resolve a sovereign debt crisis in an orderly, efficient and sustainable manner." So expect tones to harden when IMF proposals for reforms and austerity measures clash with demands in Argentina for President Fernández to maintain or boost public spending. 
Argentina's US Foreign Policy Tightrope
You can't mention the IMF without noting Argentina's relationships with the United States, the IMF's single largest voting bloc and also the top private investor in Argentina. So far, Argentina's administration has avoided major showdowns with the White House, but the jury is still out on whether Argentina's foreign policy will be more pragmatic or ideological. 
On the issue of Venezuela — a purity test for the U.S. administration — Argentina is showing mixed signals. Argentina has remained in the Lima Group, the group of countries in the Organization of American States (OAS) leading the regional charge against the government of Nicolas Maduro. But recently, Argentina abstained from an OAS vote against the regime, and President Fernández lamented the absence of former President Hugo Chavez.  
The pendulum hasn't swung to the other side yet, although a plethora of issues could still lead to flare-ups. President Fernández continues to publicly support former President Evo Morales of Bolivia; tensions with Brazil's right-wing President Jair Bolsonaro could rise, and increased partnership with China could provoke ire from the U.S. administration. Argentina's policy positions appear to be led by the president, rather than Vice President Cristina Fernández de Kirchner, who many feared would be the true power behind the scenes. 
Virus-Delayed Developments
Missed opportunities are another consequence of the pandemic in Argentina. The nation has long planned to boost export revenues to help alleviate its fiscal woes, but large-scale investments in the hydrocarbon sector have been delayed. Argentina's administration exited trade negotiations with the South American trade bloc Mercosur that could have raised sales of Argentine beef and agricultural products in South Korea, Singapore, Lebanon, Canada and India, among others. 
Argentina's growing transportation and low-cost carrier industry also took a blow, with LATAM Airlines Group — Latin America's largest airline — ceasing operations in Argentina. Instead of spurring the productive sectors, the country is stuck in a political debate over the government's controversial move to expropriate a major grain exporter. 
So far, Argentina has avoided the high death tolls and political crisis that COVID-19 has wrought on other nations, but the country isn't out of the pandemic woods yet. Once the health crisis abates, the real work of reform, investment and modernization must begin.