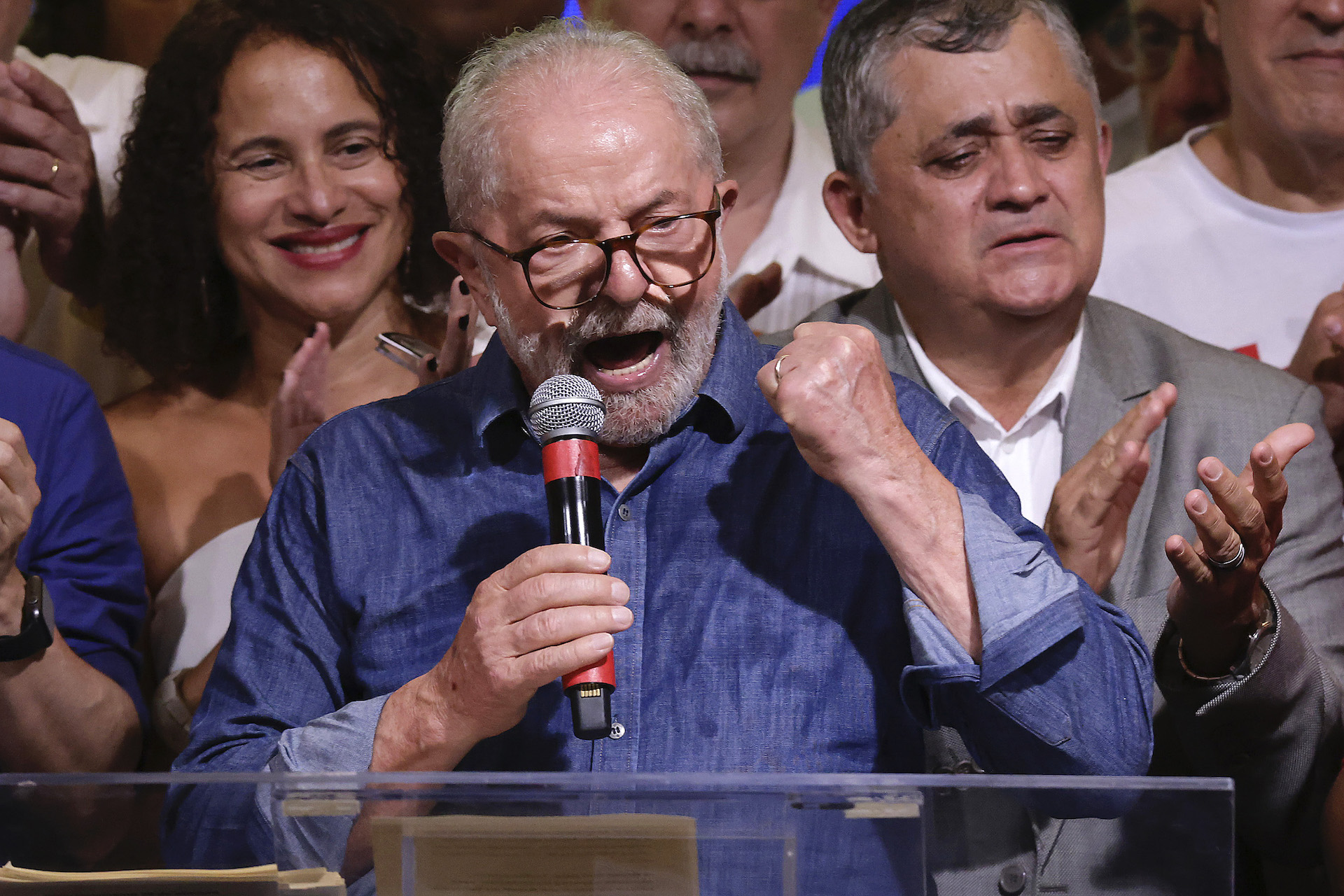 Luiz Inacio Lula da Silva may have won Brazil's recent election, but now the hard work begins. 
On the political front, he faces a strong strain of Bolsonarismo, especially in economically important agrobusiness regions of the country. Bolsonaro allies and supporters are the largest minority in the Brazilian Congress and captured 11 of 27 governorships, including the three biggest and most important states in Brazil — Minas Gerais, Rio de Janeiro, and Sao Paulo.
Brazil's presidential election was a bickering, contentious, and rancorous race and Lula's margin of victory against Bolsonaro was under 2%. The contest was far closer than expected just a few weeks ago, highlighting the profound polarization in the country.  
Keeping the Coalition Together Won't Be Easy
In an uncharacteristic, muted speech, Bolsonaro reluctantly accepted the results and kicked off the presidential transition. While some Bolsonaro supporters took to the streets to call out supposed fraud in the election, the demonstrations seem mercifully short-lived and more a demonstration of frustration than a serious threat to the election results. 
Lula faces the internal political challenge of keeping together the broad, diverse coalition that brought him to power, which includes political leaders from the far left to the center-right. His running mate, Gerald Alckmin, was his former opponent in the 2006 presidential election. These diverse groups were brought together by a common enemy, Bolsonaro. But with the election over, fractures may occur. 
For those readers awaiting a second coming of the global praise Lula received in his first presidency, don't hold your breath.  
Groundbreaking social policies like Bolsa Familha and Fome Zero, which grabbed international headlines and were copied in other developing economies, are not coming back anytime soon. Having been sentenced to – and released from – jail on corruption charges, Lula today is older, angrier, and facing a poorer and more polarized Brazil. 
The Brazilian Economy Is Suffering
Of course, Lula's economic campaign promised increased public spending on social welfare programs to alleviate poverty and growing infrastructure to stimulate economic activity.  This included promises to "extend beyond the end of this year an augmented program of monthly cash transfers to the poor, exempt more people from income taxes and boost the minimum wage by more than the rate of inflation." 
But the Brazilian economy is suffering from stagnant growth and increasing inflation. Between 2012 and 2021, the Brazilian grew only 0.15% on average annually, with inflation in 2021 surging above 10%.  
This is a far cry from the last year Lula was president in 2010, when economic growth was 7.5% and Brazil was seen by the international community as a growing economic giant. 
Lula has signaled the importance of financial responsibility, reflecting the fine line he has to walk between his commitment to attacking Brazil's social ills and maintaining economic confidence from Brazilian and foreign investors. 
Lula also inherits an increased debt burden, projected to reach almost 89% of gross domestic product next year. The burden is in part caused by the economic slowdown and increased spending by Bolsonaro, who as a populist conservative, was not afraid to use state money to bolster his political well-being — for example, he recently promulgated "a fuel subsidy programme including direct cash transfers to lorry drivers." The domestic economic challenge is compounded by the complex global economic outlook: China, Brazil's largest export consumer, is facing an economic slowdown, and the United States is widely expected to enter into a recession. 
Lula Understands the Need for Financial Responsibility
Lula has signaled the importance of financial responsibility, reflecting the fine line he has to walk between his commitment to attacking Brazil's social ills and maintaining economic confidence from Brazilian and foreign investors. He himself put it best recently, when he referred to the qualities he will be looking for when naming an economic minister: "My economy minister will have the profile of someone with a lot of political intelligence and a person who has a lot of social commitment. You have to think about fiscal responsibility, but also about social responsibility."  
Lula's choice for finance minister will be a key signal for markets. The favorite seems to be Herique Mereilles, who previously held the position, and was also head of the Brazilian central bank. Such a move would reassure markets that, while pursuing a more socially active policy, Lula will also not divert from financial responsibility of Brazil's finances. Another name being considered is that of Alexandre Padilha, who served as health minister under Lula's chosen successor, president Dilma Roussef. Padilha is less likely to satisfy private investors than a Mereilles nomination. 
Doors Will Open
Beyond the economy, Lula also faces important international challenges. Relations with the Biden administration — which looked unfavorably on Bolsonaro — are likely to be more positive, but with some thorny issues which may create friction. Mainly, Lula continues to defend his unexplainably cozy relations with some of the most powerful dictators in Latin America, such as Nicolas Maduro in Venezuela and the Cuban ruling party. 
However, in the aftermath of the Bolsonaro presidency, Lula will see a lot of doors open in the global community. How Lula manages protection of the Amazon will also be an important barometer in his international relations. The European Commission president Ursula von der Leyen was openly giddy over Lula's presidency, congratulating him by saying, "I look forward to working with you to address pressing global challenges, from food security to trade and climate change." 
The other big winner in this election was the Amazon rainforest. U.S. and European interests were distancing themselves from Brazil because of Bolsonaro's exploitation and deforestation of the rainforest. Both the U.S. and Europe were tightening regulations and threatening to ban Brazilian agricultural products that emanated from deforestation. Lula understands the strategic importance of the Amazon.  
Beyond the West, Brazil will undoubtedly continue to seek to grow its economic relationship with China. China's foreign ministry spokesperson Zhao Lijian celebrated Lula's victory stating that "that China wants to raise the comprehensive strategic partnership with Brazil to a new level." 
After years of roller coaster politics and attacks on government and civil society alike, institutionalism will return to Brazil. The coming years will be difficult, but the years of tumult and disorientation are hopefully over.