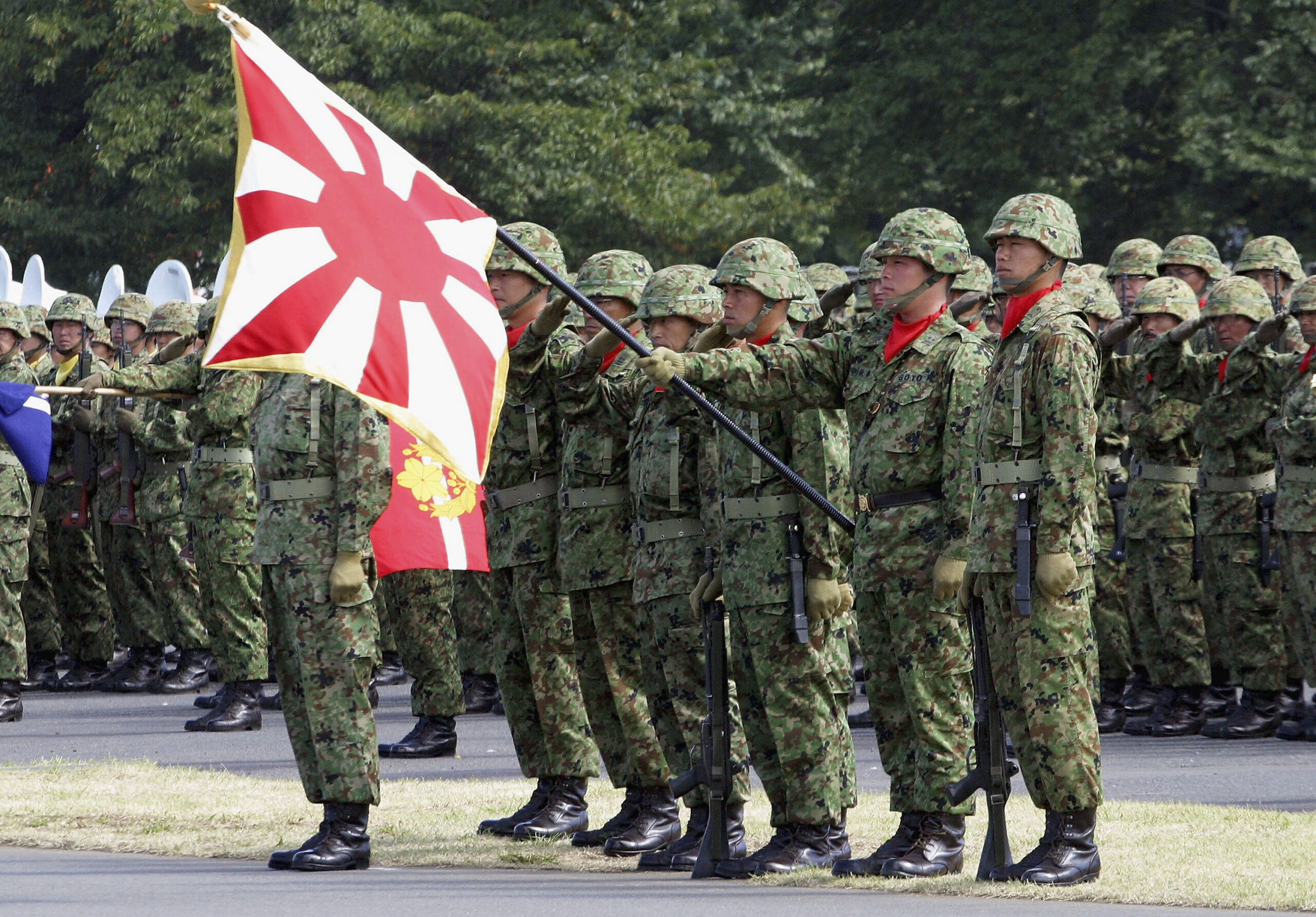 Japan's security environment has deteriorated sharply over the past decade or so, and the traditionally pacifist country has been obliged to step up its national defenses.
China's more assertive foreign policy has posed a big problem for Japan, with multiple provocative Chinese incursions into Japanese-administered waters and airspace.  
China Is the Biggest Thorn in Japan's Side
President Xi Jinping is insisting on China's claim over the Senkaku Islands in the East China Sea (known as "Diaoyu Islands" in Chinese), which are currently administered by Japan. Another threat stems from President Xi's impatience to unite Taiwan with mainland China.  While President Xi's predecessors seemed content that unification would take place sometime in the future, President Xi believes that this issue cannot be postponed forever.
A Chinese takeover of Taiwan, especially by force, is a threatening prospect for Japan. Japan's most southwestern island, Yonaguni, is only 111 kilometers (70 miles) away from Taiwan, but some 1,900 kilometers (1,180 miles) away from Tokyo, making defense of this far-flung territory somewhat problematic.
Russia and North Korea Are Also a Threat
Japan's relations with Russia have also long been problematic. At the end of World War II, Russia occupied four small Japanese islands north of Hokkaido, known as the Northern Territories in Japan and Kuril Islands in Russia.  
Ever since, Japan has had on-and-off discussions with Russia to try to recover these islands — former Japanese Prime Minister Shinzo Abe met with Russian President Vladimir Putin over 20 times. But nothing concrete was ever achieved, with Russia seeming to string Japan along. The two countries still do not have a post World War II peace treaty.  
Another thorn in Japan's side has been North Korea, whose Supreme Leader since 2011, Kim Jong-un, has accelerated the country's nuclear and ballistic missile programs and even sent missiles flying over the Japanese archipelago. And relations between Japan and South Korea remain very tense due to grievances stemming from Japan's 1910-45 colonization of the Korean Peninsula, despite great efforts of their mutual ally, the U.S., to bring them together. This prevents the two countries working together effectively as security partners in East Asia.
The U.S. Is an Uncertain Ally
A troubling development in Japan's security environment emerged in recent years when former President Donald Trump assumed the presidency. He made many erratic statements seeming to undermine the U.S. security alliances with Japan and Korea, two long-standing security allies, even though the U.S. with its nuclear umbrella had been the ultimate guarantor of peace in East Asia. While President Joe Biden has steadied the ship and reassured Japan, Japan remains deeply worried about the U.S.'s reliability as an alliance partner, especially in light of the risk that former President Donald Trump, or another Trumpian figure, could win the next U.S. presidential election.  
Thus, Japan has been working very hard to accommodate U.S. whims. At the same time, it has also been increasing its military spending (historically only around 1% of GDP, half the goal of NATO countries), and spreading its strategic partnerships through fora like the Quadrilateral Security Dialogue and courting other partners like India, Australia, and Europe.
Russia's Invasion of Ukraine Rattles Japan 
Japan was shocked by Russia's invasion of Ukraine. "Ukraine today may be East Asia tomorrow," Prime Minister Fumio Kishida said.  
As the only nation to be a victim of nuclear weapons, Japan has always had a strong pacifist movement. But Japan's deteriorating security environment, especially with the conflict in Ukraine, is changing Japanese public opinion.
As a middle-power country, Japan relies on the rules-based world order for its security and prosperity. The invasion highlighted how easily a great power can violate that order, with disastrous impacts on middle powers. In this context, the specter of a Chinese invasion of Taiwan haunts Japan.  
One scenario often discussed in Japan is the proposition that China's economy may now be peaking in terms of its size, due to its rapidly aging population and large debt. Thus the Communist Party may feel a need to stoke up nationalist sentiments to ensure its legitimacy — such as by invading Taiwan. 
Another troubling factor for Japan is the strengthened "no limits" partnership between China and Russia. In particular, there have been many recent reports of Russian and Chinese planes and boats working together for incursions into Japanese-administered territory. And in 2021, the two countries conducted the first joint China-Russia naval patrol in the western Pacific. 
Japan's Response
It is always wise to prepare for worst-case scenarios, and Japan has been doing just that, especially since it faces not one, but three adversaries. Japan was quick to join Western countries by implementing economic sanctions against Russia and Belarus. A Kyodo poll in April shows that more than 70% of Japanese support tough economic sanctions against Russia.
Prime Minister Fumio Kishida also participated in the recent NATO summit in Spain, along with other non-NATO countries, Australia, Korea and New Zealand, the first time these countries were invited to a NATO summit. Believing that the security of the Indo-Pacific region and Europe is inseparable, Japan intends to significantly upgrade its partnership with NATO following the Russia-Ukraine conflict.  
As the only nation to be a victim of nuclear weapons, Japan has always had a strong pacifist movement. But Japan's deteriorating security environment, especially with the conflict in Ukraine, is changing Japanese public opinion. Prime Minister Kishida has committed his government to drastically increasing defense spending "within the next five years," with one poll showing 64% of people surveyed were in favor of Japan strengthening its defensive capabilities.  
Could Japan's Pacifism Be Ending?
Pacifism is also enshrined in Japan's Constitution, notably Article 9: "The Japanese people forever renounce war as a sovereign right of the nation and the threat or use of force as means of settling international disputes. … In order to accomplish the aim of the preceding paragraph, land, sea, and air forces, as well as other war potential, will never be sustained." And while Japan's far-right politicians have long been behind a movement to change Article 9, the deteriorating security environment has seen growing support for such an initiative.
It is very possible that during Prime Minister Kishida's term Article 9 will be amended. A major glaring anomaly is the existence of Japan's "Self Defense Forces," which, according to many lawyers, would be inconsistent with Article 9. One proposition proffered by the former Prime Minister Shinzo Abe is to simply add a sentence to Article 9 recognizing the legitimacy of the Self Defense Forces. But making a constitutional amendment in Japan has demanding requirements — a super majority of two-thirds of both houses of the Diet and then a simple majority in a popular referendum.  
It is not difficult to see the great irony in the fact that the assertive and aggressive behavior of Russia and China has actually resulted in the West and NATO showing greater solidarity and cohesion than they have had for a very long time. And it has pushed Japan into investing more in its own national security.