Geopolitics
Where Is the US-China Relationship Heading in 2022?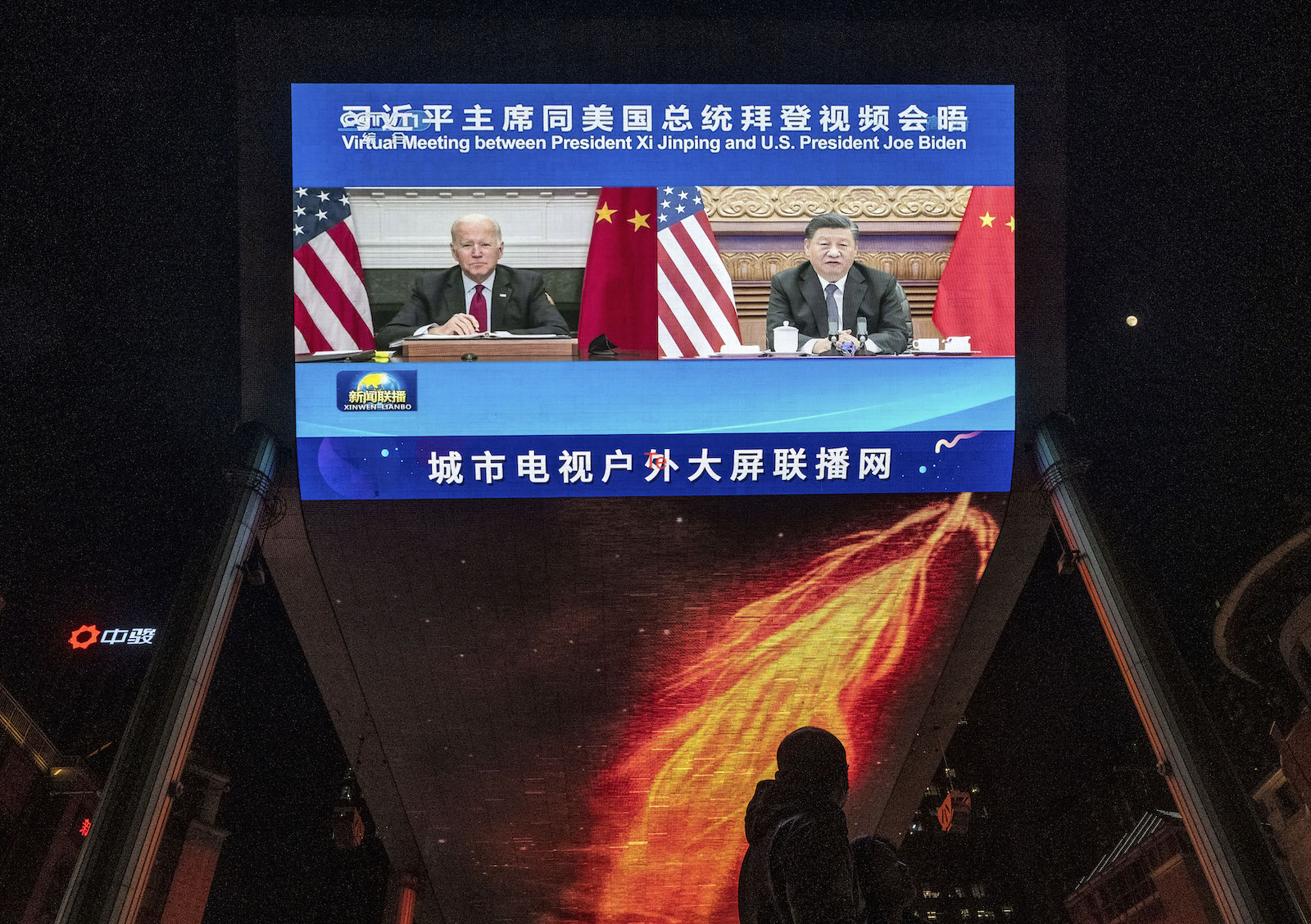 The U.S. and China disagree about most things these days. But both have a strong interest in cooperating where they can and avoiding open conflict. Despite fierce economic and trade disputes, there remains a deep interdependence between the Chinese and American economies and societies. China is still the U.S.'s largest supplier of merchandise imports and the third-largest market for U.S. merchandise exports.       
And despite increasing restrictions applied by the U.S. government, the U.S. remains a very important destination for China's outbound investment, which helps Chinese companies to acquire technology, knowhow and brands, and penetrate U.S. markets.  
The ascension of President Xi Jinping to China's leadership in 2012/13 marked a much more aggressive Chinese foreign policy, which became evident in an array of initiatives and actions: Its occupation and militarization of the South China Sea. Its harassment of Japan's administration of the Senkaku/Diaoyu islands. Its increasing pressure applied toward Taiwan, and Beijing's impatience for Taiwan's unification with the People's Republic. Its violation of the "One country, two systems" principle for Hong Kong's governance. Its state-sponsored cyber intrusions. Its massive investments in military hardware, like its recently tested nuclear-capable hypersonic missile.
Reshaping the Old World Order
China has also taken several initiatives to reshape the world order to suit its interests, such as through the creation of the Asian Infrastructure Investment Bank, the New Development Bank, the Belt and Road Initiative, the BRICS Summit, the 17+1 Initiative for cooperation between China and Central and Eastern European Countries, and the expansion of the Shanghai Cooperation Organization.  
President Xi has made it clear that he would like to push the U.S. out of East Asia, such as when he said "it is for the people of Asia to run the affairs of Asia, solve the problems of Asia and uphold the security of Asia." And he regularly chants that the East is rising and the West is declining. 
America's burgeoning loss of faith in its strategic engagement with China is evident in its concerns over economic policies like the Made in China 2025 (which sought to usurp American global technological leadership), widespread intellectual property theft, forced technology transfers, anti-competitive subsidies, and growing discrimination against U.S. business in China.  
These factors led former U.S. President Donald Trump to label China as a strategic "competitor" in his first national security strategy in 2017. It also led former President Trump to launch a "trade war," principally via tariffs on imports from China, to pressure Beijing to change its economic and trade practices. The trade war has morphed into technological competition, as Washington sought to restrict Chinese access to U.S. technologies, especially those of "dual use" (meaning civil and military use). U.S. sanctions against Huawei have virtually crippled the tech behemoth.
We are now in a new type of Cold War, without a clear framework for managing relations and solving disputes.  
Economic and Security Interests Are Closely Intertwined
With a view to solving these economic and trade issues, in January 2020, the United States and China signed an economic and trade agreement ("Phase One Agreement"). This requires structural reforms and other changes to China's economic and trade regime.  
However, 2021 has seen economic policy move in reverse, with growing state control over the private sector and economy more generally, and a shift to a more socialist direction, with its new "Shared Prosperity" policy. The Phase One Agreement also requires substantial additional purchases of U.S. goods and services in the coming years. But Chinese commitments are substantially unfulfilled at this stage.
While business linkages between the U.S. and China have been mutually beneficial, security dimensions of the economic relationship have come into sharper focus. The U.S.-China Economic and Security Review Commission's 2021 report to Congress stated: "Chinese policymakers are courting foreign capital and fund managers as they work to make China's capital markets serve as a vehicle to fund the Chinese Communist Party's technology development objectives and other policy goals."
While Congress might wish to clip Wall Street's wings, decoupling is difficult, especially in light of the finance industry's influence over U.S. politics.  
President Biden's Focus on Multilateralism
President Joe Biden promised to continue with former President Trump's tough policy line against China. If there is one thing that Republicans, Democrats and the U.S. establishment agree on, it is that China is a strategic competitor of the U.S. and must be confronted.    
But President Biden differs from former President Trump in that he values multilateral organizations, some of which he has rejoined. He also values America's allies and partners and their cooperation through "minilateral initiatives" to balance China.  
One such initiative is AUKUS, an "enhanced trilateral security partnership" launched in September 2021 with great fanfare by President Biden and the leaders of Australia and the U.K. AUKUS will support Australia in acquiring nuclear-powered submarines and will involve deeper information and technology sharing. This is the clearest of signals of U.S. commitment to the Indo-Pacific. According to Kurt Campbell, President Biden's "Asia tsar," AUKUS causes "heartburn" for President Xi Jinping. 
The Quadrilateral Security Dialogue (the "Quad") is another minilateral initiative that seeks to balance and counter China's assertive behavior and protect the rules-based regional order. President Biden seized upon the informal grouping as a ready-made vehicle for democratic countries to work together. He initiated the first-ever Quad summit, which was held virtually in March this year, with the second summit taking place in person on September 24, 2021. 
Unfortunately, President Biden's impressive political diplomacy in the Indo-Pacific has not been matched by economic diplomacy.  
There is no immediate likelihood of the U.S. joining the Comprehensive and Progressive Agreement for Trans-Pacific Partnership, a trade deal once led by the Obama administration and from which Trump withdrew the U.S. Nor is there any prospect of the U.S. joining the Indo-Pacific's other mega trade deal, the Regional Comprehensive Economic Partnership, of which China is a member.  
In sum, the U.S. remains on the sidelines of new trade deals in the Indo-Pacific, a region that has been bucking the protectionist trend of the rest of the world.
Did the Presidents Biden/Xi Mini Summit Produce Anything?
On November 15, 2021, Presidents Biden and Xi held a three-hour-plus virtual meeting, their first formal meeting since President Biden took office. In his opening remarks, President Biden said their responsibility was "to ensure that the competition between our countries does not veer into conflict." President Xi referred to President Biden as an "old friend" and said that "China and the United States should respect each other, coexist in peace and pursue win-win cooperation."  
But these talks did not produce any major breakthroughs on any of the thorny issues separating the countries. Nevertheless, it is positive that they could have a civil, open and transparent meeting. This may lay the foundation for "managed strategic competition" between the two countries — a sort of stalemate that recognizes that neither side is willing to compromise. In other words, we are now in a new type of Cold War, without a clear framework for managing relations and solving disputes.  
Both Countries Likely to Turn Inward in 2022
Looking ahead to 2022, Xi and Biden have every reason to concentrate on domestic politics more than foreign affairs. But in the short period since the Biden/Xi summit meeting, the US has made two decisions which have stirred the US/China relationship.
The US has announced that it will not send an official delegation to the 2022 Winter Olympics, to be held in Beijing in February. "US diplomatic or official representation would treat these games as business as usual in the face of the PRC's [People's Republic of China's] egregious human rights abuses and atrocities in Xinjiang, and we simply can't do that," White House press secretary Jen Psaki said. The athletes of Team USA will however be free to participate. Beijing has reacted strongly, with its foreign affairs spokesman threatening "resolute countermeasures".
Further, President Biden has invited Taiwan to his "Summit for Democracy", a virtual meeting being held on December 9-10 for leaders from government, civil society, and the private sector from over 100 countries, but to which neither China nor Russia is invited. Taiwan will be reportedly represented by Hsiao Bi-khim, its de facto ambassador to the US, and Digital Minister Audrey Tang. Not surprisingly, China's government has accused Joe Biden of "a mistake" in inviting Taiwan.
It would be nice to look forward to a return to relative stability to US/China relations in 2021. As recent events have highlighted, however, anything can happen in this highly fractious and fragile relationship. But the fact that leaders are talking with each other, in a civil and diplomatic manner, gives hope that events will not spin out of control.