Geopolitics
Is Colombia About to Take a Sharp Leftward Turn?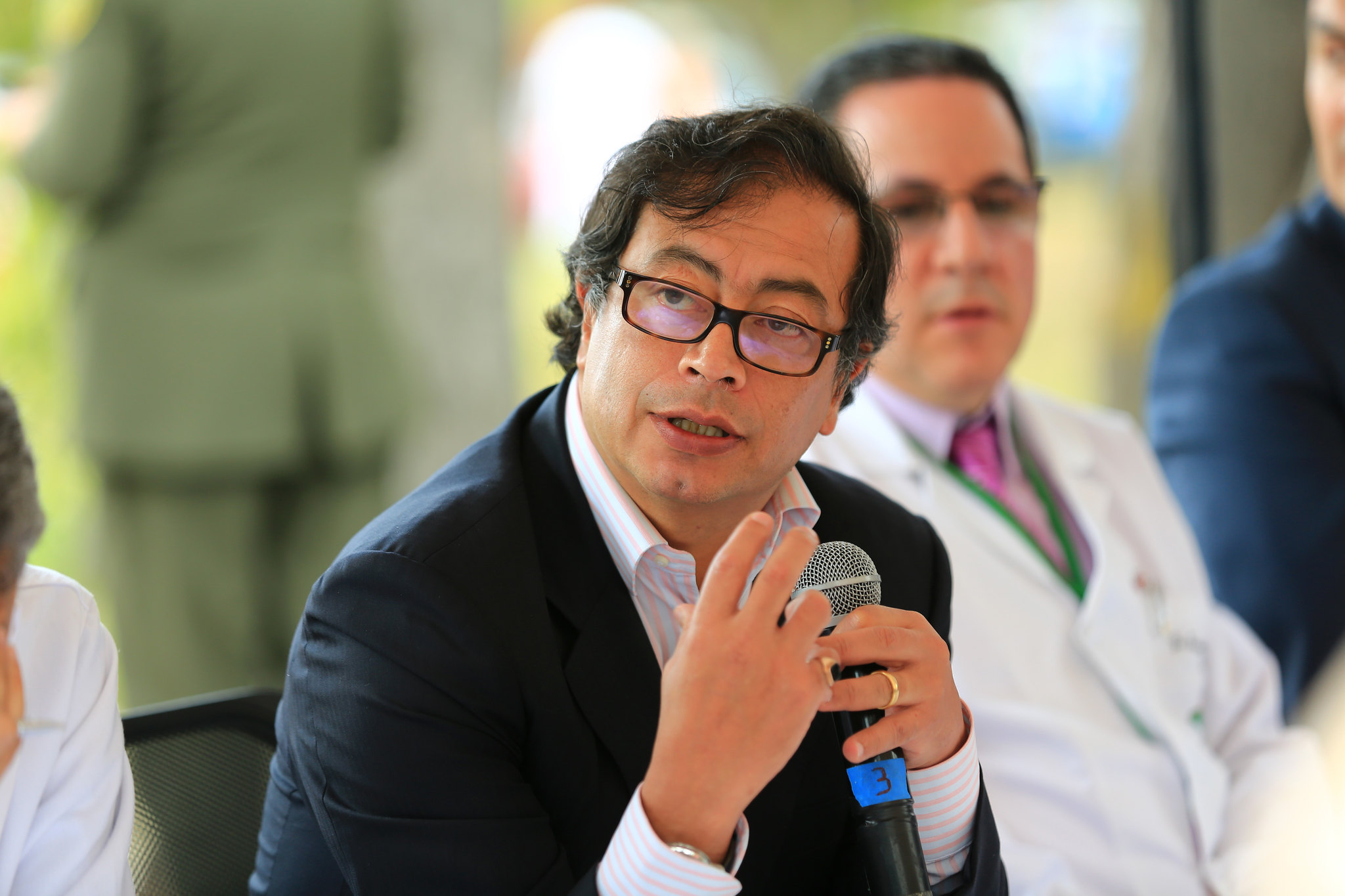 In the next few months, Colombia and Brazil — two countries that, with Mexico, make up the three largest countries in the region — will both hold critical elections. To start, all eyes will be on Colombia in May as the country holds its first round of presidential elections. 
The frontrunner is two-time presidential election loser, former mayor of Bogota, and guerrilla fighter, Gustavo Petro. The candidate, who for two electoral cycles, was seen as too risky for Colombia, is now in a strong position to lay claim to the Palacio de Nariño. 
If that happens, such an expansion of Latin America's "pink tide" would be a stunning political shift for the solidly conservative country. Colombia is also the United States' closest geopolitical ally in the region whose economic fortunes largely improved through free market economic policies adopted by successive governments. 
Recent polls show Petro solidly in the lead, but this race is far from decided. 
Colombia's two-round "ballotage" system could place Petro on top in the multi-candidate first-round vote, but he could lose the one-against-one second round. Opponents of Petro pray that the long list of candidates positioning themselves as Petro's alternative will coalesce around one or two challengers ahead of the May polls, but time is running out. Will Colombia be like Mexico in 2018, when Andrés Manuel López Obrador metamorphosed from being too risky in previous elections to a risk Mexicans were willing to accept? 
The Inability to Close the Poverty Gap
Whether or not Petro wins or loses, the most important question to ask is how did conservative Colombia get to this moment? Indeed, Colombia's political story is similar to those witnessed in other countries throughout Latin America with "strong" economies that were unable to close the income gap to satisfy citizens' desire for economic advancement. 
For Chile, the region's main example, macroeconomic growth and stability have not been enough to calm the frustration of its citizens, and Colombia is no exception. In 2019, before the COVID-19 pandemic, nationwide street demonstrations hit Colombia in protest of income inequality, alleged potential cuts to pensions, as well as other social services and corruption. 
While the protests have subsided, COVID-19 has had a harsh impact on the country, further exacerbating an already frustrated population. The pandemic caused national poverty rates to rise from 35.7% to 42.5%, and the economy contracted sharply. Bruce Mac Master, president of Colombia's National Business Association, succinctly noted that the pandemic has reversed poverty alleviation advances made in Colombia for a decade. 
Combined with an increasing distrust of the country's traditional institutions, it's no surprise that a 2021 IPSOS poll found that Colombia holds the highest dissatisfaction in the region with its political system and democratic institutions. No wonder there is newfound space for a change candidate such as Petro. 
A Petro victory is also likely to have profound geopolitical impact in the region; chief among them is the effect on Colombia's relations with the United States, and arguably Mexico, America's most important alliances in the region.
Last weekend saw primary elections for the three main electoral coalitions, and two potential challengers to Petro appeared. 
Perennial third-way candidate, the former mayor of Medellin celebrated for transforming the city, Sergio Fajardo continues to attempt to peg himself at the center of Colombia's politics; the problem is that that space seemingly is becoming narrower. 
To the right of Fajardo is newcomer and also former mayor of Medellin, Federico Gutiérrez. A young technocrat himself, Gutiérrez seeks to become the standard-bearer of the right-wing Uribismo movement and its namesake, former President Álvaro Uribe, and from that base, grow as the best alternative to Petro. The challenge is that Uribismo has lost its luster. 
A new face, Rodolfo Hernández, former mayor of the city of Bucaramanga, has emerged as a dark horse candidate. A right-wing populist in the form of Brazil's President Jair Bolsonaro, he speaks bluntly and prides himself on not being a traditional politician. But while he enjoyed increasing attention and support some weeks ago, his attraction seems to have faded. It is left to be seen if he can recover his initial attraction. 
The Momentum Is With Petro
In the primary elections, 47% of all voters who exercised their suffrage voted for Petro's coalition. His movement also tied for a majority of seats in the Senate and has the second-highest number of seats in the House. 
Petro has gone to great lengths to shake off the radical brand and has been doing his best to systematically tamper down public criticism that he's too far left. He has distanced himself from the Venezuelan regime of President Nicolás Maduro, after years of being a close ally to former President Hugo Chávez and Venezuela's 21st century socialism. He recently condemned the growing authoritarian nature of Nicaragua's Daniel Ortega and has sought to assure the private sector that his government won't go into expropriation, saying recently that "expropriations don't have room in his government." 
But sensing the economic frustration many Colombians feel, Petro has not shied away from doubling down on the need for greater government intervention in the economy. He recently announced that if elected, he would declare an "economic emergency" in order to gain executive powers to address what he described as Colombia's "social catastrophe." 
Petro has also sought to place limits on Colombia's oil and gas industry, calling for an end in the exploration to advance renewable energy. This has raised growing concerns throughout an increasingly important industry for the country. Petro has also promised deep reforms to the justice and political system of the country, as well as changes to economic structures, health and education. He has discussed implementing a new agrarian reform as well. 
A Petro victory is also likely to have profound geopolitical impact in the region; chief among them is the effect on Colombia's relations with the United States, and arguably Mexico, America's most important alliances in the region. Petro's close ideological ties to the Venezuelan and Cuban regimes, as well as other U.S. detractors in the region will surely test the strength of the relationship. Not to mention the substantial sum of aid the U.S. still sends to Colombia every year. 
Whichever the final electoral result in Colombia, it is clear the country has already changed, and its politics will soon follow.