Economy
The American Economy Is Confounding Everyone
An Altamar podcast interview with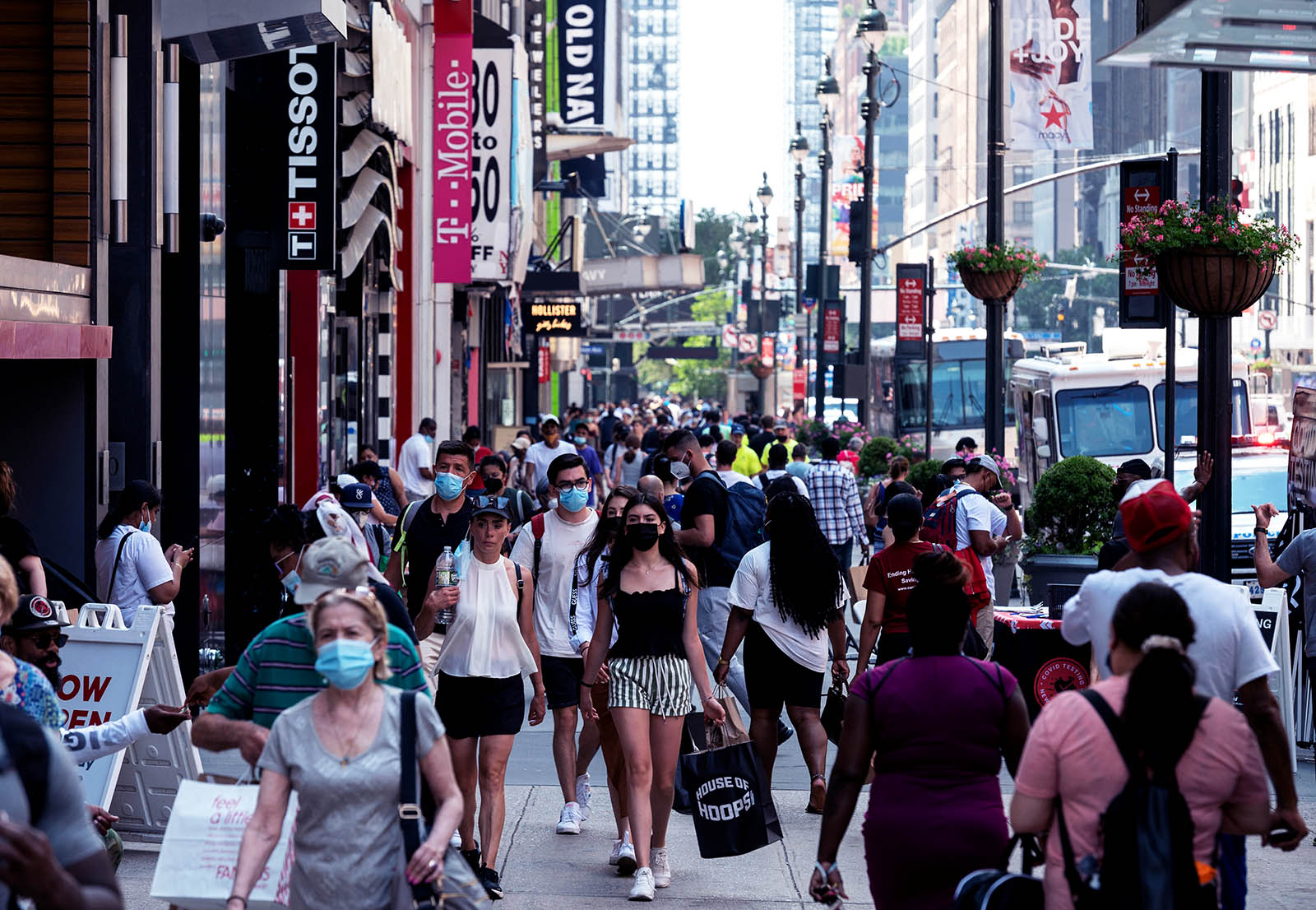 The U.S. economy is sending mixed signals as the post-pandemic economic recovery continues to confound experts. What happens next?
Caroline Atkinson, former Head of Global Policy at Google and former Deputy National Security Adviser for International Economics under former President Barack Obama, has a long career in economic policy. She joins hosts Peter Schechter and Muni Jensen on Altamar's latest podcast episode to discuss the contradictory nature of the U.S.'s economy and what comes next. 
Atkinson is the former U.S. "sherpa" for G7 and G20 meetings, and she held positions in the U.S. Treasury, the International Monetary Fund, the Bank of England, among others. She is also a contributor to news outlets such as The Washington Post, The Economist and The Times of London.
As the U.S. opens up, people are returning to pre-pandemic activities; planes and restaurants are full. Gyms are returning apace. Meanwhile, the U.S. administration is putting in place policies to spur economic growth and create a fast post-pandemic recovery. 
But, so far, it's been a bumpy ride, and recently, we're seeing questions about rising inflation and, seemingly, a paradox of high unemployment rates while many industries are suffering labor shortages. Economists and experts are scratching their heads. The U.S. economy is sending confusing signals, and it has real implications for the rest of the world. 
"It is a very confusing time, and anybody who's honest admits that. And the most honest economic analysts, when asked, "What's going to happen to inflation and to unemployment?" will admit that they don't really know,' says Atkinson.
The world economy is demonstrating that it is not easy to go back to "life as normal" after more than a year of mandated office and school closures, massive layoffs and, of course, inevitable global health implications. 
"There's an economic theoretical term, which is called 'reallocation friction.' That's just a fancy way of saying when a lot of jobs have been lost, businesses have closed, people have been fired or people have been forced to cut the hours, it takes a while to restart. And that's the friction. And if you're restarting in a different sector, there's even more friction. So that's the reallocation friction that always happens after a recession. It happens, especially if you have a really big drop in employment. So, I think we will know much more soon. I know this is not a very satisfactory answer, but we will know much more in three months from now over the summer," says Atkinson.
Is 'Bidenomics' a Thing?
President Joe Biden entered office at a time of great scrutiny, and his bold economic policies have garnered a lot of criticism from both the political left and right. Deemed too much or too little, depending on who you ask, "Bidenomics" is drawing concern, even from allies. 
"The big question for me is, 'will the shift in policies help push wages up more than prices?' If prices go up more than wages, then you're not getting the real income increase that you want. I think there are two ways in which [President] Biden's plan really can be helped by the Fed and should help worker's incomes and inequality. The first is running the economy hot, which helps pull in people who've been marginalized before. It helps drive down unemployment and bring in low-paid workers. And if firms can't find workers, they will dig a bit deeper and look into [labor] pools that they might not have thought about before. And that will be good," says Atkinson.
For the first time in decades, inflation is now a concern in America. Who would have thought that after years of experts and respectable news outlets touting the era of low inflation, all eyes are now on rising prices?  
"We want inflation to go up a bit," notes Atkinson. "It's been too low for a long time, and if inflation stays at these levels in the next two to three months, they [the Federal Reserve] will start signaling in August or September that they need to stop buying assets. And they may even start to raise interest rates next year, rather than waiting another full year, which is what they had planned."
Rising prices at home also means important questions abroad. 
"A lot of the challenges for the world now are global ones. I mean, obviously health, but also climate, poverty and migration. And those require cooperation among the big economies and politicians. I do think that the U.S. may get lots of things wrong, but when it's on its game, the U.S. does want to make the world a better place. And it is quite good at grabbing leadership and pushing for improvements," says Atkinson. 
A Chance to Address Systemic Inequality?
An important piece to this complex, real-life, global economic puzzle is systemic inequality, especially in communities for color.  
As Atkinson points out, "We've seen capital take a greater and greater share of the economic pie in the United States. And I don't know that anybody exactly intended for that to happen, maybe they did, but if you look at corporate taxes, businesses only pay about the equivalent of 1% of GDP in taxes every year."
"You know, way back in the 1960s, that was four times higher. Even at the end of [former President Ronald] Reagan's time in office, it was twice as high. So, there is room there for businesses and for high-income individuals to pay more in taxes. Now, that may not be so nice for investment returns. It may not be so nice for company owners, but I think it will help to address some of the imbalances and inequality."
Atkinson says taxes are part of the solution to address inequality. "[Taxes in] the United States [are] way lower than other countries. You know, we collect about 25% of GDP in total for taxes. For the OECD and in many European countries, it's 40% of GDP," she notes. Many, especially Republicans, are worried about a "high government spending model." Could it lead to an overly rapid growth and potential overheating of the economy?
"Rapid growth in the United States would certainly be good this year. It would be good for exporting countries because we will buy more. It's not so good for countries that are very dependent on capital flows, because as the U.S. economy expands, interest rates will probably go up, and that will pull capital flows into the U.S. and make things more challenging, especially for emerging markets," she explains.
Overall, Atkinson is optimistic that Bidenomics can transform the U.S., and the global economy. Hosts Schechter and Jensen asked her to predict the future. "In a year from now, [the U.S. economy] will be slowing down relative to now, but I think it will be doing quite well. Unemployment will be much lower than it is now," says Atkinson.
"Inflation will be lower than it is now. And so, I think the U.S. economy will be going along at a reasonable clip, but it will be bumpy … so we need to roll with those bumps, but keep our eye on the prize." 
Altamar is a global politics podcast hosted by former Atlantic Council senior vice president Peter Schechter and award-winning journalist Muni Jensen. 
Subscribe to the Altamar podcast on: Apple, Spotify, or Google.