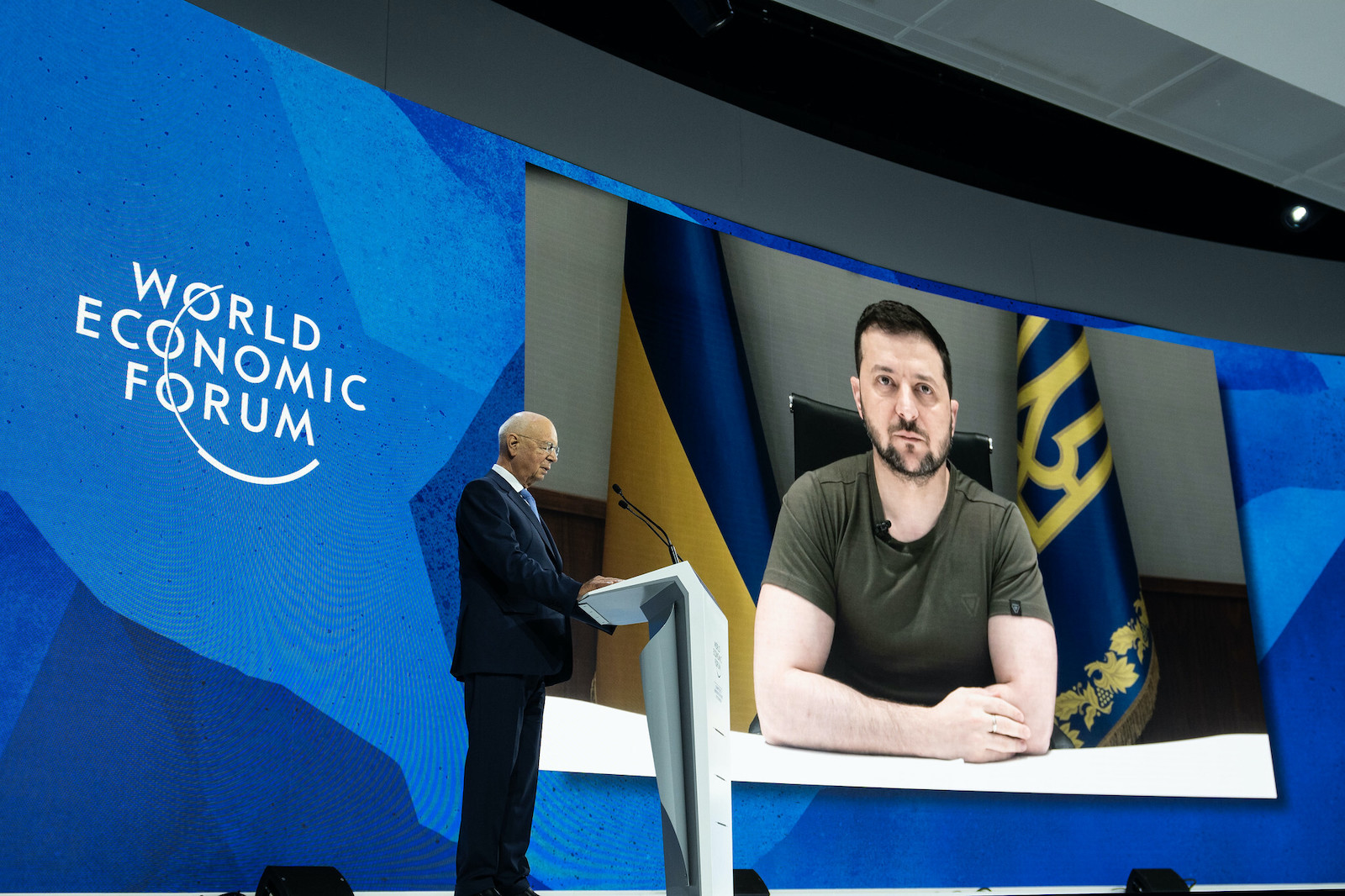 The annual World Economic Forum took place in Davos last week for the first time in three years. The high-profile gathering of corporate executives and politicians was smaller than usual and was held in May instead of January. Here are some of the highlights.
The managing director of the International Monetary Fund sought to dispel the gloom at the World Economic Forum, saying a global recession isn't in the cards, but "it doesn't mean it's out of the question." Kristalina Georgieva noted that the IMF expects economic growth of 3.6% for 2022, but acknowledged that it's going to be a "tough year."
A global buyers' club of more than 50 companies, including Microsoft and Ford Motor, say they will buy "green" steel, aluminum and other commodities by 2030. The idea behind the buyers' club, known as the First Movers Coalition, is to stoke demand for green versions of materials that have proved difficult to manufacture without significant carbon dioxide emissions.
The aviation industry, decimated during the pandemic, is rebounding strongly, said Hassan El Houry, CEO of National Aviation Services. He predicted the airline industry would return to pre-pandemic levels at the end of this year or the middle of next, earlier than airline industry group IATA's forecast of 2025. "Almost every airline I speak with is reporting a huge rebound, especially for this summer and particularly in leisure travel."
Ukrainian President Volodymyr Zelenskyy says that his country will not give up land to end Russia's war. Speaking by video link Wednesday, Zelenskyy said through a translator that "Ukraine is not going to concede our territory. We are fighting in our country, on our land." Meanwhile, Henry Kissinger, the 98-year-old former secretary of state urged Ukraine to cede territory to make peace with Russia.
Cryptocurrencies … 'are not currencies at all …they are speculative assets, the value of which changes enormously over the course of time … coin issuers should have to back up their coins with as many dollars as they have coins.'
The Chairman of Volkswagen, Herbert Diess, says Volkswagen is seeing a "clear improvement through summer" on the supply of microchips it needs for its vehicles. Audi board member Hildegard Wortmann said the VW-owned brand has its "highest level of orders at the moment," but customers are facing wait times of about a year or more.
An international deal to force the world's biggest multinational companies to pay a fair share of tax has been delayed until 2024, amid fresh wrangling over the painstakingly negotiated agreement. Mathias Cormann, the secretary-general of the Organisation for Economic Co-operation and Development (OECD) said he remained confident an agreement would eventually be implemented to let countries levy more tax on the world's largest firms based on the sales generated within their borders.
Israeli President Isaac Herzog called on other nations to consider a "renewable Middle East" as a resource for sustainable food, water and energy solutions. He appealed for a new partnership with nations in Europe, Asia and Africa modeled in part on the economic agreements Israel has struck with four Arab nations. He said such new links would expand a "zone of understanding, despite wide gaps and conflicting narratives" about a surge in violence between Israel and the Palestinians. 
The World Economic Forum has unveiled an initiative to develop the metaverse. The forum said that it will work with businesses, regulators, civil society and academic experts to help define and build the metaverse. The focus will be on governing the metaverse as well as how to create economic and societal value.
European Central Bank President Christine Lagarde criticized cryptocurrencies, saying that they "are not currencies at all …they are speculative assets, the value of which changes enormously over the course of time … coin issuers should have to back up their coins with as many dollars as they have coins. That needs to be checked, supervised, and regulated." Lagarde's latest comments come after she told a Dutch talk show: "My very humble assessment is that [crypto] is worth nothing, it is based on nothing — there is no underlying asset to act as an anchor of safety."