Geopolitics
How Much Is President Bolsonaro Contributing to Brazil's Malaise?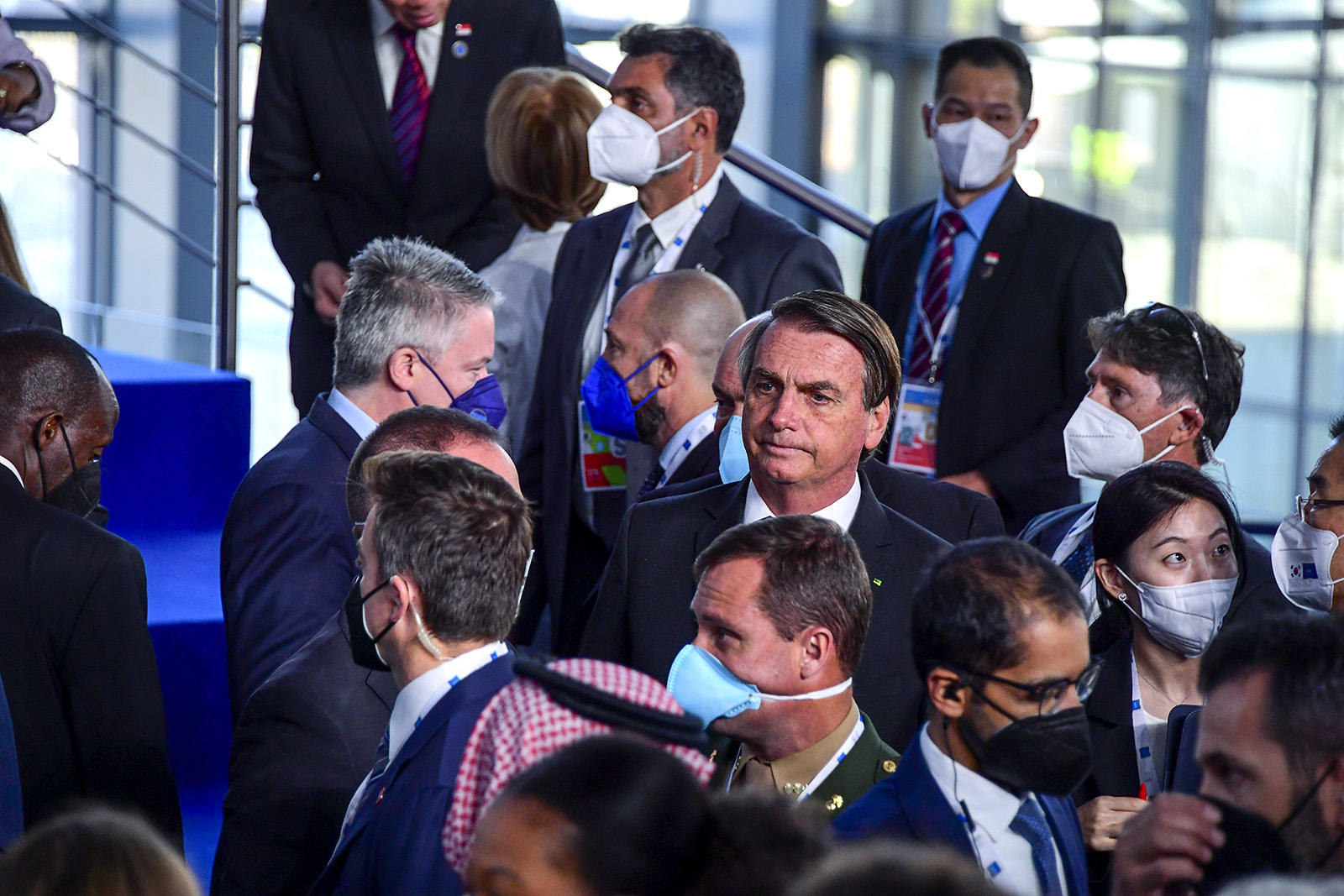 Brazil's President Jair Bolsonaro entered power as a nontraditional, "different" politician. A few years ago, many Brazilians even found him an entertaining oddity, who railed against a corrupt political class. 
Often called the Tropical Trump, his demeanor was decidedly not presidential, hurling insults at the media and opponents, questioning basic scientific tenets and wearing his conservative religious beliefs on his sleeve. 
Last week, at the start of the COP conference, his government announced a promise to end illegal deforestation in the Amazon by 2028 and cut emissions in half by 2030. While that attracted some favorable headlines in Glasgow, his popularity back at home is slumping. Three years after his election, the shine is off President Bolsonaro. Brazil is submerged in a deep economic and social crisis, spurred on largely by COVID-19 and the government's inaction to combat the virus. 
Accused of Crimes Against Humanity
The Brazilian Senate recently approved a report recommending that the president be charged with crimes against humanity for his mishandling of the COVID-19 pandemic. At the heart of the report is the staggering 600,000 deaths suffered in Brazil from the pandemic, fueled by a president who failed to adopt even the simplest, common-sense policies to curb the pandemic and shunned accepted scientific beliefs. The president refused mask mandates, often exhibiting himself in large crowds without a mask. 
Last year, he called Brazilians "sissies" for fearing the virus, adding that, "all of us are going to die one day." Just a few days ago, he even went as far as stating that the COVID-19 vaccines could cause AIDS in individuals.   
Beyond COVID, the other driver of President Bolsonaro's disapproval is the economy. 
Inflation has hit double digits, reaching 10.25% over the last 12 months to September 2021 and could worsen as fuel prices shoot up around the world. Despite significant social transfers implemented by the government during the pandemic, the economy has recently contracted again after some progress in 2021, creating a staggering acceleration in poverty. There are an estimated 20 million new poor Brazilians. 
For many, the Bolsonaro show has gotten stale.
Inflation and Poverty Are Growing
Notwithstanding the government's largess in 2020 — $55 billion in government programs were paid to an estimated 68 million people — Paulo Guedes, the administration's fiscally conservative finance minister, decided to stop additional payments fearing a fiscal crisis. COVID shanty towns have grown in the country as an increasing number of Brazilians struggle for food.  
It is estimated that nearly 19 million people have suffered from hunger in Brazil this past year, twice the number in 2018. A photo of Brazilians scavenging through animal carcasses in search of food shocked the country and has become a symbol of the economic crisis. 
As he has often done, President Bolsonaro has turned to the military as his political crutch. In August, he led a public military parade to send a signal that the armed forces had his back. Some feared a coup may be in the works. But all is not rosy within the military; dissent among the armed forces is growing. Earlier in the year, three top military leaders resigned after a meeting with the new defense minister.
Is Former President Lula Coming Back?
Brazilians sense that the country is in a constant state of turbulence, and voters have turned on him. For many, the Bolsonaro show has gotten stale. Public opinion polls ahead of the next election show President Bolsonaro being crushed by his likely foe, former President Lula De Silva. 
A recent poll showed former President Lula defeating the current president, 56% to 31% in a hypothetical second round matchup. Former President Lula's political resurrection from near-death is impressive. Former President Lula and his Worker's Party (PT) fell into disgrace just a few years ago as one government official and PT politician after another was convicted in the aftermath of the "Carwash" corruption scandal, which infuriated Brazilians of all ideologies.  As a result, former President Lula may not be the darling of Brazilian voters, with the former president's disapproval ratings hovering around 40%. But those are better numbers than President Bolsonaro's disapproval, which surpasses 50%. 
As the clash of these two titans nears, credible third way candidates are finding it harder and harder to break through. Former President Lula seems to be the best of the worst in a direct matchup with President Bolsonaro. Alternatives to these two political powerhouses are scattered. They include Eduardo Leite, governor of the State of Rio Grande do Sul; Ciro Gomes of the Democratic Labor Party; Joao Doria, governor of Sao Paulo; and Sergio Moro, the anti-corruption prosecutor who was dismissed as justice minister by President Bolsonaro. But, so far, none of these or other candidates have caught fire.
The polarization between former President Lula and President Bolsonaro, while distasteful to much of Brazil, seems to be winning the day. This is exactly what President Bolsonaro wants — to polarize the election between Lula and himself. Indeed, interest among Brazilian voters in the next election will continue to wane unless a new candidate breaks through. 
While President Bolsonaro has lost many centrist supporters, many Brazilians still adore him — he remains especially popular among the country's growing Evangelical voters. As leading Brazilian political analyst and pollster, Mauricio Moura, recently stated: "Half of the country, when you ask, 'Who are you going to vote for president if the elections happen today?' say 'I don't know,'" He adds that: "If the choice will be between President Bolsonaro and former President Lula, the critical component to understand the election is who will actually show up to vote." So, as often heard in U.S. elections, the ability to get out the vote will be critical. 
Attacking the Voting System
Brazilians like to say that their country is "the country of tomorrow." But today, tomorrow seems further away than ever. Over the past years, Brazilians have grappled with corruption scandals that mined the public's trust in government, the mishandling of COVID-19 and a destructive president that finds one issue after another to divide society. 
Recently, President Bolsonaro took a chapter from former President Donald Trump's playbook and unsuccessfully attacked Brazil's respected, two-decade long electronic voting system, the Elections Tribunal, an independent government institution that was long-respected in the country.
This latest debate about voting is a taste of the tension to come until next October's presidential election. Brazil has key issues to resolve — economic reforms, poverty alleviation and infrastructure improvements are just three examples — but progress on these important matters will be halting at best. Don't expect President Bolsonaro to pay much attention to his respected finance minister. Instead, he will be on the lookout for issues to further divide and polarize an already hurting Brazil.